Kids Stuff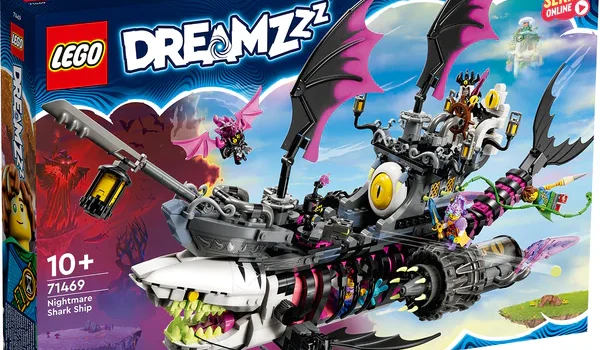 Published on August 8th, 2023 | by Adrian Gunning
FIRST RANGE OF LEGO® DREAMZzz™ PLAY EXPERIENCES AVAILABLE NOW FOR ALL DREAMERS
The LEGO Group has today launched the first physical play experiences from LEGO® DREAMZzz™, an all-new theme that brings to life the creativity of children's dreams through an epic new content series and product range.
The new products follow on from the launch of the first episodes of LEGO® DREAMZzz™ in May, which proved to be the biggest international series launch in the history of the LEGO Group, with the content broadcast around the world in 38 languages.
Now dreamers who have explored the world of the LEGO® DREAMZzz™ series through its content, and the new play experiences are designed to encourage builders to act just like the characters do in the show – by taking something that exists and combining it into something brand new and unique.
For the new LEGO® DREAMZzz™ sets, the LEGO Group has changed the way it structures building instructions. About 80% of an initial LEGO® DREAMZzz™ build is completed by following instructions in a new section that looks like an illustrated comic book, then there is a point in each building instruction where the choice of how builders complete the set is left up to them from two options!
The new sets available for LEGO® DREAMZzz™ can be found on LEGO.com and from authorised retailers from August 1st, and include:
71453 – Izzie and Bunchu the Bunny
Age: 7+
259 pieces
$34.99 AUD
71454 – Mateo and Z-Blob the Robot
Age: 7+
237 pieces
$34.99 AUD
71455 – Grimkeeper the Cage Monster
Age: 7+
274 pieces
$62.99 AUD
71456 – Mrs. Castillo's Turtle Van
Age: 7+
434 pieces
$72.99 AUD
71457 – Pegasus Flying Horse
Age: 8+
482 pieces
$84.99 AUD
71458 – Crocodile Car
Age: 8+
494 pieces
$104.99 AUD
71459 – Stable of Dream Creatures
Age: 8+
681 pieces
$139.99 AUD
71460 – Mr. Oz's Spacebus
Age: 9+
878 pieces
$159.99 AUD
71461 – Fantastical Tree House
Age: 9+
1,257 pieces
$179.99 AUD
71469 – Nightmare Shark Ship
Age: 10+
1,389 pieces
$239.99 AUD
40657 – Dream Village – exclusive to LEGO.com and LEGO Certified Stores
Age: 7+
434 pieces
$44.99 AUD
The LEGO® DREAMZzz™ series follows the adventures of school friends, Mateo, Izzie, Cooper, Logan and Zoey, as they join a secret agency and learn to use the power of imagination to journey into the dream world – and learn to defeat the tyrannical Nightmare King!
"We have been thrilled by the response to the launch of LEGO® DREAMZzz™, and are very excited to bring these new creative play experiences out of the dream world and into the real world for builders of a variety of ages!" said Cerim Manovi, Creative Director for LEGO® DREAMZzz™ theme. "We hope builders enjoy getting hands on with these incredible LEGO® DREAMZzz™ creations and bringing to life the creative power of dreams like never before."
Global Research Shows Importance of Dreaming for Creativity
The LEGO® DREAMZzz™ theme was developed by the LEGO Group alongside in-depth global research of children aged 6-12 years old from 29 different countries. The survey looked at children's imaginations, the psychology of dreams and their importance in processing emotions, problem-solving and the importance of play for creative experimentation.
The research revealed of those experiencing complex emotions, such as stress or loneliness, almost one in five (22%) report having more nightmares as a result. More than half of children (55%) say nightmares affect the rest of their day, including school, where the dream and real-worlds can evidently collide.
LEGO® DREAMZzz™ series is available to watch on the LEGO YouTube channel. Season one is also available to stream now on: 9Now, Netflix, Foxtel, Amazon Prime Video and Binge, with episodes 11 – 20 due to launch on August 11th worldwide.