Films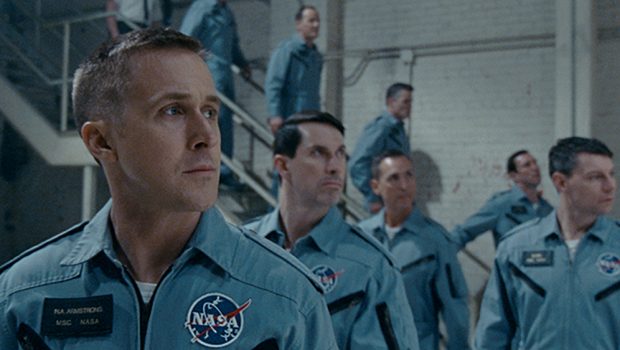 Published on October 17th, 2018 | by Damien Straker
First Man – Film Review
Reviewed by Damien Straker on the 15th of October 2018
Universal presents a film by Damien Chazelle
Produced by Wyck Godfrey, Marty Bowen, Isaac Klausner and Damien Chazelle
Screenplay by Josh Singer based on 'First Man: The Life of Neil A. Armstrong by James R. Hansen'
Starring Ryan Gosling, Claire Foy, Corey Stoll, Jason Clarke, Kyle Chandler and Ciarán Hinds
Music by Justin Hurwitz
Cinematography Linus Sandgren
Edited by Tom Cross
Running Time: 130 minutes
Rating: M
Release Date: the 11th of October 2018
First Man is about the repressed emotions and expendability that Neil Armstrong felt during his preparation for the first Apollo Moon landing. Clint Eastwood was originally set to direct the film. In 2003, he bought the rights to James R. Hansen's book 'First Man: A Life of Neil A. Armstrong'. It then became a Universal project and is now directed delicately by Damien Chazelle and stars Ryan Gosling as the enigmatic Armstrong.
The film is largely incomparable to Chazelle's previous films Whiplash (2014) and La La Land (2016). Instead, Chazelle uses Josh Singer's script to take a decisively more low-key approach to develop its stylistic patterns. Though one similarity with Chazelle's filmography is that it continues the thematic line about the struggle of personal success at the hands of big industries that mistreat people.
The lengths that Chazelle has taken to capture the period details between the years 1961 and 1969 are immediately noticeable. First Man forgoes La La Land's watercolours and wide sense of spatiality in favour of tight close-ups, muted brown shades and quiet performance registers. The decor and the feel for the 1960s period is stylistically appropriate but subtle enough not to call attention to itself.
The domestic scenes are photographed with handheld cameras so they resemble a Super 8 home movie. There's a deftness to the early scenes too, such as Armstrong's hand touching his daughter's hair, or the creaking sound of a coffin being lowered. Given how dynamic Chazelle's filmic style has previously been, the understated nature of the drama is quietly affecting in these early stages.
Chazelle also draws poignancy and humanity from the film's performances. One of Gosling's first scenes is unapologetically emotional and typifies why it is one of his best performances. It is free from his trademark comedic undertones. Armstrong and his wife Janet (The Crown's Claire Foy) are mourning their daughter who passes away from a tumour.
After the funeral, Armstrong cries privately and his emotional break-down is filmed in an unbroken close-up shot. It's an affecting moment because Chazelle refuses to cut away from the scene. He embraces the raw emotion and he also characterises Armstrong's deep privacy. His secrecy is apparently true to who he was in real life.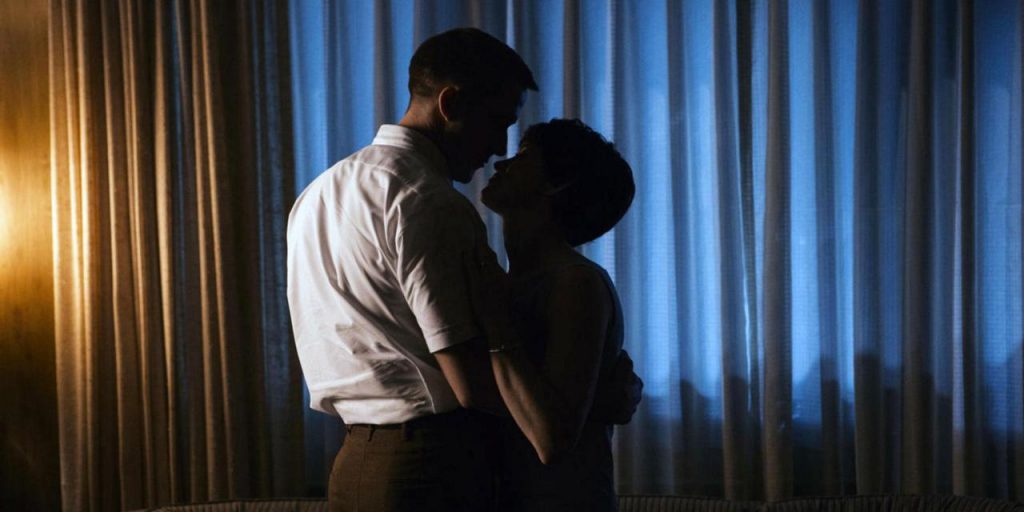 In another strong scene, Janet urges Armstrong to tell their two boys that he might not return from his mission. The way Gosling senses Armstrong's internal fight before conceding the truth, and the expression of the eldest son who understands more than his sibling, is a memorable piece of personal drama. Chazelle's focus on the faces of these characters shows the maturity of his filmmaking by measuring his style to capture their feelings.
Emotion is also understated throughout Claire Foy's quiet performance. Her expressions and body language are wordless signposts of Janet's fears for her husband's decline. There is a small scene where Janet crosses the road to comfort the grieving wife of an astronaut who is also being ignored by one of their other neighbours. It illustrates who Janet is, but more actions such as this would have further developed this character who is often sidelined.
She is a pivotal emotional contrast to when the story starts resembling an anti-war film. In the eyes of the space administrators, the astronauts seem as expendable as soldiers training for battle, and like the troops entering the Vietnam War, their public support is limited. Predictably, there is footage of John F. Kennedy stressing the importance of space travel, but First Man also acknowledges the public protests against overspending on space programmes. The song 'Whitey on the Moon' plays on the soundtrack and humorously begrudges how the welfare of people of colour is neglected because of careless government expenditures.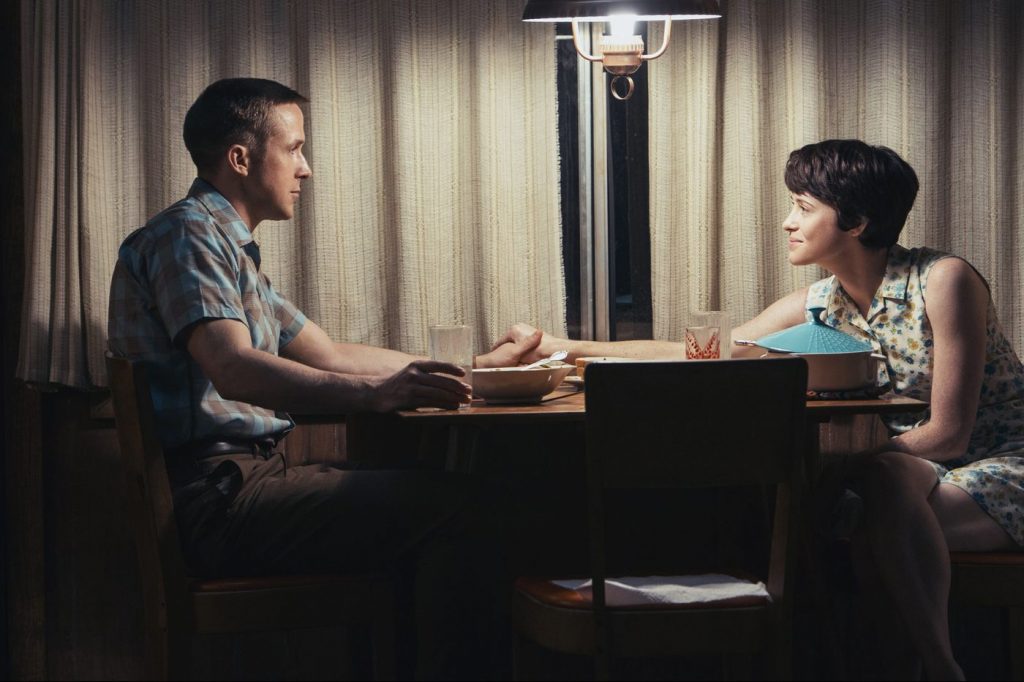 The verisimilitude of the training sessions and the space scenes further conveys the expendability of human life in the eyes of government bodies. The astronauts are expected to strap themselves into crude testing models, some of which are incredibly shaky and dangerous, and to remain conscious while they are violently spun around multiple times. Armstrong almost faints and then sees a vision of his daughter. He then proceeds to vomit in the bathroom after the test is complete. However, Armstrong is undeterred by these types of dangers. At one point he says, 'we need to fail down here, so we don't fail up there'.
When he enters the classroom, the other candidates are already covered in stains. They are also expected to learn thousands of pages on the same day. Furthermore, Armstrong is insensitively questioned in a meeting about whether he will be affected by his daughter's death. He says, 'it would be unreasonable to assume it would have no affect', which quietly expresses his depression. Later, there are flippant comments made about another astronaut's death when someone says the man could have prevented his fate. It typifies the indifference to the astronauts even as their fates are casually announced. During the Apollo 1 disaster, a silent flicker of smoke protrudes from the outside of the ship's door after a fire, which is a chilling image.
Another powerful example of expendability is when Armstrong uses a prototype machine outdoors. The scene is mostly shot from a point-of-view shot, which stresses the height of his suspension into the air. His parachute also drags him violently along the ground after he leaves the contraption. Most of the space scenes are shot in extreme close-ups from inside the rickety cockpit to express his viewpoints in equally claustrophobic scenes. The camera shakes violently and is planted firmly on Armstrong's face to show the fear in his eyes and to stress his physical immobility. These training and space scenes are dramatising the intensity and physical strain required to be successful—a theme thoroughly explored in Whiplash.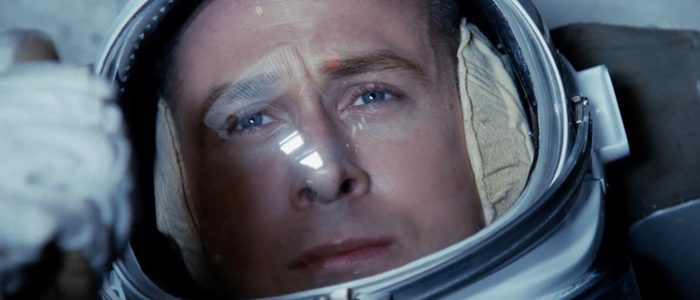 During the Moon landing, the film's widening spatiality implies the possibility of a spiritual awakening. Perhaps Armstrong is contemplating whether there is a greater existence beyond the Earth to reconcile the loss of his daughter. The grief is complemented in an earlier scene where he imagines seeing her again. The Moon landing itself is tense and scary particularly when the diegetic sound is suddenly removed from the images. There's an action by Armstrong that is genuinely moving too. The weight of the entire achievement is deeply felt, but there's also conjecture about whether Armstrong's gesture happened in real life. Understandably, it's a deliberate ploy to humanise this otherwise cryptic character.
Despite the wordless filmmaking, the performances, and the impressive periods detail, First Man is still inconsistent. The ebbs and flows of our investment could be attributable to how screenwriter Josh Singer has structured the story. The film implements its thematic binaries, the contrast between the domestic and training, life and death, early on but then repeats this point extensively over the duration. The story transitions smoothly from year after year too, underlining the film's scope and ambition, but it forgoes the intensity of a tightly woven narrative.
There are also inconsistencies in Armstrong's characterisation too. He is often painted as being private, and emotionally waning, particularly in a scene where he returns from a training session with blood drying on his face. Yet there are scenes where he is happily playing with his two children, which undermines the remoteness and the grief that he seeks to resolve. His softer nature could be a precaution against painting him as an emotionally detached figure for fear of alienating the audience. His wife is even surprised during a romantic scene where he remembers one of their favourite songs as they dance together.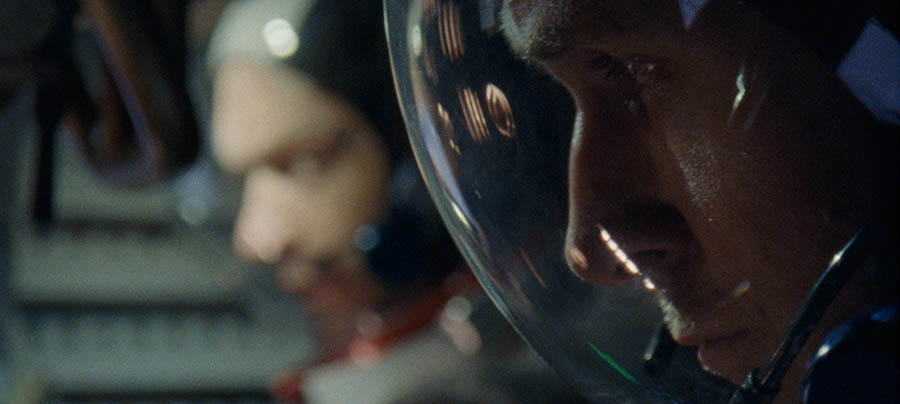 One pivotal climax feels particularly indecisive about Armstrong's demeanour. There's a large pane of glass placed in the middle of a reunion where one expects Armstrong's grief to have finally softened. The scene heavily recalls Blade Runner 2049 (2017), which also stressed the importance of family and overcoming one's emotional stasis with the exact same visual motif. It is strange how the space of a year two films could have the very same scene, but the ambiguity of the moment worked better in 2049.
The film is not a misfire but shows Chazelle's filmmaking working at a different tempo. His film style is slower, more leisurely and understated. Some have described First Man as remote, which is apt because Armstrong is a man emotionally conditioned to feel indifferent to death even as he grieves for his daughter. There are moments of awe and power in this personal conflict, attributable to Gosling and Foy's subtle, minimalist performances. Yet it's difficult for the story to always strike its high notes over a wide time-span, which makes the film pleasurable but inconsistent despite its sensitive approach.
Summary: There are moments of awe and power in this personal conflict, attributable to Gosling and Foy's subtle, minimalist performances. Yet it's difficult for the story to always strike its high notes over a wide time-span, which makes the film pleasurable but inconsistent despite its sensitive approach.