Comics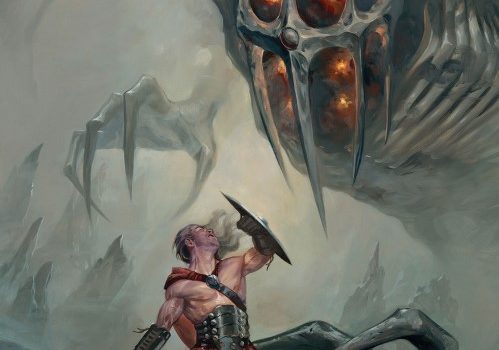 Published on October 3rd, 2019 | by Alex Novus
First Look at DC's The Last God #1
"The Last God is the next stage of high fantasy storytelling, with the expansive worlds of Tolkien, the grit and false heroes of Martin, and an echo of the contemporary struggle that's one part Bulgakov and one part Ludlum." –Steve Orlando
The Last God tells the story of two fellowships of heroes struggling with the same threat…30 years apart. One group doomed their world with their lies, the other must save it. The Last God: Book One of the Fellspyre Chronicles is a high-octane, no-holds-barred dark fantasy epic.
"The opportunity to bring high fantasy to DC is a huge honor, and one I don't take lightly," The Last God writer Phillip Kennedy Johnson says. "The Last God is my chance to bring new fans into the comics community, and maybe even introduce some hardcore comics fans to high fantasy."
Thirty years ago, a band of heroes traveled beyond the borders of creation and killed the last living god, saving the realm of Cain Anuun from an apocalyptic army of the undead. The legendary companions became the rulers of their world and ushered in a new era of peace and prosperity. But it did not last.
"The fantasy genre is an insane playground with no rules… you can ride a crazy idea as far as your imagination will take you, which makes it perfect for horror," Johnson says. "But despite that, truly all-in horror/high fantasy mash-ups are rare, and I don't think I'm the only one who wants one. In every fantasy series I ever read, the scary parts were always the most fun, and I always wanted to see more."
"The Last God is an exciting new chapter for DC," Mark Doyle, Executive Editor, DC, says. "It's an epic, original story set in a bloody high-fantasy world. I cannot wait for people to read this book."
The Last God #1 will carry DC's Black Label content descriptor (for mature readers) and will retail for $4.99.
The Last God #1
Written by Philip Kennedy Johnson (Last Sons of America, Warlords of Appalachia, Aquaman)
Art by Riccardo Federici (Dark Nights: Metal, Aquaman)
Colors by Sunny Gho with Dean White
Cover art by Kai Carpenter (Books of Magic)
Variant Cover art by Riccardo Federici
Cain Anuun World Map by Jared Blando (Dungeons & Dragons)
In Shops: Oct 30, 2019
Final Orders Due: Oct 07, 2019
SRP: $4.99
Gallery