Comics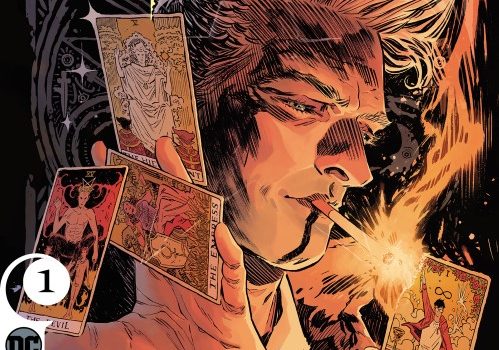 Published on October 5th, 2019 | by Alex Novus
First Look at DC Comics' The Sandman Universe Presents Hellblazer #1
"John Constantine—the original, demon-haunted one who first showed up in Swamp Thing's 'American Gothic' story—is coming back to his murky and dangerous roots. More magic and more darkness and not a few gods and dreams are here for you to explore." -Neil Gaiman
DC presents the first look at The Sandman Universe Presents Hellblazer #1, an oversized one-shot which kicks off the second year of the acclaimed Sandman Universe line by putting it on a collision course with one of horror's most iconic characters…John Constantine, Hellblazer!

In this ten-page preview, Constantine is seen in an expanded version of a critical scene from Neil Gaiman's classic Books Of Magic miniseries. After getting tangled up in a magical war waged across countless futures, Constantine was murdered by an all-powerful adversary: a twisted version of the promising young magician Timothy Hunter, bloated with evil. But over the past year strange forces have conspired to restart Tim Hunter's tale, and somehow—amid sorcery, insanity and secret agendas—this older, wiser, wilier shade of Constantine has been dragged back with it. Now he must ask himself why he, the last person in the world to deserve a second chance, has been given one. Is John Constantine here to put Tim Hunter on the right track and avert a terrible outcome? Or is it because he's the only person in existence with the guts to do what really must be done? After all, he's a nasty piece of work, chief…ask anybody. 
"They asked me for a quote about how great John Constantine is and how honored I am to write him," writer Simon Spurriersays. "Bollocks. He's given me a stomach ulcer and I haven't slept in weeks. Just read the bloody comic so he leaves me alone."

Unfortunately for poor, haunted Si, this one-shot provides the lead-in to the November-debuting monthly ongoing John Constantine, Hellblazer series, by Spurrier and artist Aaron Campbell (Infidel).
"Watching Si, Marcio, and Aaron create new Hellblazer stories is a joy," Mark Doyle, Executive Editor, DC, says. "It's that pure (dark) magic of the right creators on the right character spinning something special and twisted in all the right ways."
The Sandman Universe Presents Hellblazer #1 will carry DC's Black Label content descriptor (for mature readers) and will retail for $4.99.
Preview
The Sandman Universe Presents Hellblazer #1
Written by Simon Spurrier (The Dreaming, Coda, Star Wars: Doctor Aphra)
Art by Marcio Takara (Detective Comics, Wolverine: The Long Night)
Colors by Cris Peter (All-Star Batman)
Cover art by Bilquis Evely (The Dreaming, Wonder Woman)
In Shops: October 30, 2019
Final Orders Due: October 7, 2019
SRP: $4.99