Comics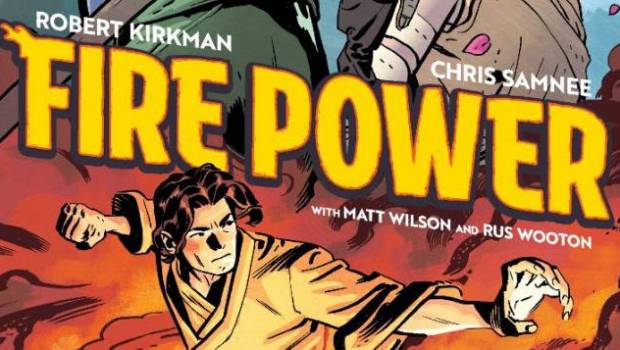 Published on May 11th, 2020 | by Sandro Falce
Fire Power Volume 1: Prelude (2020) Review
Summary: This prelude has fun characters, slick martial arts, and massive action set-pieces that are guaranteed to get you hyped up for the first issue.
The first volume of Fire Power tells the story of Owen Johnson who is on a journey throughout China to learn about his parents. When he makes his way to the Shaolin Temple, he discovers a group training and studying in the lost art of fire-based martial arts.
This is the latest project from writer Robert Kirkman (The Walking Dead, Invincible), artist Chris Samnee (Daredevil), and colorist Matt Wilson (Paper Girls, The Wicked + The Devine). With a team of this magnitude, you have to except something epic. This book doesn't disappoint.
Volume 1 of Fire Power is titled Prelude for a reason – this is an origin story. That is by no means a bad thing however, as it does an excellent job of setting the scene for what is to come in this new title. This first volume is technically an original graphic novel, all 160-or-so pages are being released for the first time in this collection, but the book from this point onwards will be released in separate issues, starting with Issue #1 later in the year. It was meant to drop on Free Comic Book Day which has been postponed.
While the general structure of this tale is quite derivative of classic martial arts training-based movies, as well as sticking to the tried and trusted origin story format, I found myself not minding this and having a lot of fun with it. It might be down to the breathtakingly spectacular art or the fast pace at which this book moves along at, but either way it was a joy to read.
There's plenty of great characters to be found here, each perfectly realized by the art and snappy writing. In particular, the older trainer who has managed to stay surprisingly modern was a favorite of mine. The chemistry between Owen and another student named Zan was very fun as well. I'm looking forward to seeing them again in future issues. The humor between the rather large cast of this book was a joy, the jokes land well and I chuckled many times.
The art is not only spectacular in the character and location designs, it's also spectacular during the many action sequences this title has to offer. Capturing fast-moving martial arts in a comic-book is no small feat, yet it is done here with style and finesse. Every attack feels like it carries weight and there's a great sense of cinematic scale during these scenes, especially the final action set-piece.
Fire Power hasn't shown off anything new just yet, but this opening origin story is a lot of fun filled with a lot of stuff readers will love. It sets the scene for what looks to be an epic tale of fire-based martial arts and I'm excited to see where it leads us.
Advanced copy of Fire Power Volume 1: Prelude supplied by Image Comics and Skybound Entertainment.