Games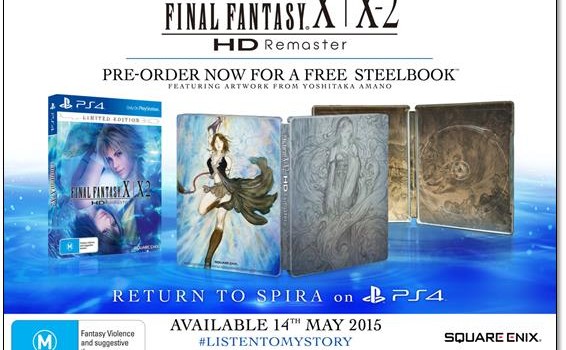 Published on March 4th, 2015 | by admin
FINAL FANTASY X|X-2 HD PS4 Date & Preorder Confirmed
SYDNEY (4TH March, 2015) – Square Enix Ltd., the publisher of SQUARE ENIX® interactive entertainment products across Australia & New Zealand, today announces FINAL FANTASY® X/X-2 HD Remaster will be available on Sony's PlayStation®4 from 14th May 2015.  Fans pre-ordering the boxed version will receive a limited edition including a special steelbookTM with artwork by legendary artist Yoshitaka Amano, available exclusively across PAL territories*.
Two of the most acclaimed FINAL FANTASY adventures of all time are headed to PlayStation 4, beautifully remastered to utilise the systems HD capabilities.
FINAL FANTASY X tells the story of Tidus, a star blitzball player who journeys with a young and beautiful summoner named Yuna on her quest to save the world of Spira from an endless cycle of destruction wrought by the colossal menace known as "Sin".
FINAL FANTASY X-2 returns to the world of Spira where High Summoner Yuna travels with her companions Rikku and Paine to unravel the mysteries of the messages hidden in the spheres she hunts, not knowing that the answers she seeks may change everything.
To celebrate the PlayStation 4 release, SQUARE ENIX is offering a special limited edition to anyone who pre-orders the game set. The limited edition includes a steelbook featuring artwork from legendary artist Yoshitaka Amano, who has designed many FINAL FANTASY logos to date, a series which spans over 25 years and over 20 titles. He was the original character illustrator for the FINAL FANTASY series. For many fans of the series, Amano is seen as the master of FINAL FANTASY art. 
New to PlayStation 4:
Enhanced Graphics – Graphics have been raised to match the PlayStation®4 standards
Original or Rearranged Music – Choose between the original or rearranged soundtracks from FINAL FANTASY X
Full Cross-Save Compatibility – Transfer your save and continue your progress across your PlayStation®4, PlayStation®3, and PlayStation®Vita systems. FINAL FANTASY X/X-2 HD Remaster is available wherever you play. (PS3 and PS Vita versions sold separately.)
For more information on FINAL FANTASY X/X-2 HD Remaster, visit: http://www.finalfantasyxhd.com/