News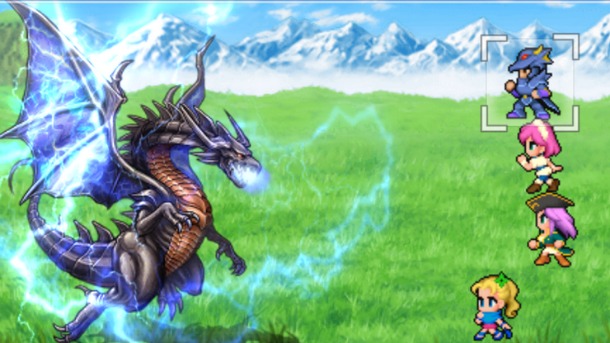 Published on September 27th, 2013 | by Admin
FINAL FANTASY V NOW AVAILABLE FOR ANDROID DEVICES
Company's Episodic RPG, FINAL FANTASY IV: THE AFTER YEARS,
Also set for iOS and Android release Summer 2013. 
Square Enix® are excited to announce that its medieval-fantasy role-playing FINAL FANTASY® V is now available for download on Android devices, priced AUD$16.99. In addition, another classic FINAL FANTASY title will be coming to mobile devices this year: FINAL FANTASY IV: THE AFTER YEARS® will be arriving on iOS and Android platforms, Summer 2013 (ANZ).
About FINAL FANTASY V
Return to the classic medieval tale of magic, monsters and friendship in FINAL FANTASY V. Twenty years after the original FINAL FANTASY V released in Japan, the classic RPG has found its way to mobile devices. Embark on an epic adventure with four heroes driven together by fate: Bartz and his Chocobo® companion, Princess Lenna of Castle Tycoon, the mysterious Galuf, and the pirate captain Faris.
Platform: GooglePlay
Pricing: AUS$16.99
Download link: https://play.google.com/store/apps/details?id=com.square_enix.android_googleplay.FFV_GP
Official Website: http://dlgames.square-enix.com/ff/ff5/en/
About FINAL FANTASY IV: THE AFTER YEARS
A direct sequel to FINAL FANTASY IV, FINAL FANTASY IV: THE AFTER YEARS is set a dozen years later than its predecessor. Several characters from the first game, including Cecil, Rosa and Cain, will be making a comeback in FINAL FANTASY IV: THE AFTER YEARS with players being introduced to Ceodore, the son of Cecil and Rosa, as the central character. Moreover, the title sets forth different scenarios for each of its main characters, creating an epic new tale. Carrying over some of the same mechanics from FINAL FANTASY IV, the game allows players to enjoy additional unique features such as the "Age of Moon" and "Band" abilities. FINAL FANTASY IV: THE AFTER YEARS features 3D polygon characters and the extensive story of all ten chapters is included.
Platform: GooglePlay, iOS
Pricing: TBD
Release Date: Summer 2013 (ANZ)
For more information on FINAL FANTASY IV: THE AFTER YEARS, please visit: http://dlgames.square-enix.com/ff/ff4/en/index.html