Games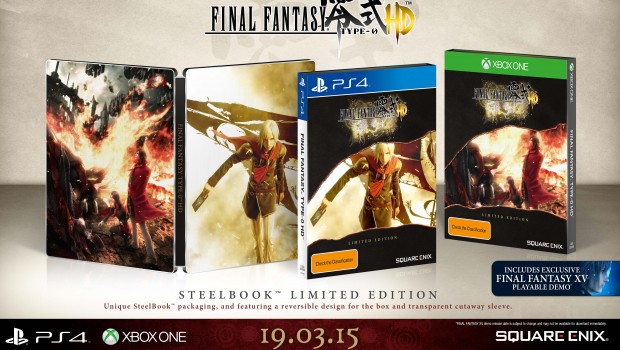 Published on December 16th, 2014 | by admin
Final Fantasy Type-0 HD Collectors Edition confirmed
SYDNEY (16th December, 2014) – Square Enix Ltd., today confirmed details of a very special Collector's Edition of FINAL FANTASY TYPE-0 TM HD . Set for release on 19th March 2015, the Collector's Edition will be available in limited quantities at EB Games Australia.
The upcoming Collector's Edition will be presented in a bespoke presentation box and sleeve, with a copy of the game encased in a stunning GOLDEN SteelBook™ – showcasing the unique and beautiful artwork of famed illustrator Yoshitaka Amano. The limited Collector's Edition will include a 200 page FINAL FANTASY TYPE-0 Manga, exploring the origins of Class Zero – available for the first time outside of Japan, and a Composer's selection Soundtrack CD – featuring 15 tracks specifically chosen by the original soundtrack composer, Takeharu Ishimoto.
Also included in the coveted Collector's Edition will be an 80-page hardcover Art book entitled "Class Zero 842" – chronicling the characters, enemies and world of Orience with a variety of stunning high-quality renders and concept art; as well as five life-size replicas of the iconic playing cards used by Class Zero's Ace.
In addition to the Collector's Edition, a Limited Edition of FINAL FANTASY TYPE-0 HD will also be available from EB Games Australia & New Zealand. The SteelBook™ Limited Edition features a reversible box design and transparent cutaway sleeve, and is available as a free bonus with preorder (while stocks last). 
FINAL FANTASY TYPE-0 HD also features an exclusive playable, downloadable demo of the highly anticipated FINAL FANTASY XV game titled FINAL FANTASY XV -EPISODE DUSCAE-, available only while stocks last.