Games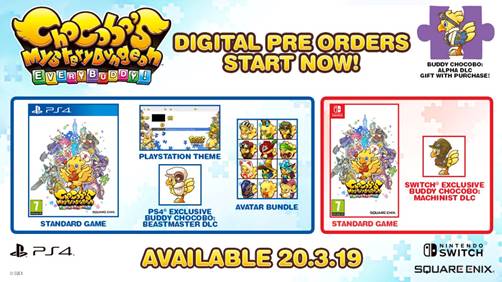 Published on February 18th, 2019 | by Admin
FINAL FANTASY IX AVAILABLE ON NINTENDO SWITCH, XBOX ONE AND WINDOWS 10 TODAY
FINAL FANTASY VII and Chocobo's Mystery Dungeon EVERY BUDDY!
Arriving Next Month
Fans and new players alike can celebrate the arrival of classic FINAL FANTASY® titles on modern platforms starting with today's arrival of FINAL FANTASY IX on the Nintendo Switch™ system, the Xbox One family of devices, and Windows 10. The release is followed closely by Chocobo's Mystery Dungeon EVERY BUDDY!™ launching 20th March and FINAL FANTASY VII releasing on 26th March.
To watch the FINAL FANTASY IX Launch Trailer, go to: https://youtu.be/IMFa3Uf3YLs
Originally released in 2000, FINAL FANTASY IX is a thrilling fantasy tale of love, war, magic and self-discovery. Newcomers and veterans alike can experience legendary moments with Zidane, Vivi, princess Garnet and others with modern enhancements on the Xbox One, Windows 10 and Nintendo Switch, including high-definition movies and character models, auto-save functionality and more.
The fun continues next month with Chocobo's Mystery Dungeon EVERY BUDDY! on the Nintendo Switch system and the PlayStation®4 computer entertainment system on 20th March. The reworking of the 2007 game Final Fantasy Fables: Chocobo's Dungeon is back and better than ever, with unique new dungeons, a new buddy system to recruit monsters and other characters as allies, and a local co-op system to play with your friends as you manoeuvre through randomly generated dungeons.
Chocobo's Mystery Dungeon EVERY BUDDY! is now available for pre-order digitally. Fans who pre-order from the Nintendo e-Store will receive buddy chocobo "Alpha" and the Switch exclusive buddy chocobo "Machinist" DLC to assist players on their adventure at launch. Those who order on the PlayStation®Store will receive buddy chocobo "Alpha," the PlayStation®4 exclusive buddy chocobo "Beastmaster" DLC, a PlayStation®4 theme, and Playstation™Network avatar bundle.
Additionally, on 26th March players can return to the original FINAL FANTASY VII on Nintendo Switch™ and the Xbox One family of devices. FINAL FANTASY VII follows the epic adventure of Cloud and his allies as they get caught up in a massive struggle to stop the threat of Sephiroth and save the planet. The title brings its groundbreaking story and gameplay with high-definition graphics and the addition of modern features such as auto-save, enemy encounter options and more.