Games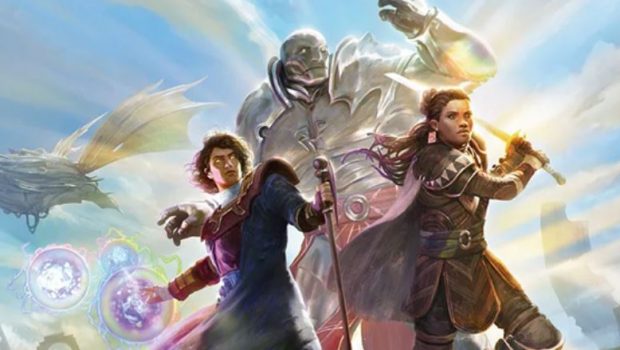 Published on September 2nd, 2022 | by Adrian Gunning
Fight for the fate of the Multiverse in Dominaria United
Wizards of the Coast today released Dominaria United, the latest set for the world's oldest and best trading card game, Magic: The Gathering (MTG). The first of a multi-set storyline taking place within Magic's original plane, Dominaria, the new set foreshadows a climactic showdown of heroes and villains in a world on the brink of invasion. The set, coinciding with the launch of MTG's 30th Anniversary celebration, contains 281 cards and releases on MTG Arena today and for tabletop on 9 September.
An apocalyptic threat stirs within Dominaria, and an ancient yet familiar enemy has at last revealed itself. Led by the Praetor Sheoldred, the Phyrexian army is hellbent on invasion after many years in the shadows. With the return of fan-favourite Planeswalkers Karn, Ajani Goldmane, Liliana Vess and Jaya Ballard, Dominaria United sees the beginning of an insidious invasion which threatens not just the destruction of Dominaria, but the entire Multiverse.
Significant not only for its world-defining story arc, Dominaria United also kicks off MTG's 30th Anniversary celebrations. Starting from Dominaria United and continuing through to the next eight Standard set releases, Wizards Play Network (WPN) stores will receive 3-4 foil retro-frame promos showcasing classic cards from throughout MTG's history. These can only be received by players who attend Prerelease events.
Dominaria United will also continue a fun way to experience Magic with the return of set integrated Jumpstart booster packs. Suited to both newcomers and veterans looking to play matches on the go, Jumpstart is an exciting method of quick deck building designed to get players casting spells from the moment they open their boosters. Each pack, showcasing 10 unique themes from Dominaria's world, will contain 20 cards that can be combined with any second Jumpstart booster for a rapid, limited-lite format of play.
The celebrations don't end there. A treat awaits players who score themselves Dominaria United's collector boosters with Lost Legends: a throwback to Magic's origins where cards pulled directly from the 1994 'Legends' set can be opened. Over 240 cards of any rarity are up for grabs from Legends, from Elder Dragon Nicol Bolas to the classic Moat.
Magic's original fantasy setting will additionally be showcased with stunning Stained Glass Full Art Lands, Legendary creatures, Planeswalkers, and frightful Phyrexian cards. Each will be available in foil and non-foil treatment within Set, Draft, and Collector Booster packs.
Dominaria United will be available as Draft Boosters, Set Boosters, Collector Boosters, Jumpstart Boosters, Commander decks and Bundles.
For more information on Dominaria United, visit https://magic.wizards.com/en/products/dominaria-united.