Games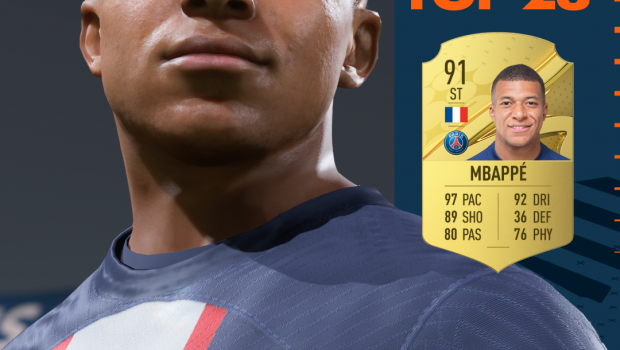 Published on September 13th, 2022 | by Adrian Gunning
FIFA RATINGS REVEAL TOP 23
The experts have spoken and let the debate begin. Starting yesterday, September 11th, EA SPORTS began unveiling the FIFA 23 Ratings for the best male footballers in the world.
Kicking off with the reveal of the EA SPORTS FIFA 23 Ambassador Roster Ratings yesterday, EA SPORTS also unveiled the Top 23 Men's Player Ratings for FIFA 23 today! From Messi to Ronaldo and from Lewandowski to Mbappé, these players are at the top of their games, but only one can be crowned the absolute best. Here is the ultimate Top 23 ranking from FIFA 23:
 Karim Benzema, 91 – Real Madrid
Robert Lewandowski, 91 – FC Barcelona
Kylian Mbappé, 91 – Paris Saint-Germain
Kevin De Bruyne, 91 – Manchester City
Lionel Messi, 91 – Paris Saint-Germain
Mohamed Salah, 90 – Liverpool
Virgil van Dijk, 90 – Liverpool
Cristiano Ronaldo, 90 – Manchester United
Thibaut Courtois, 90 – Real Madrid
Manuel Neuer, 90 – Bayern München
Neymar Jr, 89 – Paris Saint-Germain
Son Heung-min, 89 – Tottenham Hotspur
Sadio Mané, 89 – Bayern München
Joshua Kimmich, 89 – Bayern München
Casemiro, 89 – Manchester United
Alisson, 89 – Liverpool
Harry Kane, 89 – Tottenham Hotspur
Ederson, 89 – Manchester City
N'Golo Kanté, 89 – Chelsea
Jan Oblak, 89 – Atlético de Madrid
Erling Haaland, 88 – Manchester City
Toni Kroos, 88 – Real Madrid
Marquinhos, 88 – Paris Saint-Germain
Over the course of the next week, EA SPORTS will continue to reveal the best of the best including the Premier League Most Improved, Bundesliga 5 Star Skillers, and much more. At the week's end, the top 1,000 player ratings will be unveiled and fans across the globe can begin debating their favorite players.
Tuesday, Sept. 13: Premier League and Most Improved
Wednesday, Sept. 14: LaLiga and Best U21
Thursday, Sept. 15: Bundesliga and 5 Star Skillers
Friday, Sept. 16: Serie A, Ligue 1, Career Mode Highest Potential
Saturday, Sept. 17: Best Passers and Best Dribblers
Sunday, Sept. 18: Full Database, Fastest Players, Career Mode Gems
Additionally, Women's Ratings will be unveiled Sept. 21-22 and will offer fans a fresh look at the most authentic integration ever for women's leagues. Happy to share more details on that end once available.
To view the latest editorial ratings content, please visit the FIFA Ratings Database Hub.
FIFA 23 is developed by EA Vancouver and EA Romania and will be available worldwide on PlayStation 5, Xbox Series X|S, PC, Stadia, PS4, and Xbox One on September 30. Early access for FIFA 23 Ultimate Edition begins on September 27, 2022. Follow @EASPORTSFIFA on Twitter, Instagram and YouTube to keep up with our latest news, announcements, and to let us know what you think.
To learn more about the latest news for FIFA 23, please visit https://www.ea.com/games/fifa/fifa-23.