Games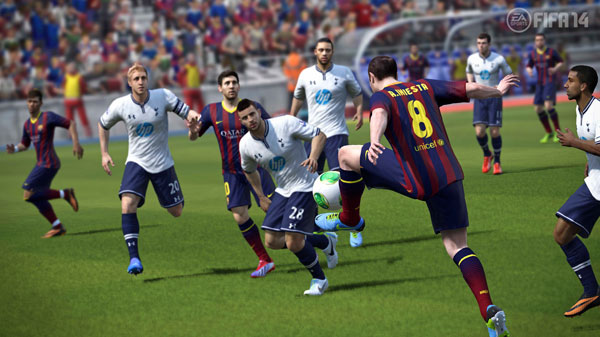 Published on August 8th, 2014 | by admin
FIFA 15
Socceroos and New York Red Bull star, Tim Cahill, celebrates his 6th anniversary as Australia's cover player on the world's greatest sports game – FIFA 15, launching September 25 
Sydney, Australia – August 8, 2014 – EA SPORTSTM today confirmed that Australia's Socceroo star Tim Cahill will return as the local featured player to appear on the Australian and New Zealand cover of the greatest sports game on the planet, FIFA 15. Being the sixth time Cahill has been on the cover of the game, this truly confirms that he is one of Australia's greats. Following his stunning form at the recent 2014 FIFA World CupTM and scoring one of the tournament's best goals, he continues to show his class and skill at an international level. 
"Tim Cahill has become the face of Australian football due to continuously performing at a world-class level, no matter his opponents," says Arbie Artinian, EA SPORTS Label Manager, Asia Pacific. "We are excited to once again have him be the face of the game and be on the cover of FIFA 15. Tim has always been a huge EA SPORTS supporter and we would like to thank him for being such an exciting player and creating millions of football fans throughout Australia and the world!"  
Currently playing for the New York Red Bulls, Cahill has also recently been named in the MLS All-Stars team who will take on former Champions League winners, Bayern Munich on August 6.  
"The FIFA games by EA SPORTS continue to amaze the football community globally, and I can't wait for FIFA 15 to come out so everyone can experience it" says Tim Cahill, FIFA 15 ambassador, Australian Socceroos and New York Red Bulls team member. "Every year the team at EA SPORTS upgrade the game to make it more realistic and enhance the overall experience to 'wow' fans. This year is no exception with so many new additions to the game, it will be the most authentic sports game available." 
This partnership will see Tim continue his role as Australia's leading EA SPORTSTM Football Ambassador. He will be the cornerstone of marketing and advertising campaigns in Australia, featuring on packaging, and collaborating with EA SPORTSTM on social media activities. Tim will appear on the Australian and New Zealand cover of FIFA 15 on the Xbox One® and Xbox 360® games and entertainment system with KinectTM from Microsoft, PlayStation®4 and PlayStation®3 computer entertainment system with PlayStation Move support, Windows® PC, Nintendo WiiTM, Nintendo 3DSTM, PlayStation®Vita handheld entertainment system, and PSP® (PlayStation®Portable) system when the game launches on September 25.