Games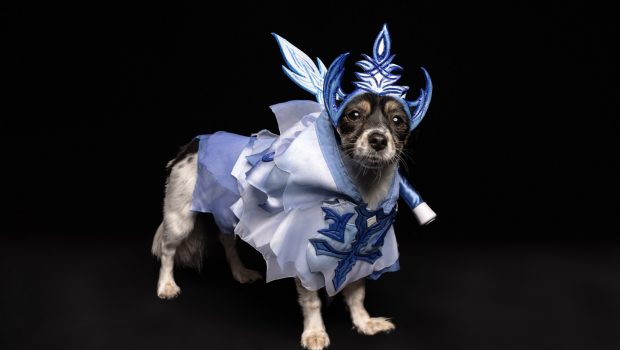 Published on June 7th, 2023 | by Adrian Gunning
FFXVI | Paws of Valisthea Cosplay Event
FINAL FANTASY® XVI is celebrating our beloved dog companions ahead of its official launch. In partnership with the RSPCA NSW, Paws of Valisthea is a dog-friendly event that brings our favourite sidekicks together in Sydney's Darlo Bar on Saturday 17th June. The event pays homage to FINAL FANTASY XVI's loyal and fearless companion, Torgal, who bravely traverses the dark epic journey alongside the game's human protagonist, Clive.
Bring, borrow or simply admire your favourite canines in costumes – Paws of Valisthea attendees take part in the fun and dress their dogs up as FINAL FANTASY XVI's mythical Eikons, the mighty summon beasts that Clive, the protagonist, will face off against during his journey. Eikon costumes exclusively designed by MissTwisted will be available for canine guests to have their exclusive FINAL FANTASY XVI photograph taken.
Doggy treats and prizes to be won, including copies of the new FINAL FANTASY XVI game (upon release) and a PlayStation®5 console for best-dressed pup. The event will also give fans the opportunity to play FINAL FANTASY XVI ahead of its official release on 22 June.
For those humans still looking for their loyal sidekick, RSPCA NSW will be present with several adoptable rescue dogs available to meet and to accept donations. To continue celebrations and help support furry companions as they wait for their forever homes, a number of local Twitch streamers will be hosting charity livestreams of FINAL FANTASY XVI to help support the work of RSPCA NSW.
"Final Fantasy XVI is the fantastic new addition to this epic video game anthology that will delight existing fans, but also the perfect game for those who have never played a Final Fantasy. We're really excited to see gamers on PlayStation 5 dive into the world of Valisthea, accompanied by their faithful canine companion: Torgal. It's an exciting landmark for the series, as it's the perfect game that anyone can jump into and start playing in their own style", said Eric Folliot, Marketing Director, SQUARE ENIX. "We're looking forward to seeing fans both old and new at launch dress up their furry best friends to become fearless Eikons!"
Summary details of Paws of Valisthea: 
Date and Time: Saturday 17 June | 10:00AM – 1:00PM
Location: Darlo Bar, 306 Liverpool St, Darlinghurst, NSW, 2010
Logistics: Bring, borrow or simply admire your favourite canines – attendees are encouraged to take part in the fun and dress up their dog coats and bandanas inspired by FINAL FANTASY XVI's mythical Eikons, with the dog in the most creative (and comfortable!) accessories and their owner walking away with a FINAL FANTASY XVI prize-pack and PS5 console.
To register interest: Please visit the Eventbrite page to register interest