Comics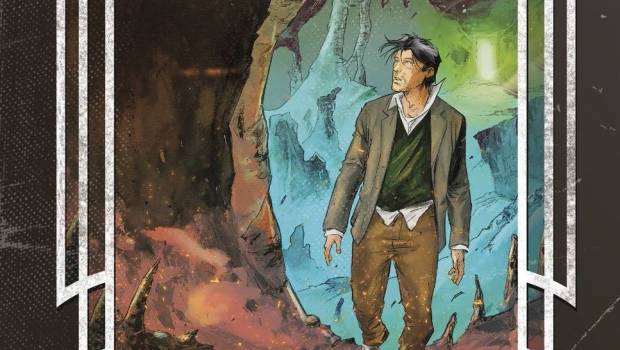 Published on August 21st, 2018 | by Dana Folkard
FEARSCAPE #1 REVIEW
Summary: Enter the Fearscape; a realm of dark magic where human fears exist as living creatures.
4.5
Highly intriguing tale
Henry Henry is a struggling writer, who dreams of literary fame, but is plagued by delusions of his own scholarly talent. He's also a plagiarist. After attempting to steal his mentors latest manuscript, Henry is mistaken – by an otherworldly creature – of being the greatest storyteller of our generation. He is then thrust into a dangerous adventure into a realm where human fears exist as living creatures. this place is called the Fearscape.
Writer Ryan O'Sullivan weaves a surreal narrative that begins with the main protagonist talking directly to us, the reader. Henry Henry is a loser of sorts, slightly unhinged and deluded by his talent as a writer. He dreams of creating a truly original story, something completely new and detached from the retelling of classic plot devices. After his agent once again rejects his script, Henry decides to visit the house of his dying mentor. Once there, he enters his office and finds a copy of his latest and possibly final manuscript sitting on his desk. He takes it with the intentions of rewording and changing it to make it his own, however, he is suddenly interrupted by an otherworldly being who calls itself "The Muse". This beautiful creature looks like an ethereal woman and has travelled from a realm of dark magic called the Fearscape, seeking this generations most talented and illustrious storyteller. Lying through his teeth, Henry pretends to be his mentor and thus enters the Fearscape to challenge the living embodiment of fear that threatens human existence. Nothing good can come of this.
At first, I was a little bemused and perplexed by the direction that this story was going to take. It left me guessing, and I liked that. What striked me straight away was Henry Henry himself. He is a complex leading character that already has unusual layers to his personality and emotional discourse. He often talks to the reader directly and interrupts the main story to reveal an interesting change of heart or to discuss an abrupt decision or choice he has suddenly decided to make. He seems like a shady kind of guy, one that I definitely wouldn't trust or believe, but he brings an interesting dynamic to the greater narrative, reminding me of a likeable anti-hero type of character.
The larger story that he is telling us is compelling in itself, delving into a realm of dark magic, where human fears exist as living creatures. Every generation produces a great storyteller, who is pulled into the realm to fight what is called "The Greatest Fear", which is the living embodiment of the collective fear of that generation. There is a part where we learn about a past Greatest Fear which was the bubonic plague, which had manifested itself as giant mutated ratty beast. I like this concept of a living fear that can exist in two worlds, affecting both in a devastating way. I'm really curious to see what this generations Greatest Fear is going to be. Donald Trump perhaps?
The art by Andrea Mutti does a wonderful job at capturing the social anxiety and alienation that Henry Henry experiences. There is an uncanny sense of creepiness throughout this story, which is heightened by the heavy and textured shading that we see. Sketchy and rough linework also helps to reinforce this, whilst also making everything have a graphic and coarse quality. I find his art to be quite lovely, and I especially loved the scenes that unfold in the Fearscape. The entire tone of the story shifts dramatically during these scenes, as we enter an alien and barren looking landscape. This place is bad and it loos like somewhere that I wouldn't want to linger. The colouring by Vladimir Popov is effective his helping to heighten the changing tone of the narrative. The palette is subtle but really works well alongside the art. I especially like the sense of bleakness that is achieved through the palette during the scenes in the Fearscape.
Overall, I believe that this is a highly intriguing tale. I love the main character, with all his horrible flaws and shortcomings. This is a story I can't quite pin and that's what I like about it. Give it a go, as I'm sure you'll feel the same way.
I'm giving this issue 4.5 out of 5 stars!
---
COMIC DETAILS
CREATIVE TEAM: Ryan O'Sullivan, Andrea Mutti and Vladimir Popov
PUBLISHER: Vault Comics
GENRE: Dark Fantasy
PUBLICATION DATE: September 26, 2018
REVIEWER: Dana Folkard