Comics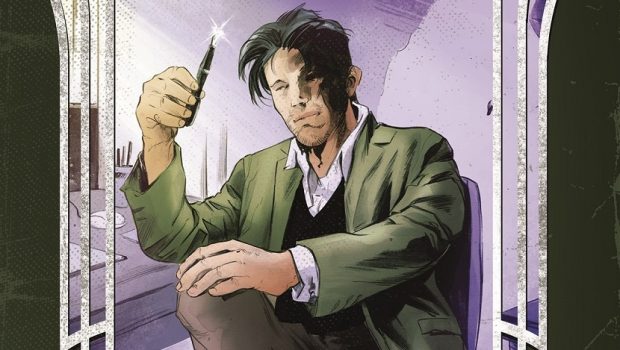 Published on December 12th, 2018 | by Dana Folkard
FEARSCAPE #3 REVIEW
Summary: Oh dear Henry. What have you done?
A lot has happened since Henry Henry escaped the Fearscape. Some good but mostly bad. I'll give you a quick rundown on what has happened to the ol' chap.
So, Henry is back and some things have changed. His abrupt departure from the Fearscape allowed the Greatest Fear to follow him back to Earth. An encounter between the two is had, which I won't go into too much detail, for fear of spoilers, but what I will say is that it results in some huge reality alterations unfolding. Henry Henry is now a successful writer, even if his first published title is unashamedly plagiarised from his mentor, Arthur Proctor, who happens to be feeling somewhat more sprightly and decides to visit Henry at one of his books signings. Unfortunately, he is an unwelcome visitor, with Henry verbally attacking the sick old man. Shit then very quickly hits the fan for Henry, as his deceptions slowly begin to unravel, exposing him for the fraud he is. This forces Henry to do something I didn't think the guy was capable of: murder! He does this so as to conceal his dirty secret and to preserve his new life and literary fame. What a bastard!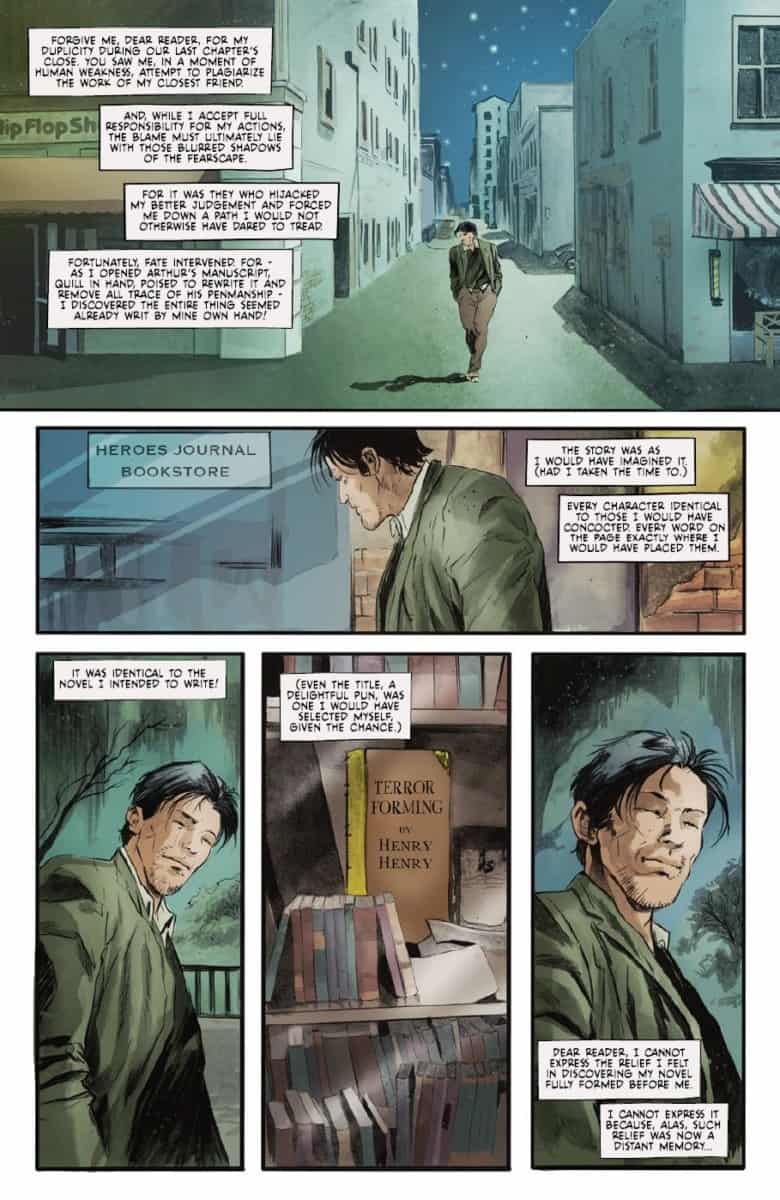 Ok, I mentioned in my last review how I didn't like Henry Henry very much. Well, all I'll say is that after reading this issue, I bloody hate the guy. Yeah, I'm intrigued by him and want to know more about his mind and what compels him to be such a despicable jerk, however, the things we see him do in this issue are unforgivable. He literally has zero redeeming qualities. None. Zip. Nada. In saying that, I will say that I absolutely love the dark turn that the story has taken, as we see Henry venture down a path that he can't easily back out of. The tapestry of his deception is immense, now expanding across two realities, effecting countless people and potential futures. He really is what I could call a sociopath. Whilst I'm doing a fair amount of hating on the guy, I will say that this utter dislike of the main protagonist is one of the main reasons why I love this story so much. Ryan O'Sullivan weaves a highly immersive, compelling and enjoyable story around a central character that is so dislikeable. That is not an easy feat for a writer to successfully pull off. Well done Ryan.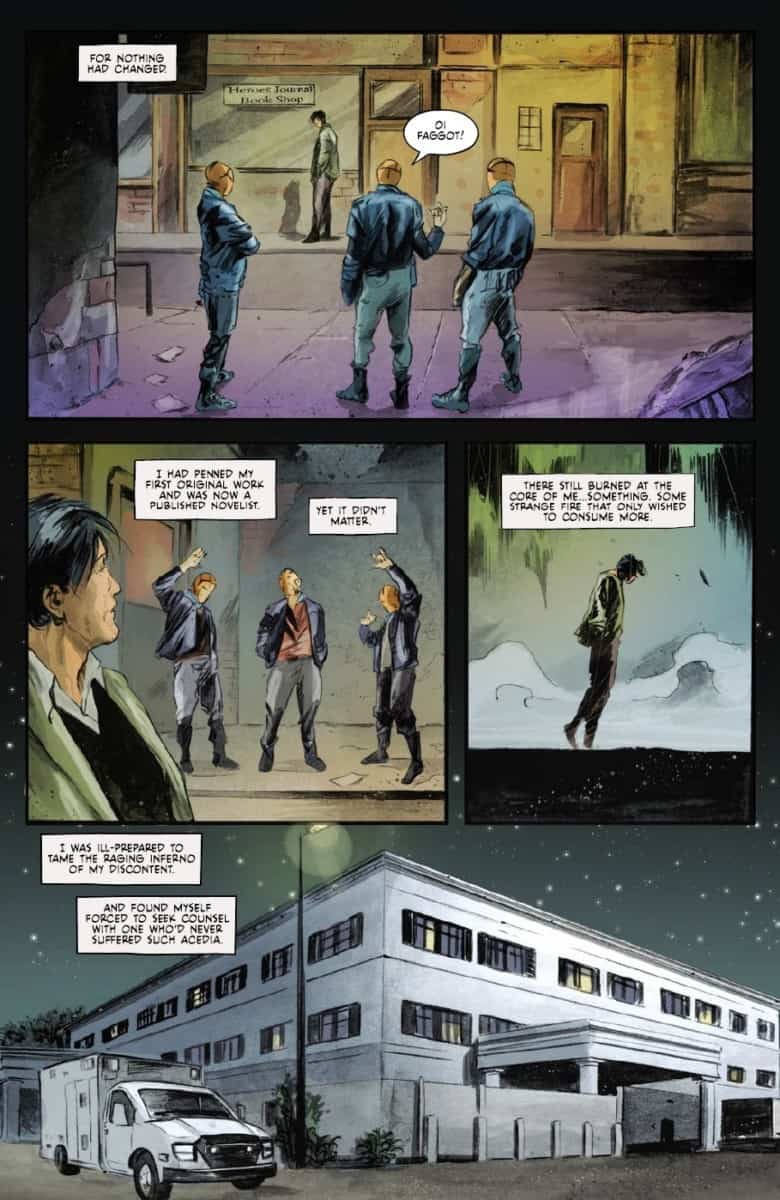 I also really love how Henry Henry is continuously manipulating the narrative throughout the issue. He is trying to conceal the truth from us, fabricating what he wishes people to see. He is clearly concerned about how people perceive him and his cowardly actions. I enjoy this fractured storytelling, finding the dual narratives and dialogues to be a clever way to maintain the deceptive tone of the issue. What is real and what is fake is beginning to become the biggest question we should all be asking ourselves.
Andrea Mutti's art is flawless. I love his art style, enjoying the wonderfully textured linework and use of heavy inking. Tonally, he perfectly frames the visual narrative, capturing the darkness lurking within Henry and the deception that is beginning to consume him. I especially love some of the more intense emotional encounters that we see, with the one between Arthur and Henry at the bookstore standing out to me. This was a highly poignant moment, filled with immense pathos as we see a sickly old man have his heart broken for the last time by someone who he holds dear. It's a tragic and heartbreaking moment, and I believe that Mutti did a lovely job at capturing this encounter. The colouring by Vladimir Popov is both subtle, yet eye-catching. The overall palette is much more muted in this issue, with random pops of colour – with the Muse or the Greatest Fear – standing out in a vibrant way. It is during these moments when the palette harks back to the otherworldly colours that we saw in the Fearscape.
Overall, I thought that this was a great issue, probably my favourite so far. Sad, intense and distressing, the story has progressed to places I did not anticipate. Loving the pacing and dark character development as well.
I'm giving this issue 5 out of 5 stars!
---
COMIC DETAILS
CREATIVE TEAM: Ryan O'Sullivan, Andrea Mutti and Vladimir Popov
PUBLISHER: Vault Comics
GENRE: Dark Fantasy
PUBLICATION DATE: December 12, 2018
REVIEWER: Dana Folkard