A Moment with David Goyer
Check out the exclusive David Goyer interview by clicking here! Be warned though, this contains spoilers and things that may sensitive to some readers!

Welcome to the all new Doctor Fate Web site with an all new look. This page covers the entire Doctor Fate mythos and beyond, such as Hawk & Dove, Amethyst and the Justice Society of America (JSA). This web page has gone through a variety of changes in its eight years on the internet. We now have a stable domain name and web hosting site, so feel free to bookmark this page as your one stop Immortal Doctor Fate Web Site.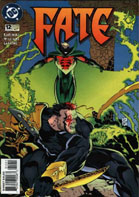 Fate #12 & More Fun Comics #71
If you have a JSA related web site and want to be part of something bigger (i.e. we can now give fan based JSA sites a mini domain name such as mrterrific.justicesociety.org and an e-mail address such as mrterrific@justicesociety.org. If you are interested, please let us know by clicking on the Contact Us button on the top of this web site. Now sit back and enjoy the site!