Comics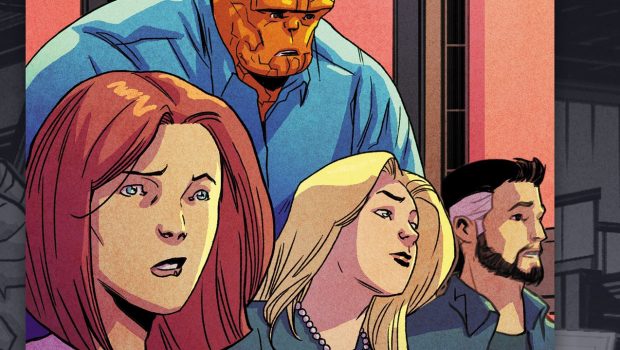 Published on November 10th, 2021 | by Andrew Bistak
'FANTASTIC FOUR' Infinity Comic now available on Marvel Unlimited
An all-new Infinity Comic is now available on Marvel Unlimited! A four-part FANTASTIC FOUR series launched today, and will be available exclusively on the app every Tuesday. The series is written by Zac Gorman (Great Lakes Avengers, The Unbeatable Squirrel Girl) with a creative team including artist Stefano Landini and colorist Ian Herring.
FANTASTIC FOUR
Writer: Zac Gorman
Artist: Stefano Landini
Colorist: Ian Herring
Editor: Alanna Smith
The Fantastic Four plan a glitzy night out at an interdimensional restaurant—only to be taken hostage by a gang of aliens set on robbing the place!
Writer Zac Gorman says, "Weird Marvel has always been my favorite. When most kids were into Wolverine, I was digging through long boxes for Speedball and Man-Thing comics. Fantastic Four always felt like the borderline for that. They're the weird comic that went mainstream… that's what I love about them. Well, that and the fact that they're stuck with each other. They're just a big weird family and who doesn't relate to that?"
Artist Stefano Landini adds, "I have dreamed since I was a kid that I would draw the Fantastic Four one day. When I was asked to do it in this new format it was absolutely amazing. A fantastic dream come true."
Marvel Unlimited is a one-stop destination for over 29,000 comics spanning the entire Marvel Universe. The app available on For iPhone®, iPad®, Android devices™ and web. For more information on new Marvel Unlimited comics, please visit: www.marvel.com/unlimited