Games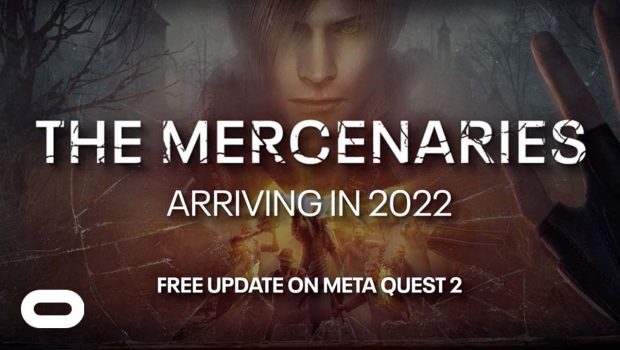 Published on November 24th, 2021 | by Adrian Gunning
Fan-Favorite 'The Mercenaries' DLC Coming to 'Resident Evil 4' Next Year on Quest 2
Today Capcom officially announced that The Mercenaries will be coming to Resident Evil 4 on Quest 2 as a free update in 2022. Check out the official release below:
Last month we asked "What're ya buyin'?" and the answer's been a bit overwhelming. We're so grateful for the response to Resident Evil 4 on Quest 2—both from long-time fans getting to revisit Leon's adventure from a new perspective, and from new fans who are experiencing Capcom's classic for the first time. Resident Evil 4 has become the fastest-selling app in the history of Quest*, and we were honored to see it receive a "Best of VR" nomination at The Game Awards alongside other incredible 2021 releases.
But some of you have already finished your trips to Plaga-infested Europe, and we've heard you asking "Is that all, Stranger?" Don't worry, we're not done yet. Today we're excited to announce that The Mercenaries will be coming to Resident Evil 4 on Quest 2 as a free update in 2022.
The Mercenaries has been a staple of Resident Evil 4 since the GameCube era. Pitting players against both the clock and a never-ending horde of Ganados, your goal is to kill as many enemies as you can before time runs out and the helicopter arrives. It's a tense arcade take on Resident Evil 4's combat, and the intensity will reach new levels once you step into Leon's shoes on Quest 2. You'll need true mastery if you want to achieve that vaunted five-star ranking on each stage.
Even if you're not vying for top honors though, The Mercenaries is a great reason to spend more time with Resident Evil 4. Entertaining and endlessly replayable, Resident Evil 4 – The Mercenaries is coming your way for free next year. We've also heard your feedback about additional mobility and comfort settings, and we're working on them. Early next year we plan to add hand-based steering, improved left-handed controls, height adjustments, and an option to fine-tune the location of your chest and waist inventory slots so you can grab your grenades from a place that suits you best. Stay tuned for more details.
*Based on gross sales in the first week of launch.