News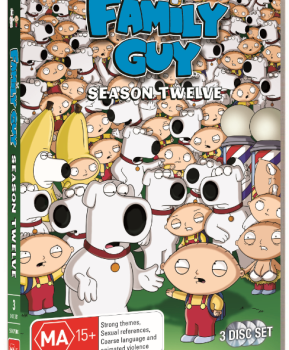 Published on September 30th, 2013 | by Admin
FAMILY GUY: SEASON 12
Go back to where it all began when Family Guy Season 12 comes to DVD on October 2nd 2013 from Twentieth Century Fox Home Entertainment.
Featuring 23 all-new episodes, including scenes 'too rude for TV' and over 3 hours of never-before-seen special features, Family Guy Season 12 promises hours of laughter featuring the most shocking, satirical and hilarious episodes to-date.
This season sees Peter endure another painful encounter with the angry Giant Chicken, Quagmire tries to get giggity with Meg, while Brian and Stewie travel back in time to the show's pilot episode. Family Guy features the voice talents of Emmy Award® winning creator Seth MacFarlane, Alex Borstein (MADtv), Seth Green (Robot Chicken), Mila Kunis (That 70's Show) and Mike Henry (The Cleveland Show).
Family Guy Season 12 is a side-splitting blast to the past packed with celebrity guest voices, including Cate Blanchett, Ricky Gervais, Ellen Page and Ryan Reynolds. As well as awesome bonus features, including a look back to the pilot episode with your favourite actors and Fishin' Around with hilariously clever guest star Ricky Gervais.

EPISODE BREAKDOWN
Lottery Fever
Seahorse Seashell Party
Screams Of Silence: The Story of Brenda Q
Stewie Goes For A Drive
Back To The Pilot
Thanksgiving
Amish Guy
Cool Hand Peter
Grumpy Old Man
Quagmire And Meg
The Blind Side
Livin' On A Prayer
Tom Tucker: The Man And His Dream
Be Careful What You Fish For
Burning Down The Bayit
Killer Queen
Forget-Me-Not
You Can't Do That On Television, Peter
Mr. And Mrs. Stewie
Leggo My Meg-O
Tea Peter
Family Guy View Mailer #2
Internal Affairs
DVD SPECIAL FEATURES
Scene animatic from "Seashore Seashell Party" with Slide-by-Slide Commentary
Looking Back to the Pilot
Full Episode Animatic from "Back to the Pilot"
Fishin' Around With Ricky Gervais
Audio Outtakes With Ricky Gervais
Ron MacFarlane Reads Viewer Mail
Scene animatic from "Family Guy Viewer Mail #2" with Side-by-Side Commentary
Never before seen "Deleted Scenes"