Events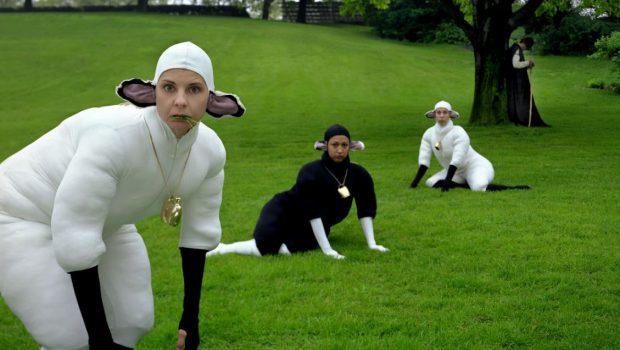 Published on November 10th, 2016 | by admin
Family fun at Arts Centre Melbourne this Summer and Autumn!
MELBOURNE, THURSDAY 10 NOVEMBER 2016 – An exciting summer and autumn program featuring a witchy ride through the skies, a New York-based clowning duo with breathtaking air sculptures, Canadian "sheep" on the lawn and a fake-bloody Shakespearean tale will make Arts Centre Melbourne the place for families when the weather warms up.
Little ones and their grown-ups are invited to fly into the Playhouse theatre this summer for the magical adaptation of Julia Donaldson and Axel Scheffler's Room on the Broom from 4 – 15 January 2017. During the season mini town planners, master builders and budding architects are invited to build a micro-city with their bare hands in the free event Imaginary Architecture.
The young and young at heart will  be wowed by the New York clowning duo – The Acrobuffos who will take audiences on an epic comic adventure filled with breathtaking air sculptures and laugh-out-loud physical comedy in Air Play from 18- 22 January at the Stage Theatre. Those keen on an interactive adventure can get lost in an exciting new adventure game In A Deep Dark Forest from 11 – 15 January, or have fun with Les Moutons (The Sheep) who will take up residence on the Arts Centre Melbourne Lawn from 19 – 22 January for an unforgettable stay this summer.
Older children will enjoy Company 13's Macdeth, a Shakespearian treat performed in an immediate, filmic style from 19 -21 January in the Fairfax Studio. The funny, cautionary and fake-bloody tale combines Shakespeare's rich language with a healthy dose of invention and idiocy.
In March – as part of the Asia TOPA festival – Arts Centre Melbourne presents Polyglot Theatre and Papermoon Puppet Theatre's Cerita Anak (Child's Story). The performance takes pre-school children and their adults on a sea journey never to be forgotten. Then in April, CDP Kids adaptation of David Walliams' Mr Stink will be performed from 1-9 April, followed by Cypher, a raw celebration of hip hop culture choreographed by Nick Power in the Playhouse Rehearsal Room from 20 and 21 May.
Arts Centre Melbourne's year-round Families Program was launched in August 2009 and has grown in reputation to become a highly respected program both in Melbourne and nationally. Featuring free events, intimate and large-scale theatre from some of the world's most respected companies and a diverse range of interactive workshops, the program is robust and growing in size, scale and scope.

Arts Centre Melbourne presents
Families Summer/Autumn 2017
Bookings: artscentremelbourne.com.au or 1300 182 183