Blu-ray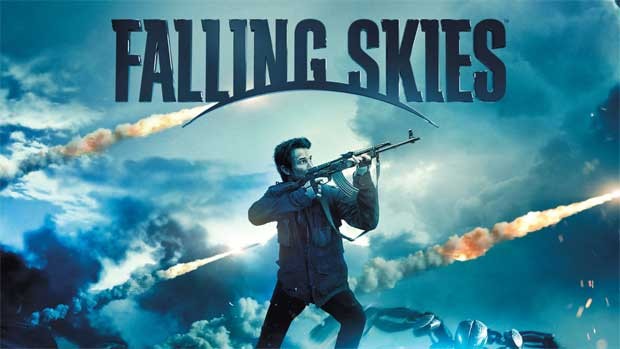 Published on June 22nd, 2015 | by admin
Falling Skies the Complete Fourth Season Blu-ray Review
Summary: Falling Skies the Complete Fourth Season is a little bit of a hit and miss on Blu-ray and is still a much watch sci-fi series for fans
Season four of Falling Skies has arrived on Blu-ray and DVD which returns viewers to this shattered world as humanity attempts to gain the upper hand from the Espheni, the alien overlords who have invaded Earth in this post-apocalyptic sci-fi series.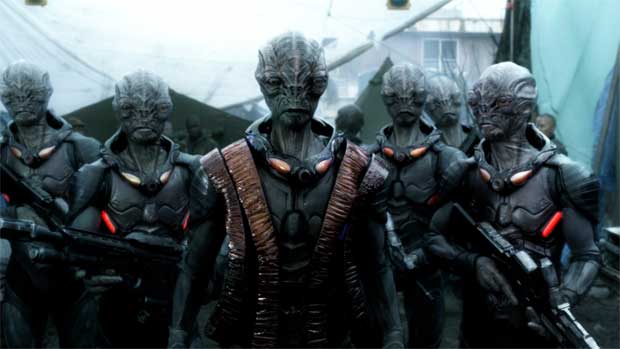 Although there was a minor victory for mankind in the previous season, the Espheni are once again on the attack which threatens the city of Charleston and forces the 2nd Mass to rethink their plans, even with the freedom fighters of the city challenging the overlords.
The fourth season of Falling Skies is also quite darker than the previous instalments that sees Tom more broken as his humanity is literally taken from him and the Mason family are once again on the run. It's almost like season 4 is rebuilding the franchise again as everything feels broken, separated and a tad depressing.
For instance, Matt is forced into a Espheni camp that definitely has parallels to World War II and as a result, he is desperately trying to figure out a way to escape, whereas Anne has forced herself to become a much more darker character in order to survive this broken world. This is not to say the stories are bad, however they are much darker than what we are use to.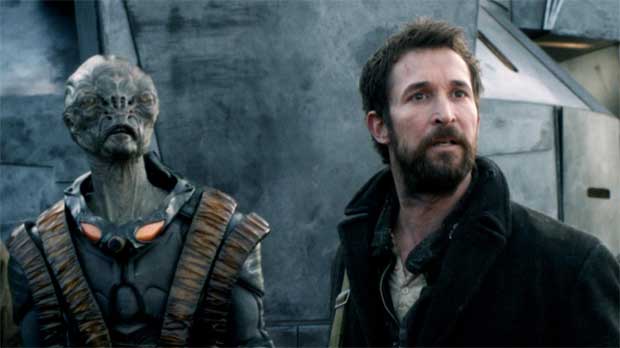 The character Pope is also further explored in season 4 and I must admit that this former criminal is definitely growing on me, especially when he is forced to wear the Faraday suit on a very deadly mission. Another interesting plot in the season four is their mission to the moon which ends the series on another cliff hanger and once again left me wanting more.
One shining moment for the heroes of Falling Sky is Lexi who has become this figure head as many believe she can bridge the gap between the humans and the Espheni which is interesting see unfold, even though her journey is limited. Needless to say, Lexi is not your average human and seeing her grow in season four definitely creates more answers than questions but that's half of the fun of Falling Skies.
Given that, season four does have its flaws and some of the stories seem a little disjointed, including the characters themselves that at times don't feel like the character we knew in the previous seasons. Nonetheless it's an interesting sci-fi series and considering that there is not that much available when it comes to this genre, Falling Skies definitely fills the gap, even with its inconsistencies.
Episode Listing
Ghost in the Machine
The Eye
Exodus
Evolve or Die
Mind Wars
Door Number Three
Saturday Night Massacre
A Thing With Feathers
Till Death Do Us Part
Drawing Straws
Space Oddity
Shoot the Moon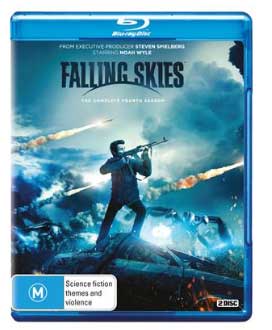 Blu-ray Details
Year of Release – 2014
Actors – Noah Wyle/Maxim Knight/Drew Roy/Moon Bloodgood/Will Patton/Sarah Carter/Connor Jessup/Colin Cunningham
Aspect Ratio – 1.78:1
Audio – English (DTS-HD 5.1)
Film Genre – TV Sci-Fi
Label – Roadshow
Rating – M
Region Coding – B (Blu-Ray)
TV Standard – PALPrimary Format – Movies/TV – Blu-Ray