Films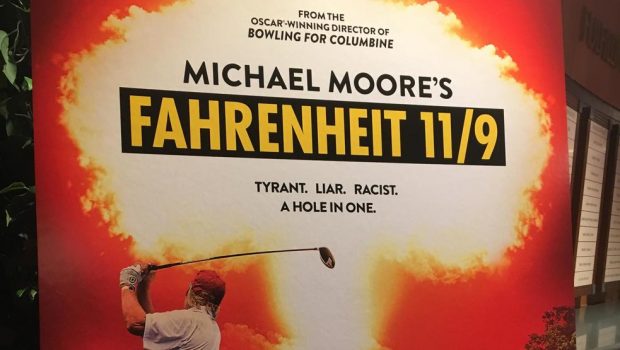 Published on November 5th, 2018 | by Damien Straker
Fahrenheit 11/9 – Film Review
Reviewed by Damien Straker on the 5th of November 2018
Madman presents a film by Michael Moore
Produced by Michael Moore, Jeff Gibbs, Carl Deal and Meghan O'Hara
Written by Michael Moore
Narrated by Michael Moore
Cinematography Luke Geissbühler and Jayme Roy
Edited by Doug Abel and Pablo Proenza
Rating: M
Running Time: 120 minutes
Release Date: the 1st of November 2018
Michael Moore is all on his lonesome. The only other major filmmaker making political statements as sizeable as Moore is arguably Spike Lee. Lee hasn't been prolific lately but his recent racial thriller Blackkklansman (2018) successfully showed how vocal he can be. It's the type of dissenting voice that Moore wants the broader US public to find for themselves.
The filmmaker, who hails from the depreciating city of Flint, Michigan, and whose father worked for over thirty years on a General Motors assembly line, continues to document social issues affecting America. Few other American filmmakers would have the nerve both politically and artistically to review as many topics as he does here or to be as openly critical of the US government.
Moore's last film was called Where to Invade Next? (2015). It explored the benefits of living in socialist democracies of growing European countries. It felt as though Moore had grown soft and naive in his viewpoints. Haven't times changed? Now back on home soil, he has predictably recaptured his antagonism and unfiltered criticism of the US political system with Fahrenheit 11/9.
The title is not only a reference to an early Moore film, Fahrenheit 9/11 (2004). It also signposts his intent to unravel the results of the United States Presidential Election of 2016, and because he believes that the US is only another September 11-style terrorist attack away from utter capitulation.
Similarly, the scruffy, barrel-shaped filmmaker quips that the American Dream is aptly named because 'it's not a reality for everyone'. He believes American citizens are aggravated by establishment politics due to mass wealth inequality, the corruption of the Trump administration and overly powerful corporations.
The film will be pitched as the ultimate anti-Trump documentary, which is misleading. While Donald Trump's gaffes and scandals are long enough for a lifetime of documentaries and inspection, Fahrenheit 11/9 possesses a much wider scope. It probes how we entered one of the weirdest and most divisive political climates in modern history, which Moore attributes to complacency.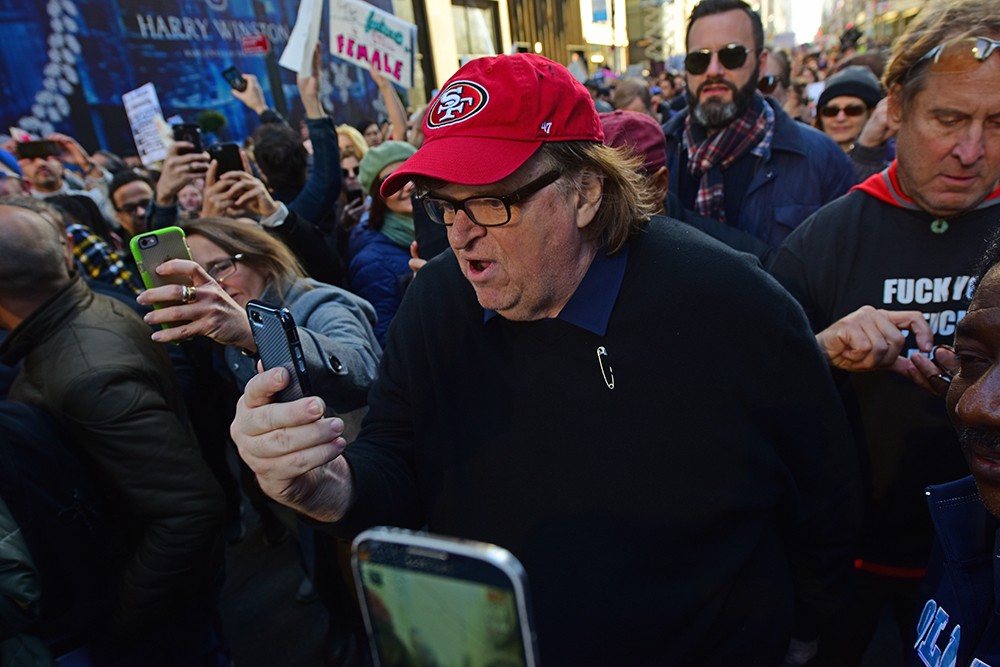 The filmic techniques used by Moore to construct the opening sequence are predictable. He opens with the election and focuses on the Hillary Clinton camp waiting inside a glass building to figuratively break the ceiling. There are crowds of young people beaming with excitement and optimism. The air of hope is complemented by the Rachel Platten pop ballad 'Fight Song' playing energetically on the soundtrack.
Once the catastrophe of Trump's unexpected win unfolds, the music becomes increasingly more operatic and fearful. The contrast in mood, shifting from optimism to horror, feels too self-referential. The juxtaposition does not top the opening of Capitalism: A Love Story (2009) where Moore compared a viral cat video with some upsetting footage of someone being forcefully removed from their home.
Moore then fires some big shots at Trump. He zooms in on creepy images of the real estate mogul turned president inappropriately holding and touching his daughter, Ivanka, and making suggestive comments about her. This is not for cheap laughs or to be cringing. Surprisingly, it stems from a place of guilt. Moore concedes that he was once soft on Trump during an interview to help his friend Rosie O'Donnell. He is asking if he could have done more to stop this madman from becoming president.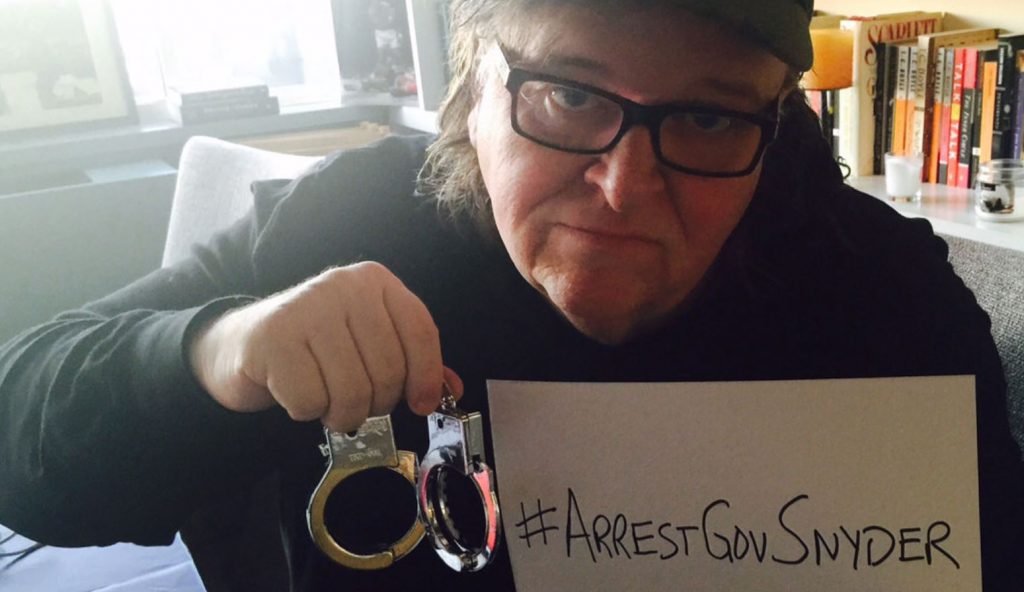 Complacency is the film's controlling idea. It unifies each of Fahrenheit's major case studies. These angles include the Flint water crisis, the role of the media, the rise of Bernie Sanders, and political activism from the students who survived the school shooting in Parkland, Florida.
The water crisis is a particularly appalling situation that needed real people power to be resolved instead of relying on corrupt bureaucrats. Moore attributes the situation to the actions of Governor Richard Snyder. He describes Snyder's practices as 'slow-motion ethnic cleansing'. The governor contaminated the area's drinking water by building a new pipeline, which resulted in lead poisoning and the corrosion of a General Motors factory. Over ten thousand children drank the water, and efforts were made to cover up the test results that proved the toxicity. Snyder opted to fix the manufacturing plant's water but allowed the public's supply to continue to be polluted.
Moore also attacks the Democrats for their ineptitude and lack of agency during the 2016 election. He argues Hillary Clinton was too occupied giving speeches to major banks while Trump campaigned in the pivotal Rust Belt states that heavily impacted on the election result. This is true because the Democratic Party is currently funded by large corporations that influence its establishment policies, and Trump, as much as he lied, did visit the states his opponents neglected.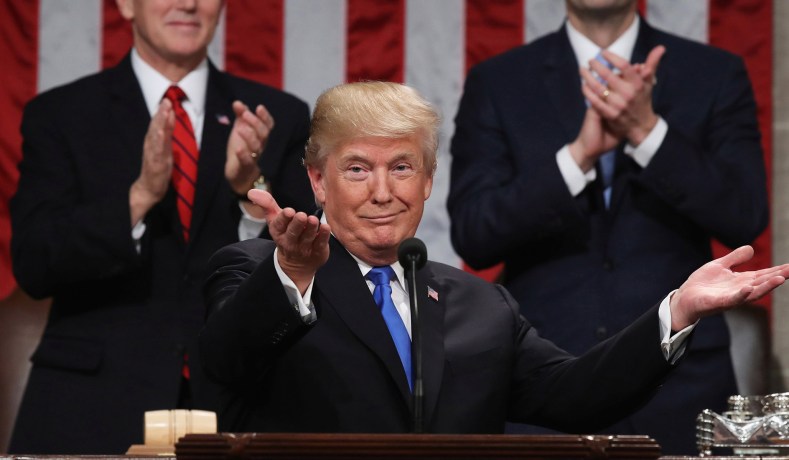 The takedown of the establishment Democrats is summarised by an awkward scene involving Barack Obama. He showed his support for the cockroach Snyder by sipping water to prove it wasn't polluted. It's a very disheartening scene because one would expect more from him than cheap political stunts.
The film continues to grow and unfolds as a gripping call to arms. It argues that people must act if they expect any form of social change. Moore states, 'if people aren't asserting themselves, Democracy will go away', which is a powerful reminder about people standing up to protect their beliefs. The footage of the teachers on strike in West Virginia, singing John Denver's song 'Country Road', is particularly stirring.
Despite being sold out by their union, we are told that the teachers persisted and won their fight for higher wages. Moore encourages people to partake in this type of activism, believing it is a catalyst for change. He refuses to soft-peddle the action with a 'we can do it' message either. He reflects on the challenges, underlining how the Democrats rigged the Primary against Bernie Sanders, and how Hispanic communities became disenfranchised and distant, believing it was pointless to vote.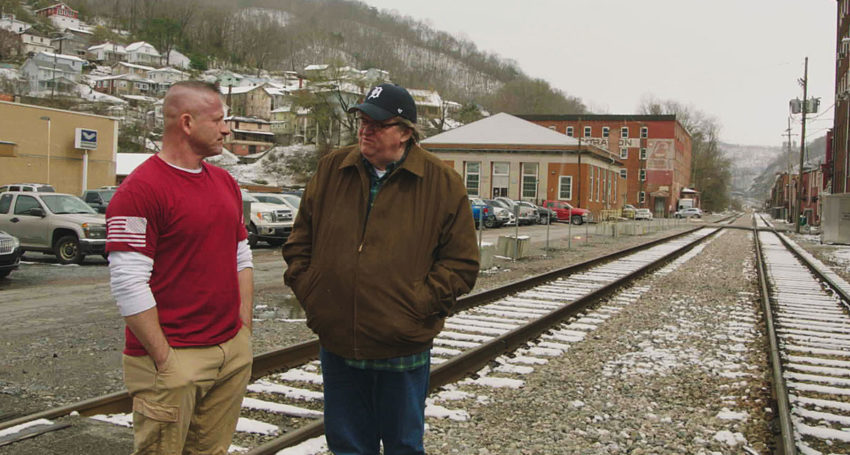 In the final quarter, the film circles back to Trump with a fiery statement that few other American filmmakers today could make. In one darkly funny sequence, Moore cuts to stock footage of Adolf Hitler speaking but pastes Trump's voice over the images. The audio-vision is hilarious and disturbing as he credibly associates the Third Reich with the current US administration.
He describes how the Reichstag was burnt down and the Third Reich blamed it on their own political opponents to frame and isolate them. Moore argues this event and Hitler's subsequent rise mirrors the September 11 terrorist attacks, the growth of authoritarianism and Trump's embrace of fascist principles, including the suppression of the media.
Fahrenheit 11-9 does not provide exciting new powerful revelations about Trump's psyche. Who would dare venture into that dark rabbit hole? Instead, it presses people to be accountable so that this tactless embrace of mob rule, authoritarianism and dictatorships is never repeated.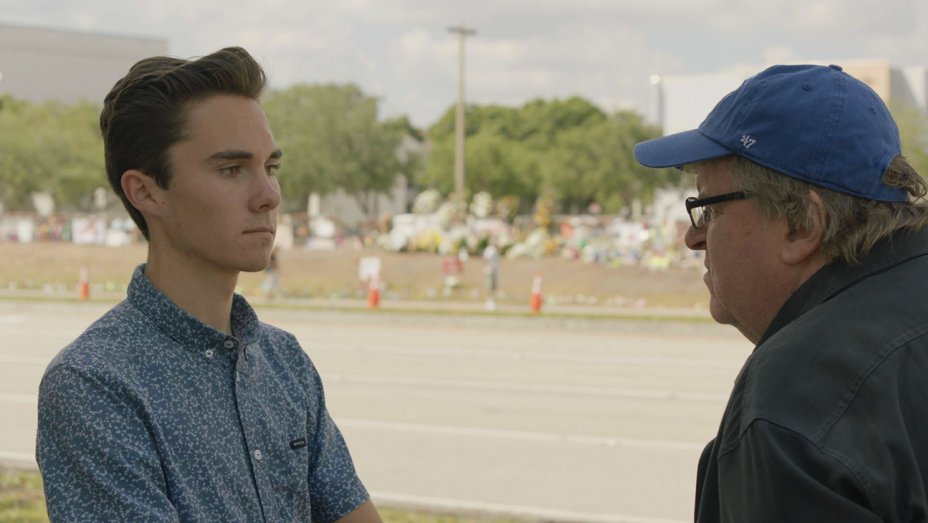 Greed, neglect, complacency and corruption are why the world has been saddled with Trump's incompetency. He is symptomatic of the diseases that have infested the US political system and left people feeling despondent. Moore's question therefore is not 'how do we remove Trump?', as many would be predicting, but in the film's own words, 'how the fuck did we get here?'
Moore might be alone in making large political statements, but he genuinely cares about people. 'The America I want to save is the one I've never had', he says because he wants people to have better lives and believes that personal action is pertinent in discovering social change. As a example of complacency and activism, I found it darkly funny, but also powerful and occasionally moving.
Summary: As a example of complacency and activism, I found it darkly funny, but also powerful and occasionally moving.