Games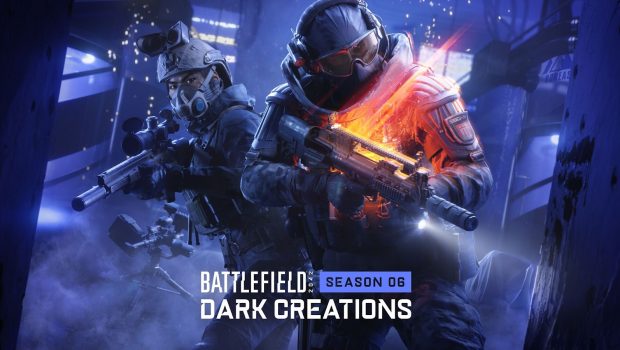 Published on October 6th, 2023 | by Adrian Gunning
FACE THE TERRIFYING UNKNOWN IN BATTLEFIELD 2042 SEASON 6: DARK CREATIONS, LAUNCHING OCTOBER 10
The Battlefield™ team today revealed Battlefield™ 2042's Season 6: Dark Creations. Available October 10, this intense new season brings an array of new content to the game, including a brand-new map, weapons, gadgets and gameplay improvements. These core content additions will be available to all players as part of 100 Free tiers in Battlefield 2042's Battle Pass*; additional cosmetic items can be earned through a Premium version of the Battle Pass**. In addition, there's no better time to jump into Season 6 and master the unknown with your squad as Battlefield 2042 will be free on all platforms from October 12-16***.
In Season 6, the battleground fight takes a turn for the worse as No-Pat soldiers are captured and experimented on by a nefarious organization. Redacted, Dark Creations' brand-new map in the Outer Hebrides, Scotland, inspired by fan-favorite maps from the series' past – like Operation Locker (Battlefield 4) and Operation Metro (Battlefield 3) – is the first map in the franchise to feature a completely indoor environment containing playspaces built for intense claustrophobic infantry-only firefights and more than a few dark secrets.
As with all new Seasons, players can expect a variety of new weapons and gadgets to find and experiment with in Dark Creations. The VHX D3 features optimized portability and performance, making it a valuable asset for close and medium-range combat. The Laugo Alien is a L9CZ pistol whose semi-automatic, highly accurate firing is best suited for close-quarters situations. Last but not least, the G428 rifle has exceptional accuracy and substantial penetration power for marksmen. New to the repertoire of gadgets are the Ammo Pouch and Health Pouch, offering players ways to assist their squads when death approaches. To help provide quick support to objectives, hop aboard the YUV-2 Pondhawk****, a dynamic two-person transport featuring flight capabilities.
In addition to all this content, several new quality-of-life additions will be arriving in Season 6, including Aim Assist improvements for console players in order to improve cross-play fairness, recon balancing, vehicle handling improvements such as tank turning, jet handling, speed/gravity adjustments, and more.
Battlefield 2042 will be available for free on all platforms from October 12-16, so there has never been a better time to jump in and master the unknown with your squad.
You can find out more about Season 6: Dark Creations here.
Click here for more information on Battlefield 2042's Free Access period from October 12-16.
For more information on the Battlefield 2042 editions, Dual Entitlement for current-gen purchases, the EA Play and EA Play Pro subscriber offerings and all other details on the game, visit the Battlefield 2042 website or follow the game on YouTube, Twitter or Instagram.