PS4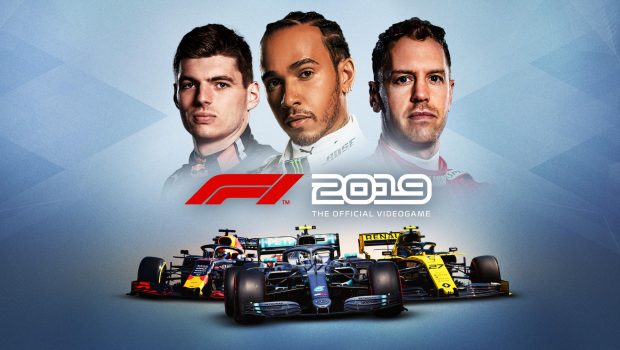 Published on June 27th, 2019 | by Daniel
F1 2019 PS4 Review
Summary: An near perfect recreation of a world tier sport.
F1 2019 has landed and now you too, can race some of the world's fastest cars. On the world's best circuits, against the world's most talented drivers. Bursting at the seams with action packed racing, from memory lanes classic 1970's cars, to iconic designs over the years, right to the current season. So grab yourself a slice of couch, suit up, helmet on and throw yourself in gear, as you carve up the tarmac in your own quest, to become number one in the FIA Formula 1 2019 World Championship.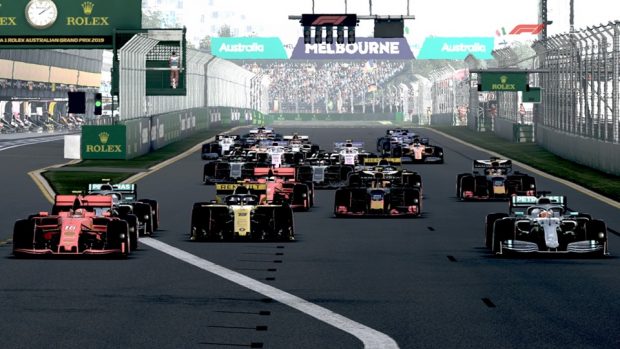 The title speaks for it self. The game is another in the yearly line of sports games, depicting one of the favourite categories of sports and it's most famous iteration. Motor racing and Formula 1. F1 2019 immediately takes a step in the right direction, with a relatively large array of options for your custom character. You can choose between either gender and plenty of ethnicities, which is great. You can also customise the suit and helmet your driver will wear, as well as the colours too.
Multiplayer has a fresh coat of paint on it too, with your own multiplayer car. Complete with heaps of premade liveries that you can also change the colour of. After registering your details and finding that your name likely won't be found in the long list of audio names and selecting a badge for your super license, you're then able to fully access all of the game's current content.
If you're a mostly solo player much like myself, the first thing you're likely to do is to jump right into a solo career. Right off the bat you're offered the choice to start off in F2 and are able to choose a team here. You're not forced to however and have the option to skip and get straight into your F1 career.
I chose to start off in F2, so that it felt like I earned an F1 contract, similar to how they do in the real world. The F2 championship has you do a few short stints of very key moments in the championship, so that it doesn't bog you down in what is essentially a stepping stone into Formula 1. In these moments, you're tasked with beating a rival and through this, establish a sort of reputation that teams take note of and make offers based on. Some F1 teams prefer a showy attitude, others prefer a more team oriented one. Being one or the other will draw the attention of specific teams. Once you've accepted an offer from a team, it's off to your first race weekend as a Formula 1 driver.
One thing I like that the game does, it tries to play itself as if you were watching it on live TV. Commentators Martin Brundle and Anthony Davidson commentate on race weekends, from practice right through to after the race. Their presence offers a greater sense of realism to the game.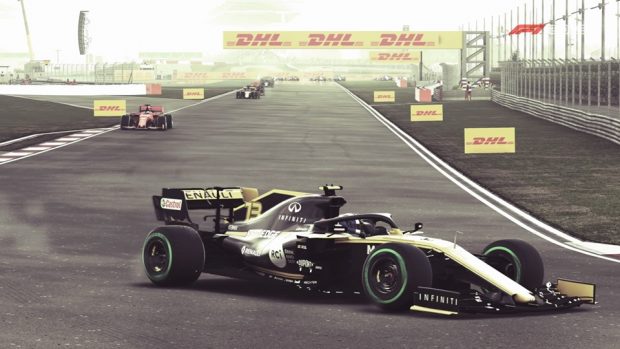 The game is simple and effective, menus are divided by a general tab up front with tabs for solo, multiplayer, esports, customisation, showroom and theatre. Solo includes career and private race options. Multiplayer is divided into rank, unranked, leagues and a rotating weekly event. The showroom is a great place for F1 fans to have a look at classic and current F1 cars, as well as the F2 cars. Customisation is a hub to create and edit your custom character, with different liveries for your own F1 multiplayer car, suits, gloves, helmets, character details and emblems or "stamps".
Full customisation of how races play out, means that you can do long practice runs, full qualifying and max race distance, or shorten them as you feel comfortable with. Meaning you can just have quick, fast paced races for easy fun or full race distance for maximum realism. The AI is no slouch even on the base setting of 20 (easy), however you can make it even easier or much tougher. After a few races, I kinda wish I could change this setting mid season. As I soon found myself looking for that extra challenge, but the game is still very fun.
The cars handle really well too, very balanced. I remember dropping the series after 2015 because the cars felt incredibly difficult to control. I'm glad that the issue seems to have been fixed. Tyres and brakes respond as they should, if you're aggressive tyres will wear faster and brakes can overheat.
The faster pace settings also drain more fuel as they should, but you have flexibility in controlling the flow of fuel and ERS deployment. ERS being a system that boosts the cars' horsepower for even more pace. On the highest setting ERS will only last a lap or two so you have to use it sparingly. It's best saved for creating breathing room behind you, or to chase down opponents and take the fastest lap for that extra point. Added in previous iterations through the Kinect headset, is the ability to give voice commands, since last iteration it has since been improved to standard headsets.
This is a great feature, if a little tricky to remember all the commands. Once you get the hang of it though it's definitely a great help to keep you updated about the race, your car and strategy information. It's definitely a lot easier than trying to manually cycle through these options, especially whilst driving some of the trickier circuits like Monaco where you don't really get open straights to utilise the menu.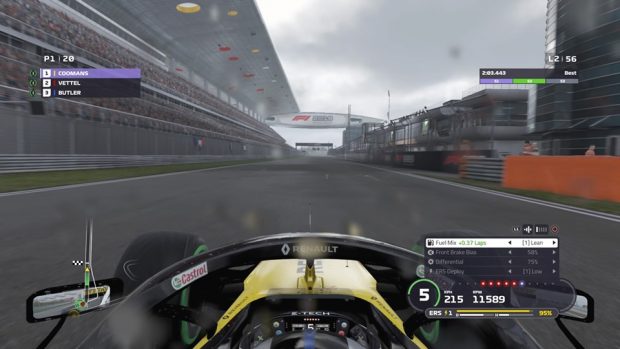 The graphics are simply gorgeous, the cars are immaculate. Circuits are perfect recreations right down to the finest blades of grass beside the tarmac. Character sprites are accurate recreations, even if they do feel a little copy and pasted. The game plays incredibly smooth, you really feel like you can attack tough corners and not be punished too much. Don't get greedy tough because you can definitely get caught out.
Rain really looks and feels like rain, races and qualifying are a whole different game in the wet and you most certainly cannot attack corners in such weather conditions. It's not perfect though, the crowd in the stands look incredibly cheap, 2D and a little bit pixelated if I can be honest. It doesn't matter a huge deal, as the only time I ever actually noticed it was in the garage preparing for my next run on the circuit. A minor gripe in otherwise smooth, near perfect graphics. At 300+ km/h you're definitely not going to notice or care about something as insignificant as pixelated crowds, the budget can only go so far.
The audio is great too, the cars sound deep and grunty. You can really hear the engine and you shift up and down through gears and changing your view point also changes the pitch of the engines' sound. Crowds are a bit overzealous and are somehow always cheering even when you're at the opposite end of the straight, so that can seem a little out of place. Having the addition of the commentators is great too, it really makes the player feel more immersed in the atmosphere of a real Formula 1 race.
It also gives some technical information for the rev heads out there. The whoosh of rushing air as you deploy the DRS (Drag Reduction System). The crunch of gravel when you run wide into the gravel trap after missing the apex of the corner. Everything compliments each other incredibly well, the only things I took issue with, is the constant messages over the radio from your engineer, if you have stored energy for faster lap times. But that can be fixed with a simple Kimi Raikkonen inspired "Leave me alone". All in all, great marks across the board.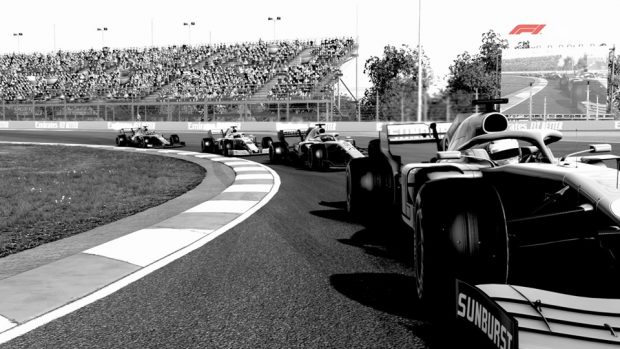 To summarise, after dropping the series a few years ago due to a few issues with gameplay, it seems Codemasters has picked up their game and made a fantastic comeback in my books. Multipalyer is fun, even if I haven't found any local games and thus lag can be a drag. Multiplayer lobbies can feature classic, current and custom cars and have the same level of options in race settings as you do in career mode. The customisation is probably at it's peak.
My only gripe is that I would like to have a list of generic audio names, as there has been in previous instalments. But I digress it's another small issue in what has been an impressive experience. If I had hopes for future games, it would be dedicated search parameters to favour local games as much as possible, a larger more generic list of audio names and the ability to change AI difficulty mid season. As for affordability, I'd definitely suggest picking the anniversary edition up from JB for the respectable figure of $69, as opposed to EB Games $99.95. Overall, a great experience for F1 and racing fans. I will probably play the career mode alongside the real life F1 2019 season in future.
All footage used comes direct from my own playthrough of the game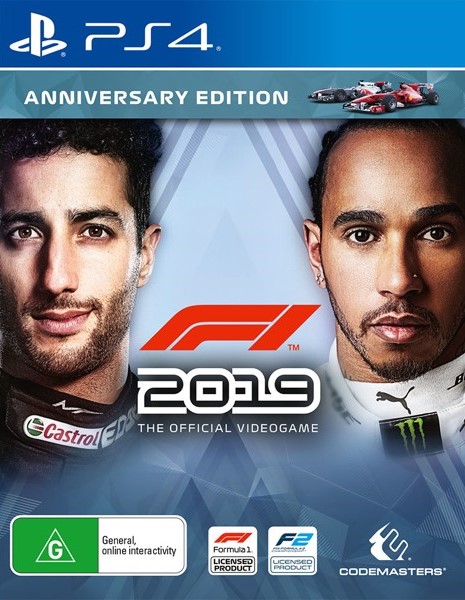 Game Details
Game Genre – Racing
Label – Codemansters
Rating – General
Year of Release – 2019
Engine–  Ego
Platforms – PS4, Xbox One
Mode(s) of Play – Single, Multiplayer