Games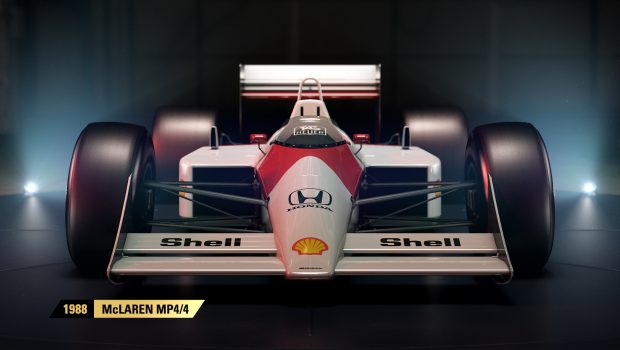 Published on July 21st, 2017 | by admin
F1™ 2017 TO FEATURE FOUR HISTORIC McLARENS THREE FURTHER McLAREN ICONS REVEALED
SYDNEY, 21ST July 2017 – Codemasters® have today revealed the final classic cars to feature in F1™ 2017, the official videogame of the 2017 FIA FORMULA ONE WORLD CHAMPIONSHIP™, and have released a brand new trailer showcasing the four iconic McLarens, including three that were previously unannounced.
1988 McLaren MP4/4 – as driven by Alain Prost and Ayrton Senna during the 1988 Formula 1™ season. The Honda-powered MP4/4 is one of the most iconic and dominant Formula One cars ever built, winning all but one race (15 out of 16) and claiming all but one pole position in the 1988 season. It was the car that powered Senna to his first world championship title.
1991 McLaren MP4/6 – During the 1991 season, this was driven by the then reigning World Champion Ayrton Senna and Gerhard Berger, and was considered by some to be the most competitive car ever at the time, taking eight wins and ten pole positions, and scored 148 points, with Senna winning his third and final world championship title.
1998 McLaren MP4-13 – In the 1998 F1™ season the MP4-13 was driven by Mika Häkkinen and David Coulthard and again proved to be the dominant car of the season, with Häkkinen winning his first Drivers' Championship, and McLaren's securing their first constructor's title since 1991.
2008 McLaren MP4-23 – the MP4-23 was driven by Lewis Hamilton and Heikki Kovalainen in the 2008 season, and is notable for being the car in which Hamilton won his first World Drivers' Championship in dramatic fashion at the Brazilian Grand Prix by overtaking Toyota's Timo Glock on the final corner of the final lap of the final grand prix of the season, to claim the required 5th-place finish and win the Drivers' title by a single point from Ferrari's Felipe Massa, and become at the time the youngest driver ever to win the title.
Zak Brown, McLaren Group Executive Director, said:  "It's pretty hard to pick just four significant McLaren Formula 1 cars – so all credit to the people at Codemasters for choosing these iconic, championship-winning machines.
"I don't think you'd be able to get away without choosing 1988's MP4/4 – it's probably the most iconic F1 car of the last 40 years, a machine that looks as sleek and fast today as when it was first raced. And it's superbly complemented by another Senna car, the V12-engined MP4/6; Mika Hakkinen's beautiful, silver-liveried MP4-13, and Lewis Hamilton's jaw-droppingly complex MP4-23.
"If you're a gamer, or a McLaren fan of any era, then I think you're going to want to race these cars in Codemasters' F1 2017."
F1 2017 also features an even deeper career mode, numerous multiplayer enhancements, and a brand new 'Championships' game mode. F1 2017 will release onto PlayStation®4 computer entertainment system, Xbox One and Windows PC (DVD and via Steam) worldwide on August 25th 2017.
Follow Codemasters F1 games blog and social channels on Twitter and Facebook for future news, YouTube for video content, and visit the product website for additional information. Further details will be released on the upcoming game soon.