Hardware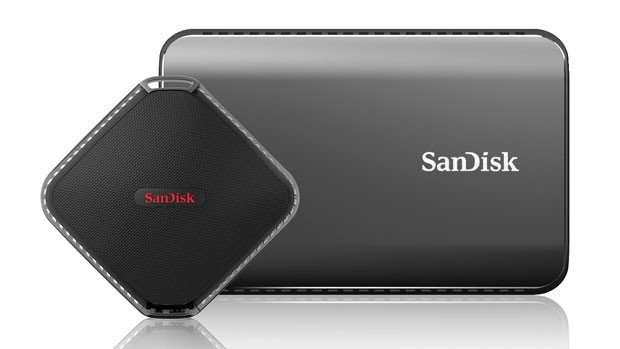 Published on November 4th, 2015 | by James Wright
Extreme 500 Portable SSD Review
Summary: The Extreme 500 Portable SSD from SanDisk boasts not only shock technology but is up to four times faster then other portable drives
This tiny portable hard drive packs a punch and comes in two sizes that include 120GB (reviewed) and 240GB with some very decent read/write speeds thanks to its USB 3.0 and SSD technology. Furthermore, the Extreme 500 comes with 128-bit encryption to ensure that your data is kept private and safe with Sandisk boasting that this drive is four times faster then other portable hard drives. Not bad at all!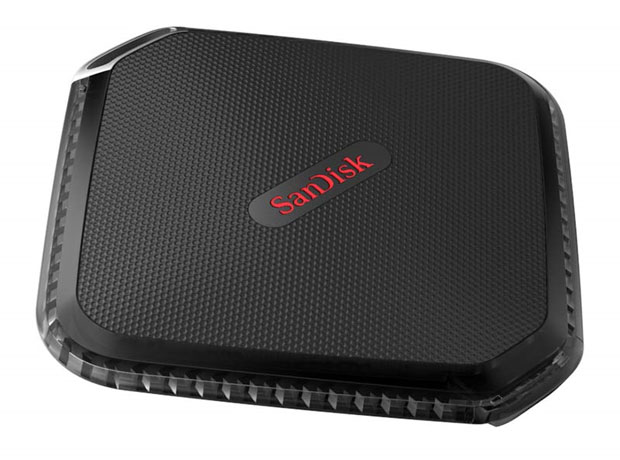 Specifications
Storage: 240GB
Dimensions: 75.69mm x 75.69mm x 10.67mm
Weight: 78.9g
Operating Temperature: 0C – 45C
Storage Temperature: 20C – 70C
Interface: USB 3.0
Shock: Up to 800G @ 0.5m/sec
Vibration: 5.35gRMS, 20-2000 HZ
Warranty: 3 years warranty
So out of the box, the first thing that you notice about the Extreme 500 Portable SSD is the size and shape of the drive that definitely does not look like your standard portable drive. It also comes with a drop resistance shell should you have an accidental drop and with the rubber edges this helps disperse the shock should the unthinkable happen. Even the USB port is protected which really makes this a well designed product from SanDisk.
Furthermore, the product is compatible with current Mac and Windows operating systems and both Windows 7 and 10 automatically detected the external drive when connected to our test machines. The only downside to this product in relation to the design is the small USB cable that comes with the product but hey… you can purchase a longer one if this bothers you.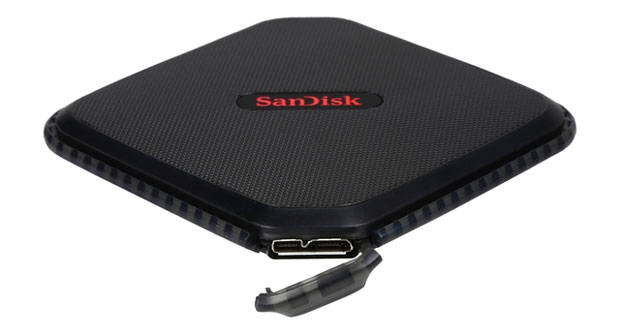 SanDisk also tested this drive with CrystalDiskMark and ATTO Disk Benchmark which produced some excellent results and in order to see where this drive sat with the home or business users, we also used both these programs to test the unit and surprisingly, our results were very similar to that of SanDisk. Of course, this is dependent on your PC system specifications so generally, the faster your PC, the faster your drive.
For us, CrystalDiskMark scored a very respectable sequential read of 411.2 (SanDisk 421.1) and write 343.3 (SanDisk 354.0). Mirroring the setting of SanDisk for ATTO Disk Benchmark who scored 362.1 (Write) and 432.0 (Read) with a transfer size of 0.5 to 8192KB with a total length of 2GB, we achieved 349.2 (Write) and 419.2 (Read). Once again these benchmarks are determined by what's running your PC besides just the drive itself so these results will differ for everyone. Copying a 100GB file to the drive took just over 20 minutes, whereas a 10GB file was around 2 minutes.
Final Thoughts
With a 3-year warranty from SanDisk, the Extreme Portable SSD is the perfect pocket sized hard drive that boasts some exceptional read/write speeds for such a small portable product. So whether you want to transfer files, photos, movies or music and want a well protected and compact product, then you really should investigate this portable drive. Best of all, it comes with an added layer of data protecction thanks to its shock resistant drop technology should the unthinkable happen.
Recommended!