Games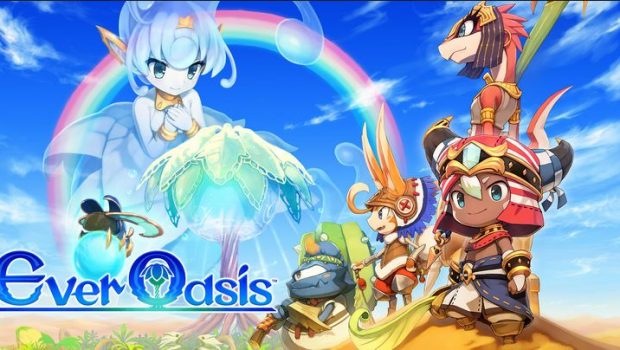 Published on June 13th, 2017 | by Admin
Explore A Desert World Filled With Mystery In Ever Oasis, Coming To Nintendo 3DS Family Systems On 24th June 2017
3
th
June, 2017 –
The new game from Koichi Ishii, the renowned creator of the acclaimed
Mana
series of RPGs,
Ever Oasis
will open up a whole new world for players to explore when it launches for
Nintendo 3DS family systems
on 24
th
June 2017. Mr Ishii recently took the time to share some insights into the game's development process, and the first instalment of his article –
The world of Ever Oasis – part 1
– is available to read now.
Ever Oasis is a brand new take on the action adventure RPG genre, developed by Grezzo, the team who brought
The Legend of Zelda: Ocarina of Time 3D
and
The Legend of Zelda: Majora's Mask 3D
to Nintendo 3DS. Taking the role of a plant-like Seedling, the player must team up with the Water Spirit Esna in order to build a new oasis in the desert – a place of safety and respite in a world threatened by the spread of the life-stealing Chaos. By helping visitors who arrive at the oasis, the player can encourage them to take up residence and set up their own shops known as Bloom Booths. These will generate income and, over time, transform the oasis into a thriving hub of activity. Heroes must also venture out into the desert, to gather valuable resources and uncover the secrets that lie in the many puzzle-filled dungeons throughout the world. New allies may join the adventuring party too, and they'll be needed, as the taint of Chaos is everywhere, and a host of enemies stand ready to attack our hero in exciting real-time combat.
Tying all of this together is the story, which constitutes the emotional heart of the game. As Mr Ishii explains,
"The story has been designed to illustrate the importance of kindness and, at times, to touch the heart
." In his recent article
The world of Ever Oasis – part 1
, he touched upon this theme again, and how it relates to the character design in-game: "
The story of Ever Oasis is all about working with your friends and supporting each other, so we didn't want to create a hero who could do everything by themselves. Heroes will encounter all sort of situations in which it's impossible to progress without help from other residents of the oasis
." In a game which requires careful gathering and management of resources, as the story unfolds the player may learn that friendship is an even more important resource to nurture.
Additionally, an exclusive pre-launch reward will be available on My Nintendo. Members can save 10% on a purchase of Ever Oasis from Nintendo eShop, by exchanging 30 Gold Points between 16
th
June and 1
st
July (until 5:00pm AEST). The discount will be applied for purchases between 24
th
June and 7
th
July.
Stay tuned for further insights from Mr Ishii in the weeks leading up to 24th June, when the game launches for Nintendo 3DS family systems in Australia and New Zealand.