Games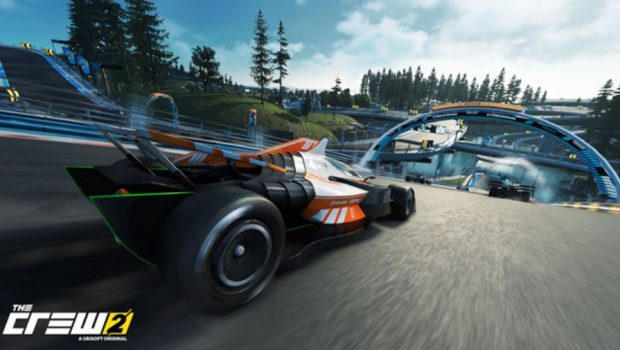 Published on May 10th, 2023 | by Adrian Gunning
EXPERIENCE THE FUTURE OF ALPHA GRAND PRIX WITH THE CREW® 2 SEASON 8 EPISODE 2: "USST NEXT"
Today, Ubisoft announced that the latest The Crew® 2 free update, Season 8 Episode 2: USST Next, will be available today on PlayStation®5, PlayStation®4, Xbox Series X|S, Xbox One, as well as Windows PC through the Ubisoft Store, Epic Games Store, and Steam. Players can also subscribe to Ubisoft+ on PC and Amazon Luna*.
In the second episode of Season 8, The Crew 2 has some new surprises in store, including a thrilling partnership between Motorflix, our in-game content provider, and the US Speed Tour series. In the middle of Lake Michigan, 10 new events will take place with a brand-new gameplay modifier never seen before in The Crew 2: Speed boosters.
This exclusive feature, available only in the new USST Next events, will provide a blistering experience as players pass through boosting arches to receive a temporary speed boost, allowing them to reach over 500kmh. Players will have to watch out for the different types of boosters that take up all or part of the track, and make strategic choices, as AIs can utilize these boosts as well.
Players will be able to get behind the wheel of the futuristic AGP concept cars in the Motorflix Arena, the fully dedicated closed track, to master the all-new speed boosters.
This second episode also introduces a brand-new Motorpass, featuring 50 tiers of new exclusive rewards, both free and premium. It includes special edition vehicles such as: the McLaren 720S Spider Blast Edition (Hypercar), the Proto Concept Sparrow Competition (AGP), the Lotus Evora GTE Overcut Edition (Street race), plus various vanity items, outfits, currency packs (Crew Credits and Bucks), and much more.
A total of 17 tiers will offer free rewards, including Creators Concept Spruemeister SM71 (AGP), created by John Frye, lead designer, digital modeling, and visualisation team at Honda Motorsports.
In USST NEXT, vehicles from previous Motorpass seasons will make their comeback to the store, which players can purchase with bucks or CCs. The list of returning vehicles includes the Chevrolet Grand Sport Armored Edition (Street race) on May 10, the Shelby GT500 1967 Americar Edition (Rally cross) on May 31, the Volkswagen Kombi High School Edition (Monster truck) and the Creators Tkachenko Ice Hunter (Rally cross) on June 21.
In addition to the vehicles available in the Motorpass, a new line-up of vehicles will be introduced to the store throughout the season to give players as many choices as possible. Players will be able to drive the Proto Concept Glow Motorsport (AGP), alongside the Proto Concept Pulse Performance (AGP) starting May 10. More surprises will come later with vehicle additions throughout the episode. "USST Next" also delivers broader customisation opportunities with 40 additional vanity items, including animated roofs, as well as avatar outfits, smoke, tires, underglows, tinted windows, and more.
The LIVE Summit experience continues in this episode for a new series of weekly iterations. During this weekly PvP competition, the goal will be to reach the highest ranking. Each week, the top players will be rewarded with unique items and vehicles based on their ranking.