Events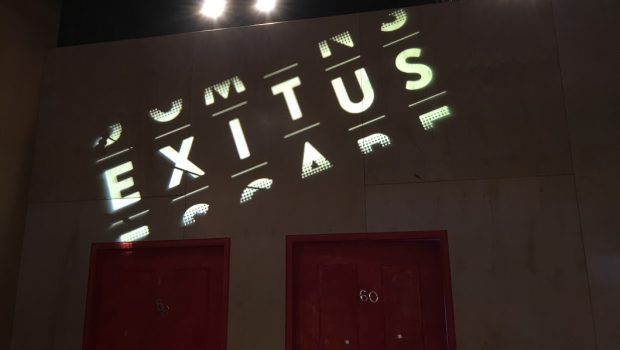 Published on July 19th, 2016 | by Holly Jane Lycanthropica
Exitus Escape Room Review (The Garden)
It's your night out with a group of your friends, you are excited, now you all get locked in a hot stuffy room for an hour! Awful right? Well not to fear, you have been locked in here on purpose and have probably paid for the privilege! It's now up to you and your group of (hopefully gifted and helpful) friends to make your way out of the room (or rooms) by finding clues and solving puzzles. Who would have thought being trapped, stressed and feeling inadequate would be quite so much fun? But it definitely is!
Exitus rooms are the Strike bowling take on the emerging trend of escape room experiences, with rooms to be escaped all over the country and with varying themes and various difficulties. I had heard good and bad things so was very intrigued to try them out myself.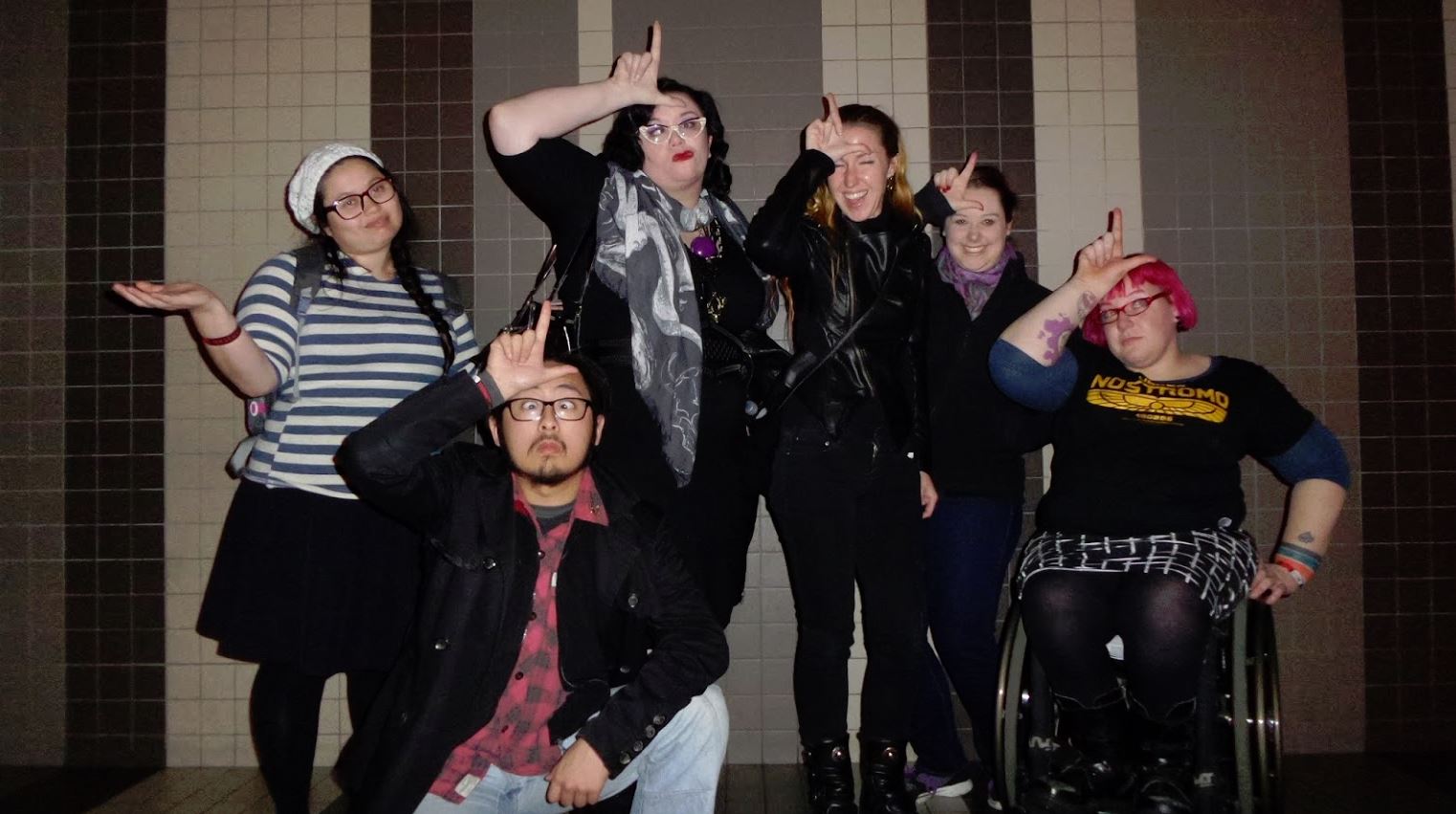 On a nice quiet Monday night, myself and 5 friends set off on the adventure at Strike Bowling King Street Wharf to attempt an escape 'The Garden'. The easiest room offered and billed as 'family friendly' so I figured it would not be too scary. There were not too many people around and when we arrived at the venue we were given wrist bands and told to relax for a bit and have some drinks (We were told all house drinks on tap only cost $5 with a wrist band but out of about 6 taps only the Tooheys New was considered 'house') After having our possessions locked away (yes even your phone!) and going to the bathroom (trust me you want to go now!) it was time to give ourselves over to the room and our games master.
So how does this work? You and your team are briefed about the rules, blindfolded and led into the room and pretty much left there to do your detective stuff. Sounds simple enough? It is, but when you have a great games master selling you the story it transforms into another world. Our games master Luke transformed into an evil wizard and yelled at us while we were blindfolded then berated us as we walked down the corridor awkwardly blindfolded and were shoved into a room. The door clicked closed after us and the clock started the countdown, we now had 50 minutes to escape. You then search the room for clues that lead to more clues that will eventually lead to codes that allow you to escape. Searching the room is fun, going through the props and deciding which is an important clue and which is a diversion was exciting and it's very obvious what clues are relevant as they are usually accompanied with a laminated QR code.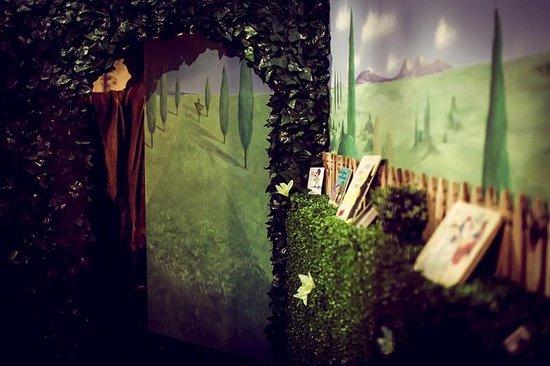 While I found the obviousness a bit disappointing it didn't really affect the difficulty of the puzzles and you still feel accomplished when you solve one. If a puzzle is proving too difficult you have the option of either scanning the associated QR code with an ipad they provide, which will cost you a 5 minute time penalty per clue; 10 minutes per answer or you can call your games master on the phone they provide you. We called the games master twice and he gave us hints but they will not tell you straight out how to solve something. When answering our call for help our games master did not stay in character but that was fine as by that point it was more about the exhilaration of puzzle solving rather than the atmosphere.
On the topic of atmosphere the blurb says: "One night you dream of a stroll with your friends through an enchanted garden. It all seems too good to be true. And then it dawns on you. This is not a dream. You are all trapped. You need to get out before you are trapped forever in the garden." And that is exactly how it felt. I don't want to go into too much detail and spoil the surprise for people intending to go, however I will say the rooms are decorated well and suit the theme, even the clues and puzzles were kept within the childlike yet eerie secret garden aesthetic. This made it exciting and creepy in the beginning but as the time ticked away we got more obsessed with finding the answer than any sort of role playing. Other escape rooms may have a bit more attention to detail and more elaborate props but I found the level of immersion at Exitus to be sufficient to get us in a creeped out head space that makes trying to escape a bit more fun.
I am a strong logical thinker and gravitate to those sorts of people so I was sure we would beat this room considering my team consisted of; a librarian, a forensic pathologist, a costume maker, a finance compliance officer, a histo pathologist and a film maker. Unfortunately 50 minutes came and went and we did not escape despite getting to the very last puzzle. Going in I thought I would be sad if I couldn't beat the room but at the end of it all I didn't care I had a great time with my friends and that was the point. However I did feel better when we were told that only 20% of groups have escaped the room.
I think the amount of fun you will have at Exitus will depend on who you go in with, who you have as a game master and your attitude towards the game. We were lucky to have an attentive and committed game master and as we were in on a Monday night there were not a lot of other groups for the staff to oversee so we got sufficient attention. I feel like if this were a Saturday night it might not have been as good. The group of friends I took in were just in it for fun and not too obsessed with winning, with the overall goal of 'just having fun' we laughed when we made mistakes and avoided any arguments or frustrations.
Exitus is definitely towards the more 'get people in and out' end of the escape room spectrum, not having a dedicated game master for each group, giving you 50 minutes rather than an hour or more that you get in other escape rooms, and having less elaborate props but for $100 – $150 per room versus the $100 approximately per person that you would pay at other places it is definitely a value for money experience. I would totally recommend a visit to Exitus rooms in King Street Wharf; I would advise that you go on a week night to get the best chance of some game master attention.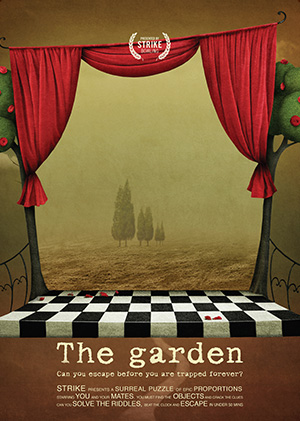 For more information, please visit http://www.strikebowling.com.au/exitus
VIC
Strike Highpoint has the Injustice, Forensic and DaVinci Rooms.
Strike QV has Casino Heist, Butcher's Burrow and the Garden Room. 
NSW 
Strike King Street Wharf  has Casino Heist, Butcher's Burrow and the Garden. 
Strike Macquarie has Moonshot, Jailbreak and Forensic. 
QLD 
Strike Wintergarden has Forensic, Butcher's Burrow and the Garden