Comics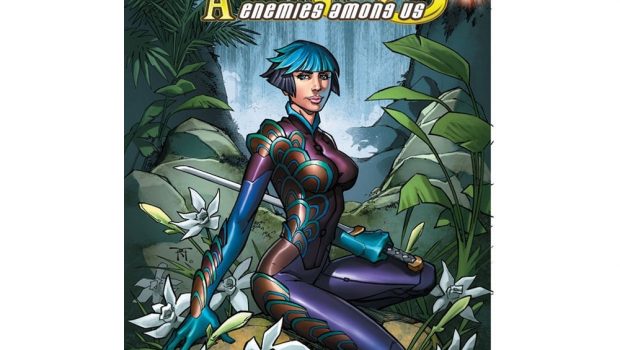 Published on December 31st, 2016 | by Chris O'Connor
Executive Assistant Iris Enemies Among Us #1 Comic Book Review
Summary: If you are ever asked to apply for a job as an Executive Assistant... you might want to check the job requirements first.
Executive Assistant Iris Enemies Among Us is a gripping tale from start to finish. I was not familiar with the stories before so it was helpful to be taken through the origin of an Executive Assistant, to learn what they are and how they came to be. Think The Bride from Kill Bill and you will have some idea.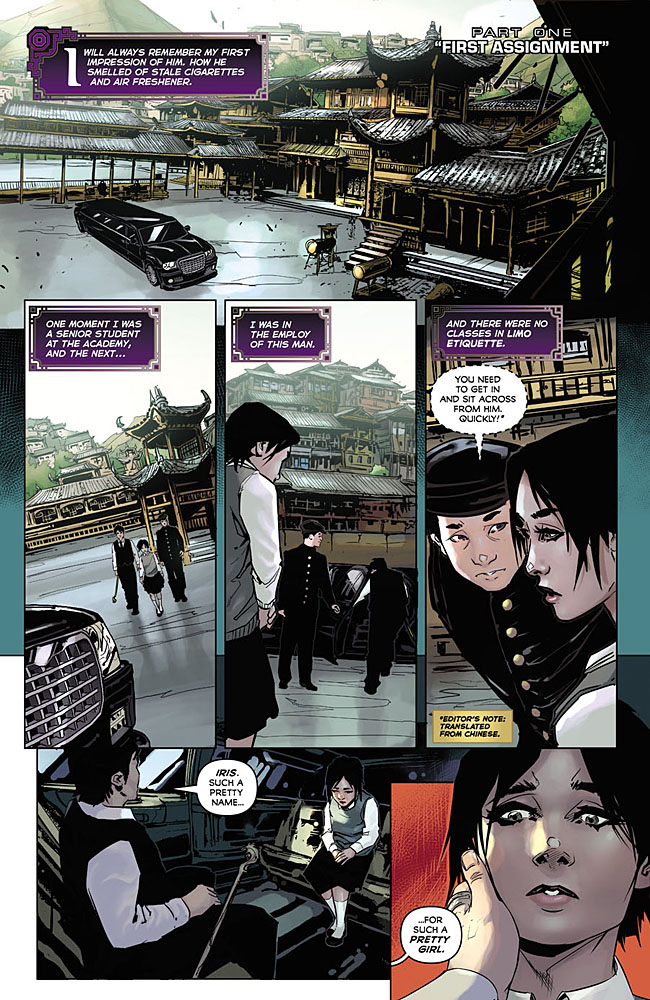 Writing
The title of the series is innocuous enough… but it doesn't take long reading Executive Assistant Iris Enemies Among Us to learn that this isn't all corporate takeovers and mergers… the business these people deal in is far more cut throat deals and merciless negotiations. There's a certain dichotomy to the character as well… for though she is extremely strong and would be capable of being very independent, her very role is one of servitude, her whole life revolves around protecting her employer and doing as he says.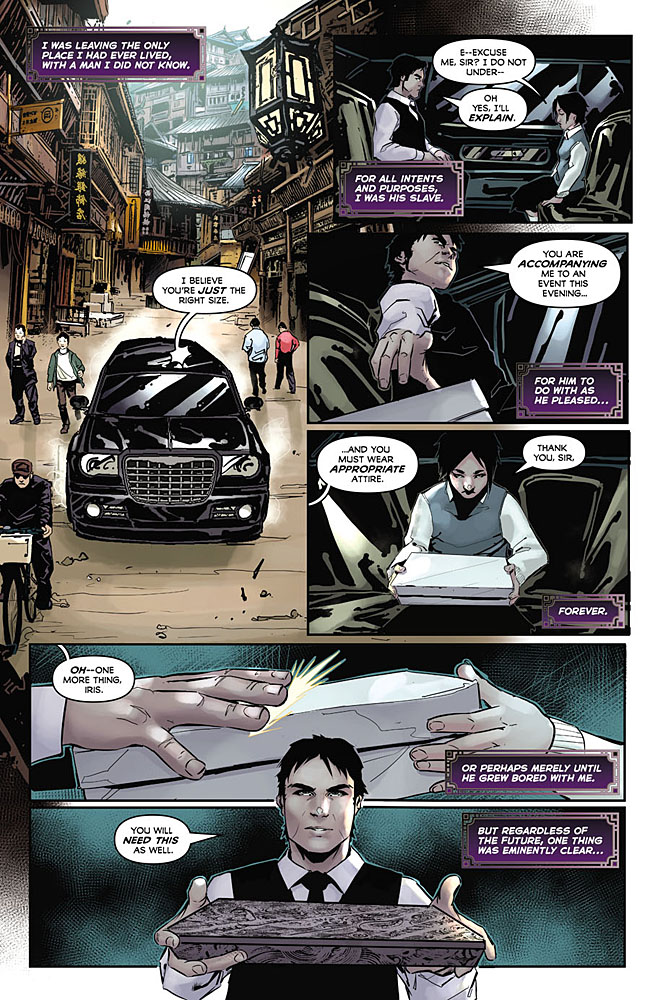 Artwork
The artwork is quite gorgeous. The city streets with buildings that fade into the haze of the distance, the brilliant colours of the unique outfits of some of the main characters really pop out of the wonderfully detailed scenes they find themselves in. But really I keep coming back to the city and the academy… the way those buildings are brought to life just grabbed me from the start… it's such a relatively small part of the overall story but as with many art forms… first impressions can have a great impact on whether someone stays with the art or not… I was hooked from those first few pages.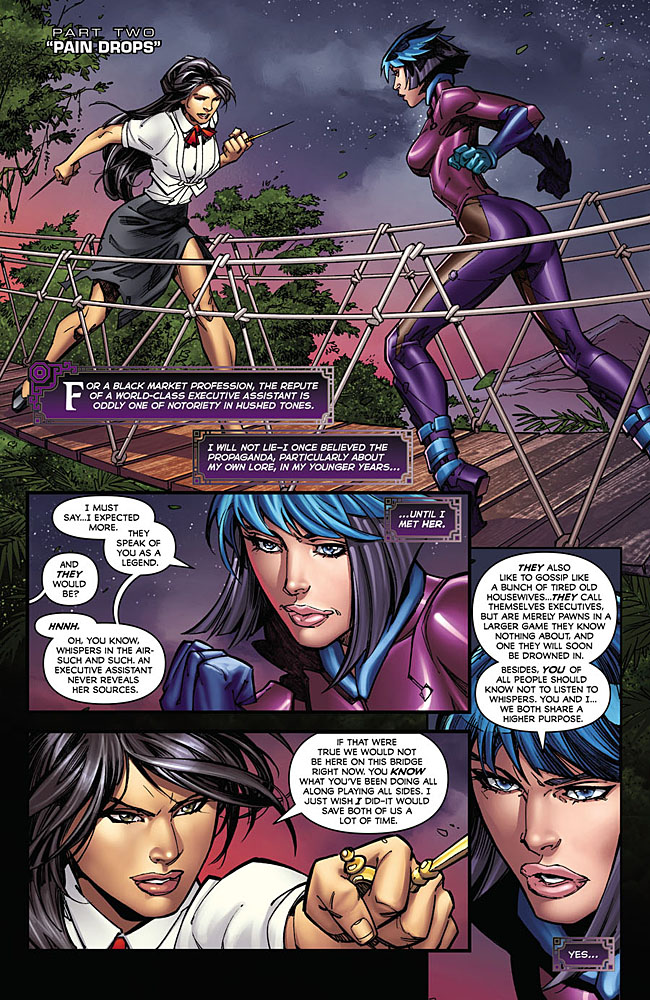 Final Thoughts
The concept of this series is really interesting… you could argue variations of it have been about before (you can argue that about all things really)… but the execution of the story is really well done. The some what reflective monologue that draws us into this world is both informative of the situation and the person all in one… that sense of doubt, of being at a loss of what is to come… then the confidence that comes later… it works so well to tell us about the character while also fleshing out the world in which she lives.
A great read for something a little different to the superhero stories. Strong females kicking butt and showing they are far from the weaker sex.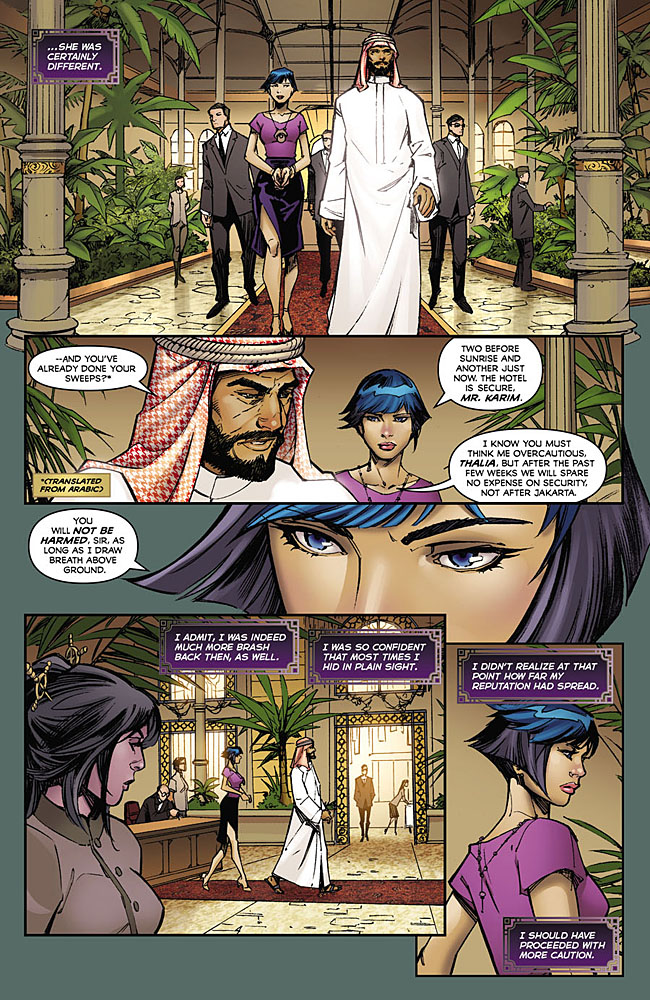 Comic Details
Publisher: Aspen Comics
Writer: Vince Hernandez, David Wohl
Artist: Giueseppe Cafaro, Randy Green, Wes Hartman
Colourist: Wes Hartman
Cover Artist: Randy Green
Genre: Action/Adventure
Format: FC 31 pages
Release Date: December 21st 2016