Games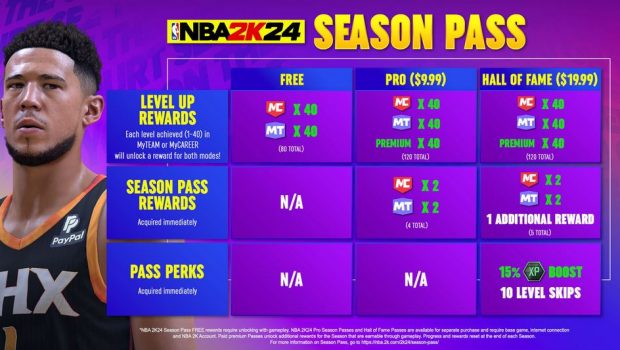 Published on August 18th, 2023 | by Adrian Gunning
Everything New Coming to Seasons in NBA 2K24
New Unified Seasonal Progression Path and Season Pass Options Offer Players More Value and More Rewards
Seasons are evolving in NBA® 2K24 with two updates that will add more ways to play and earn rewards every six weeks. With the introduction of a unified progression path across MyTEAM and MyCAREER, players will maximise the value of their time spent in game. In addition to the robust free rewards experience players know and love, NBA 2K24 will now also offer premium Season Pass options for those looking to earn even more rewards as they level up each season.
Seasonal Progression Track Brings More Value for Time Invested
NBA 2K24 Seasons will feature a new unified Seasonal progressions track that combines MyCAREER and MyTEAM into one linear rewards system. Throughout each season, players will earn a free reward from both modes each time they reach a new level. With the new Seasonal progression track, players will now have more choice in how they earn their rewards with a new freedom to explore all that NBA 2K24 has to offer – without jeopardising their progress.
New Season Pass Options Bring More Rewards
In addition to the free Seasons experience 2K players already know, now with the addition of cross-progression, NBA 2K24 will feature two premium Season Pass options – Pro and Hall of Fame. Players who choose to purchase the Pro or Hall of Fame pass options will earn even more rewards and benefits as they play through Levels 1-40. Each Season, players will be able to choose the best Season Pass option for their own journey as they hit the court to reach Level 40:
Free Rewards Experience (FREE) – The free experience will continue to be open to all players, offering the same quality experience they've come to expect from NBA 2K Seasons with the now added benefit of unified progression. Players will have the chance to earn up to 80 Level rewards as they play to unlock all 40 Level rewards for both MyCAREER and MyTEAM modes.
Pro Pass (AUD/NZD pricing TBC)* – The Pro Pass will offer the ability to earn 40 additional Premium Level rewards, along with additional VC and MTP rewards that can be earned throughout the season. With Pro Pass, players will unlock a Premium Level reward for each level achieved. Players will also immediately acquire four Season Pass rewards after purchasing the pass. For $9.99, players can upgrade from a Pro Pass to a Hall of Fame Pass with a Pass Upgrade at any point in the Season.
Hall of Fame Pass (AUD/NZD pricing TBC)* – The Hall of Fame Pass will include everything in the Pro Pass and more. The Hall of Fame Pass also features one additional Season Pass reward, for a total of five Season Pass rewards, a 15% XP Booster for the entire season, 10 Level Skips immediately applied to the Season reward track and more.
*NBA 2K24 Pro Season Pass and Hall of Fame Pass require base game, internet connection and NBA 2K Account.
Stay tuned in the coming weeks for details on NBA 2K24 Season One.