Films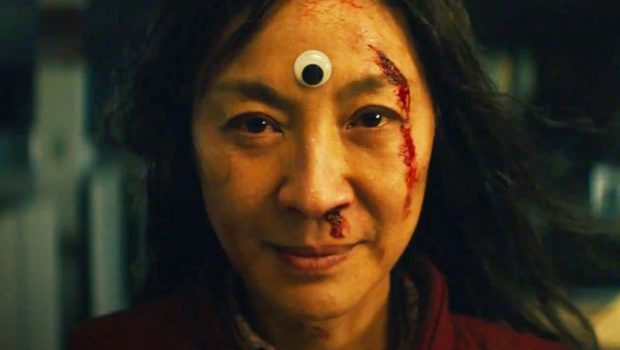 Published on April 15th, 2022 | by Harris Dang
Everything Everywhere All At Once – Film Review
Reviewed by Harris Dang on the 15th of April 2022
Roadshow Films presents a film by the Daniels (Dan Kwan and Daniel Scheinert)
Produced by Anthony Russo, Joe Russo, Mike Larocca, Dan Kwan, Daniel Scheinert, and Jonathan Wang
Starring Michelle Yeoh, Ke Huy Quan, Stephanie Hsu, Jamie Lee Curtis, James Hong, Jenny Slate, Tallie Medel, and Harry Shum Jr.
Running Time: 139 minutes
Rating: MA15+
Release Date: the 14th of April 2022
Everything Everywhere All At Once tells the story of Evelyn Wang (Michelle Yeoh), an aging matriarch struggling in financial turmoil whilst running a laundromat as a family business. Her relationship with her reticent husband, Waymond (Ke Huy Quan), has strained; her Gong Gong (James Hong) looks down on her and her conservative attitude toward her daughter, Joy (Stephanie Hsu), has brought the relationship between the two to its breaking point. To top it all off, she must deal with one single inevitability everyone faces in a lifetime: doing your taxes.
Even when the financial situation becomes inescapably grave, as explained by Deidre (Jamie Lee Curtis), things take an incredibly bizarre turn when Evelyn is led into a quest that involves her many selves in parallel universes that could involve the destruction of her entire universe. And many, many others.
Everything Everywhere All At Once is the latest film from the filmmaking duo Dan Kwan and Daniel Scheinert. The duo is best known for their idiosyncratic works that melded an oddball sense of style alongside recognisable human pathos. Their last film together, Swiss Army Man (2016), featured Daniel Radcliffe as a farting corpse. It was also an allegory of human connection and loneliness. For All At Once, the Daniels have decided to do exactly what the title says and throw in everything, including the kitchen sink, onto the big screen and see what sticks.
To explain this one must detail a few moments that happen in the film. We see a giant black bagel that embodies all the darkness and the brimming anger of one's being. We see Yeoh embodied as a rock. We see extravagant martial arts sequences that involve abrasive use of suppositories, and we see a particular Pixar film mistakenly told with raccoons that is portrayed as another universe. With numerous universes and the potential of science-fiction to play with, the Daniels stretch their imagination with childlike glee. It is extremely enjoyable on a visual level as well as on genre-centric terms.
The visual conceptions conveyed through the production design by Jason Kisvarday, the cinematography by Larkin Seiple, and the costume design by Shirley Kurata are amazingly imaginative and evocative of both reverence to genres and homages, even on a very tight budget. From the interstellar environments to the cine-literate recreations (including one multiverse that references the work of filmmaker Wong Kar-wai) and the homely dwellings, they are all immaculately designed and cinematically inviting. The fight sequences (choreographed by the wonderfully talented Martial Club) are swift, comedically sharp, and fit the oddball sense of humour due to its freewheeling attitude towards the lack of rational thinking.
However, that type of bombastic filmmaking comes with baggage that could deter audiences. As much as the bells and whistles are entertaining and even exhilarating, there needs to be a weight that keeps the film down to earth. While the film never relies on the notion of logic and even scoffs over the need for exposition on its plot logistics (Evelyn is just as confused as the audience is), the Daniels lay out an emotional throughline behind the story, which is the examination of the disrepair of a broken family. On that note, the film succeeds with literal flying colours. The Daniels have managed to marry their esoteric sensibilities, their almost unfathomable filmmaking style with compelling pathos with such assurance that it brings new meaning to the term "controlled chaos".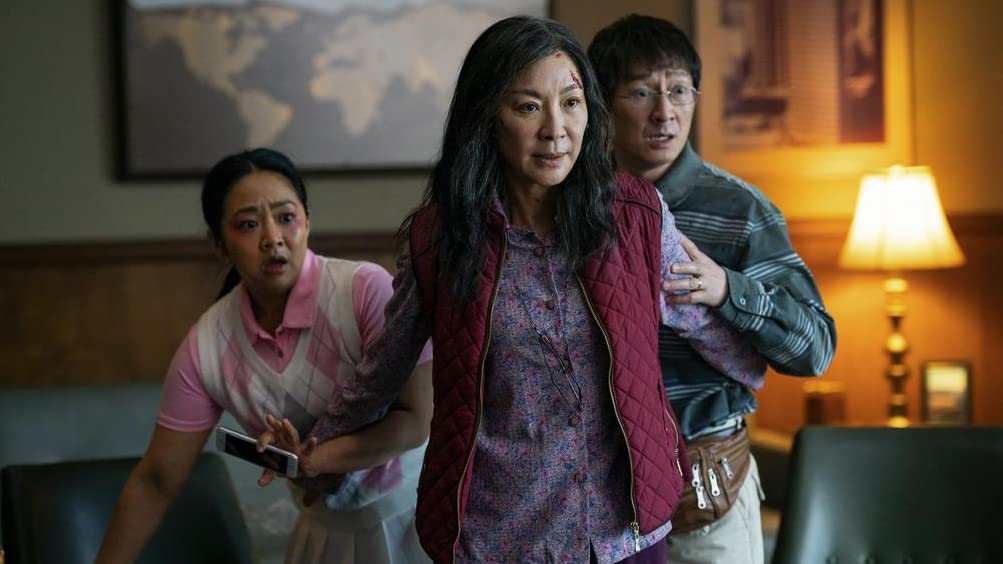 Much of the credit should also go to the cast who provide work that is somehow both free of artifice and yet brilliantly expansive. On the supporting front, Hong is amusingly gruff and stern as Gong Gong while Curtis relishes chewing the scenery by one of the most monstrous people in all of humanity: a tax auditor. Harry Shum Jr. provides a laugh-out-loud extended cameo as Evelyn's sou-chef from another universe. Jenny Slate brings levity to what could have potentially been a one-joke stereotypical role and Tallie Medel exudes charm as Joy's partner, Becky.
The main trio of the cast are what drives the film towards the path of success. Yeoh manages to convey a vast array of emotions to a complicated character like Evelyn that makes her relatable (carrying the weight of burden on the shoulders), off-putting (her conservative attitudes toward her daughter's sexual orientation) and even resentful (blaming everyone else for consequences of her own actions). However, Yeoh does not overplay her hand by making Evelyn likable but honest enough that the audience finds it easy to root for her character. It helps that she exercises her comedic chops that offset her inherent grace and even subverts it to amusing effect. She is the solid rock (literally, in one universe) that holds the film down to earth.
Hsu takes the broiling anger of Joy and conveys it to marvellous extremes. She conveys the simmering angst of the original universe self and the pantomime villainous glee of her antagonistic self and she is an absolute wonder. She is the fire that burns throughout the film, keeping the audience as well as the characters on their knees. Last but definitely not the least is Quan, who has returned to acting after 20 years since 2002's Hong Kong time travel film Second Time Around by Jeff Lau. He has not lost a step as he manages to imbue a powerful sense of vulnerability and sincerity to the role of Waymond that makes the character timid, goofy, heartfelt, and even debonair. He is the beating heart of the film and bridges the tones and emotions together seamlessly.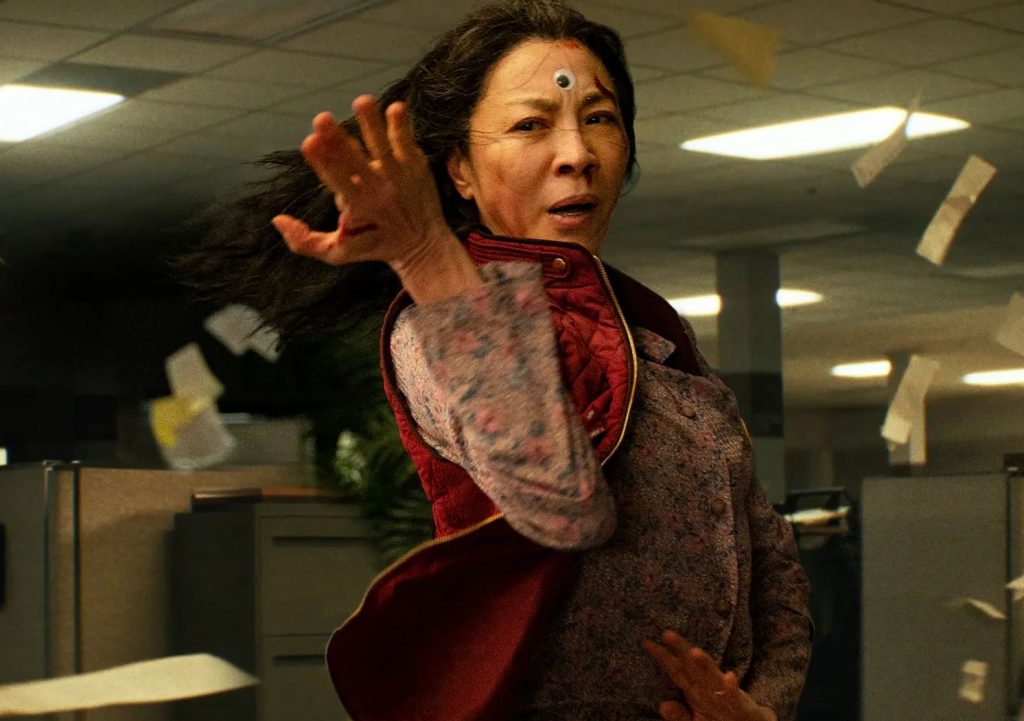 Overall, Everything Everywhere All At Once is a remarkably emotional and visual rollercoaster that is refreshingly free from any genre or storytelling conventions. It is an exhilarating ride and an ample showcase of rising and unrealised talent that embodies the beauty of the human spirit through the prism of the preternatural. It is one of the best films of 2022.
Summary: An exhilarating ride, an ample showcase of rising and unrealised talent, and one of the best films of 2022.