Events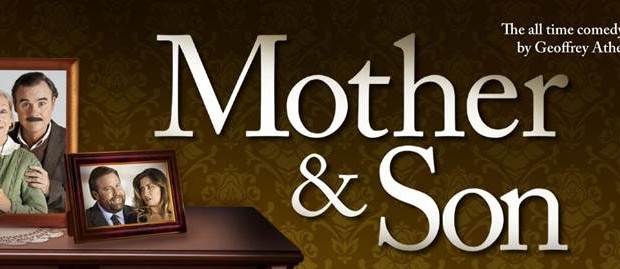 Published on March 16th, 2014 | by Admin
Everyone's favourite forgetful mum is back! – MOTHER AND SON, LIVE ON STAGE JUST ANNOUNCED!
Everyone's favourite forgetful mum is back!    
MOTHER & SON LIVE ON STAGE
Starring Noeline Brown, Darren Gilshenan and Shane Jacobson
Melbourne's Comedy Theatre from July 18 
From the creator of the Australian hit TV series MOTHER & SON comes a brand new stage comedy featuring Maggie, Arthur and Robert in delicious form. Geoffrey Atherden penned the first episodes of MOTHER & SON in 1984 creating an instant classic and award-winning TV series. Now 30 years later he has done it again!  
MOTHER & SON plays at Melbourne's Comedy Theatre from July 18 for a strictly limited three week season. Tickets on sale from Monday March 24 through Ticketmaster. 
Starring Australia's doyen of comedy Noeline Brown as the iconic Maggie Beare, with Darren Gilshenan (The Moodys, Rake, Full Frontal) and Shane Jacobson (Kenny, Guys and Dolls, The Time of Our Lives). Also joining the cast are Nicki Wendt and Robyn Arthur. Together these actors will deliver one of the finest comedy line-ups to be seen on the Australian stage.
Multi award-winning actress and comedienne Noeline Brown has been entertaining us for more than 50 years.  Since she first graced our screens in the ground-breaking comedy The Mavis Bramston Show to classics like Blankety Blanks, Noeline has become a part of the fabric of Australian comedy. In 2008 Noeline was also appointed Australia's first Ambassador for Ageing.
Noeline Brown: "I love the stage so I'm thrilled to be returning to Melbourne's Comedy Theatre to play Maggie. For the last few years I've been heavily involved with issues affecting our ageing community, so it's a timely honour to play such a beautifully written character.  Even if she does drive her family a little bit crazy!"
Arthur is at his wits end and desperate for some time away with his new girlfriend. But who will look after Maggie? Whilst Arthur's dentist brother Robert and his wife Liz claim they'd love to help, Liz has bigger fish to fry! Is Robert having an affair with his hygienist? Will Arthur get away to pop the question? Will Maggie go on a trip of her own?
Vague but vicious and more arsenic than old lace, Maggie would have Arthur tied to her apron strings for life – if she could just remember where she put that apron!