Games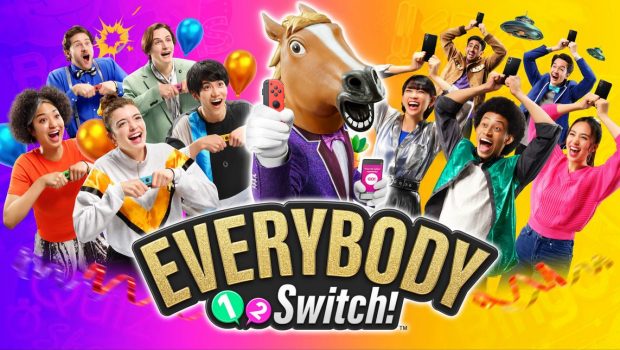 Published on June 21st, 2023 | by Adrian Gunning
Every Day's A Party When Everybody 1-2-Switch! Arrives For Nintendo Switch On 30th June
Turn any gathering into a party full of multiplayer cheer when Everybody 1-2-Switch! launches for Nintendo Switch on 30th June. This collection, featuring pick-up-and-play games tailor-made for group settings, invites you and your friends to play in a variety of ways, including games that allow up to 100 people to play in the same room for Smart Device Mode.
Everybody 1-2-Switch! is your chance to elevate your next friend hangout, birthday, family holiday gathering or wherever else people in your life gather to have fun. Simply grab some Joy-Con controllers or compatible smart devices to play team-based games that are easy to set up with the help of your horse host Horace. Party sizes from 2-8 people in Joy-Con mode* or even up to 100 in Smart Device mode** (yes, 100 people) can enjoy the multiplayer excitement.
Everybody 1-2-Switch! has a variety of games and party modes to match the mood of your festivities. In Everybody 1-2-Switch! you can:
Snap colourful photos in the real world with smart device cameras to match a trending colour in the game of Color Shoot-
Work as a team to pump up a balloon as big as possible without popping it in Balloons
Put your teamwork to the ultimate test in a game of Ice Cream Parlor, where you'll be keeping track of your customers' next ice cream orders
Test your wits (and reaction time) by answering quickly in Quiz Show where the winner can be decided by mere milliseconds. You and your guests can even create and play custom quizzes, so let your personality shine!
Relax with a classic party game, Bingo Party, but with a new twist – playable on smart devices
And much more!
Many games have several variations that change up the rules or add an extra challenge, so there are many options to explore.
Can't wait to find out more about the game? Watch a special video in which content creators from around the world recently took a trip to Japan to play Everybody 1-2-Switch! together. Get inspiration for your own upcoming celebrations by watching the video here: Everybody 1-2-Switch! – First look party (Nintendo Switch).
Representing Australia, Teagan and Sam Rybka of The Rybka Twins are identical twins recognised globally for their acrobatic and dancing abilities. With almost 8 million YouTube subscribers and 14 million TikTok followers, The Rybka Twins share their passion for dance, gymnastics, travel and fashion in their fun and inspiring videos.
Everybody 1-2-Switch! launches for Nintendo Switch on 30th June and features a collection of party games for 2-8 players in Joy-Con mode and up to 100 players in Smart Device mode. A group of content creators from all over the world recently took a trip to Japan to check out the game as shown in a new video available on YouTube now.