Events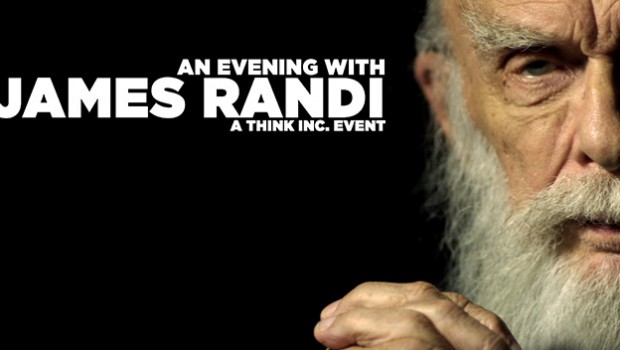 Published on December 6th, 2014 | by Andrew Bistak
An Evening with James Randi
Summary: An Evening with James Randi is an insightful night as you are taken through the life of the Amazing James Randi with questions answered by the legend himself
An Evening with James Randi
Organiser: Think Inc
Event: Documentary, interviews and audience participation
Where: MCEC
Tickets: $49 to $169
URL: http://thinkinc.org.au/jamesrandi/
Reviewer: Andrew Bistak
The enigmatic conjurer (not magician), the Amazing James Randi, is currently touring Australia thanks to Think Inc and this 86-year is still fighting the good fight against paranormal claims and pseudoscience in an attempt to prevent these people from duping the sometimes unsuspecting public.
Randi is also the co-founder of the Committee for Skeptical Inquiry (CSI) and the founder of the James Randi Educational Foundation (JREF) that through his 42 years of uncovering the fakes, has brought forth a type of enlightenment to sceptics from around the world.
The JREF even holds over one million US dollars in a bank account that will be given to anyone in the world who can prove that their paranormal or pseudoscience claims are real… needless to say, the money has never been collected.
The Melbourne event of An Evening with James Randi commenced with Richard Saunders, one of Australia's most prominent sceptics who also starred on the TV series The One discuss his relationship with Randi and introduced the documentary to the audience entitled, An Honest Liar.
An Honest Liar is a documentary about the life and times of the Amazing James Randi and as Mr. Randi eloquently states later on during the show, it contains warts and all.
Featuring interviews with Randi and other famous "magicians" from around the world such as Penn Jillette and Adam Savage, they piece together the importance of this 86-year old conjurer and how he became involved in fighting against these fake and very unscientific claims.
Although James Randi believes he has no nemesis or nemeses, the documentary does focus on two individuals who tricked millions of people around the globe that included Uri Geller, known for his spoon bending "powers" and Peter Popoff who used nefarious techniques to cheat thousands of people from their money as he used "faith" to heal them from all sorts of ailments, some even life threatening.
The documentary even focuses on how he tricked Australia with a Venezuelan channeller who "channelled" an ancient spirit thanks to 60 Minutes. For Australians, it even contains that classic Don Lane moment where Randi was rudely told to "piss off". However when Randi came on the stage after the documentary presentation, he had his own anecdote to tell where he informed Mr. Lane to politely "piss off" many years later that resulted in the audience erupting with laughter.
However the documentary is not all about the good times as it focuses on the recent arrest of Randi's husband, Venezuelan painter Devyi Pena for passport fraud and identity theft that would have seen Pena jailed and deported back to his home country. The documentary touches upon the reasons why Pena and Randi stole an identity due to his sexuality. Thankfully he was not jailed.
Another darker side of the documentary is how Randi and two students tricked a university in believing that they had psychokinesis powers in an attempt to ensure that future studies stick to empirical evidence opposed to participants pushing and ultimately breaking these boundaries.
Regrettably it led to the mental breakdown of one of the university staff members once these studies were found to be fraudulent. Nonetheless it was a very insightful and "amazing" documentary about James Randi's crusade against the so-called paranormal and parascience claims. Furthermore, it showed the human side of this legendary man.
But where An Evening with James Randi shined was when this legendary conjurer came on stage with comedian and writer Lawrence Leung who is also no stranger to scepticism thanks to his TV series entitled Lawrence Leung's Unbelievable. Leung successfully interviewed this conjurer and asked him a variety of questions about his life and work with a healthy dose of humour thrown into the mix. Both Randi and Leung really bounced off each other but seeing this conjurer in person was truly a very memorable experience.
James Randi is not only funny but has the logic and wit that most of us would die for and once again proves that this 86-year old legend is in no way slowing down as his passion for "woo woo" continues. The night ends with Randi answering questions from about 15 audience members that involved topics about astrology, atheism and how to speak to the believers of the paranormal. At the end of the night, Randi hopes that the audience will use their critical thinking more when it comes to these supernatural claims.
Final Thoughts?
An Evening with James Randi is a must see event to experience the genius and comedy behind this living legend. You'll be shocked, enlightened and entertained as you witness first hand at the amazing life of James Randi.