Events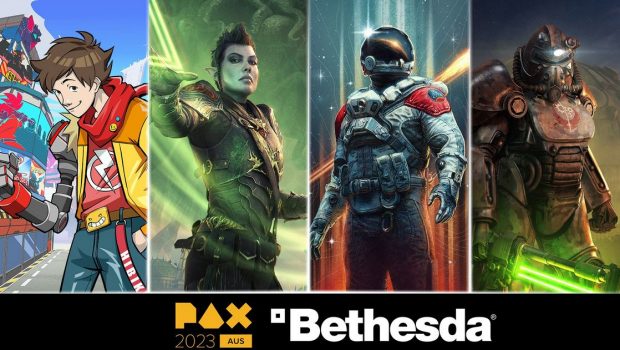 Published on September 21st, 2023 | by Adrian Gunning
Bethesda Announces PAX Aus 2023 Community Experiences, Developer Presence & Panels
Summon your guild and grab your brushes! Bethesda is hosting a series of community focused events during PAX Aus and Melbourne International Games Week for their passionate fans. Attendees can step into Tamriel in celebration of The Elder Scrolls Online (ESO) or flex their creative muscles and walk away with a one-of-a-kind artwork inspired by the iconic worlds and characters of Bethesda's recent releases.
To kick off the PAX festivities, Bethesda will bring together local The Elder Scrolls Online players for a community celebration featuring a special visit from ESO Creative Director, Rich Lambert. Fans will also be able to level up their artistic skills by taking part in the 'Brushes and Brews with Bethesda' experience, alongside another guest developer, John Johanas, Director of Tango Gameworks' latest hit Hi-Fi RUSH.
On Thursday October 5th, the eve of PAX Aus, Bethesda invites The Elder Scrolls Online players from across Australia to join them for a night of festivities. Daring adventurers will step into Necrom and Hermaeus Mora's realm of Apocrypha on Melbourne's historic Southbank at the Cargo Hall for a free community event. Guests will also have the opportunity to meet and greet with visiting ESO Creative Director, Rich Lambert.
After celebrating and absorbing the fantasy atmosphere, artisans of all skill levels will be able to pick up a paintbrush at the 'Brushes and Brews' experience from October 6th to the 8th. Attendees are invited to join in the free sessions held daily across Friday, Saturday and Sunday led by an expert painter to bring their favourite Bethesda game to life. Each of these free sessions will include drinks and light refreshments and focus on one of Bethesda's iconic worlds, including the recently released Starfield, The Elder Scrolls Online, Hi-Fi RUSH, and Fallout 76. Painters of all levels are welcomed, from beginner to experienced, with each participant walking away with their own, unique work of art as a memory from PAX Aus 2023.
Tickets for the ESO community party and the 'Brushes and Brews' experience are free and available on Eventbrite today. PAX Aus pass holders can register for any of the sessions for 'Brushes and Brews' from 11 AM on Friday, and from 10:30 AM on Saturday and Sunday. Fans can also register to attend The Elder Scrolls Online community party, which will run from 6 PM to 10 PM on Thursday night. Spots are limited and bookings are essential to ensure attendees don't miss out.
Rich Lambert and John Johanas will be participating in the 'Fireside Chat with Bethesda' panel at 2 PM AEDT on Saturday 7th October in the PAX Quokka Theatre. Simon Alty, VP & Managing Director at Bethesda APAC, will also be a guest on the panel 'The Year That Was PAX AUS 2013' at 3:30 PM AEDT on Friday 6th October.
Yamaha Music Australia will be featuring Hi-Fi RUSH as a playable experience on their display enhanced by their brand new True X Wireless Surround System. Designed to showcase just how integral sound is to the gaming experience while offering up a brand-new immersive audio solution, the interactive Hi-Fi Rush / True X demonstration will be playable on Xbox Series X all weekend over at the Yamaha stand along with a variety of other fun interactive activities and displays from electronic drums, guitars and synths to gaming audio mixers, microphones and content creator tools.
"At Bethesda we're immensely proud to have such dedicated communities for our games in Australia, fans who have joined us in countless adventures through our game worlds for decades", said Simon Alty, VP & Managing Director, Bethesda APAC. "We couldn't be more thrilled to pull together these community focussed events for our passionate fans during one of the best weeks of the year for gamers in Australia".
For updates and more news about these events in the lead up to PAX Aus 2023 fans should make sure to follow Bethesda ANZ on Twitter and Facebook.