Comics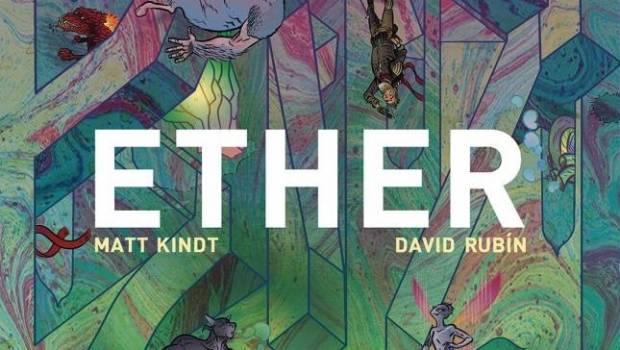 Published on June 20th, 2018 | by Dana Folkard
ETHER: COPPER GOLEMS #2 REVIEW
Summary: Things get tense as Boone and company make their way to Latium.
After narrowly escaping the highly guarded wizard prison, Boone and company make their way to their next destination – Latium – where they hope to seal one of the nexus points. Standing in their way is the most powerful wizard in Ether, aptly named Agrippa!
We begin this issue with Boone and his ragtag gang of misfits flying on the rainbow motorcycle as they escape from Azkaban…sorry, I mean the wizard prison. Once they escape the prisons dragon security system, they make their way to a gas station where they begin to discuss their next move. Boone pulls out a composite map, detailing all of the nexus points from the holes in the Earth, which helps him decide on their next destination. Desperate to make up for lost time, they quickly make haste heading for Latium, the place where Latin was created and the myths and stories about the formation of Rome. Their next move is to locate the portal so that they make close it, however, standing in their way is the most powerful wizard of Ether – Agrippa! In order to secure safe passage, Boone challenges Agrippa to a battle of wits. Fingers crossed his tactic prevails!
Second issue in and I'm absolutely loving the direction this arc is going. There is so much going on here, and I just love seeing Boone in his element once again. What really makes it for me is the unreal dynamic between this group of wizards, scientists and magic practitioners. The banter is flying, making for some entertaining and downright hilarious moments. I'm particularly fond of the spell-hacking minotaur, with his sarcastic sense of humour and carefree attitude as he approaches every task with a reckless abandon. There is a really good balance going on with these characters, and I applaud Matt Kindt for crafting such a solid group…damn fine.
I also quite like how the entertaining banter and antics contrasts nicely to the ever-serious Boone. This is an important mission to him, and you can clearly tell that this is a guy who has dedicated his life to studying the Ether and the various worlds that exist here. I think it's clever having Boone as a science-based character among magic users, always offering a logical and scientific explanation to everything. This is where we get to discover more valuable lore about this strange place, and it is through him that we learn about the layers of history and myth-making that creates the Ether. A really cool concept that offers countless and exciting possibilities.
David Rubin's art is once again excellent. Honestly, I just love his style and whimsical visual storytelling. A lot of these funny interactions between characters are perfectly executed thanks to Rubin's idiosyncratic art. I love how he captures the expressive features of these characters, framing their reactions in a special light. There is one scene in particular where they encounter the Roman she-wolf, that I found to be excellent in capturing their expressions. Top marks! I also thought that the scenes when they are inside of the wizards "hut" to be fantastic, like some kind of sci-fi take on Escher stairs. The colouring is bright and electric and completely eye-catching, and I particularly liked the palette that was used for the endless stairs, with it's pretty bubble gum quality.
Overall, I thought that this was a fun and enjoyable chapter in this arc. The story is getting really interesting and exciting, and the group dynamic is just spot on. I'm keen to see some more action in the following issue, hoping that things begin to heat up for this group of rebels.
I'm giving this issue 4.8 out of 5 stars!
---
COMIC DETAILS
CREATIVE TEAM: Matt Kindt and David Rubin
PUBLISHER: Dark Horse Comics
GENRE: Science-Fiction/Fantasy
PUBLICATION DATE: June 20, 2018
REVIEWER: Dana Folkard