Comics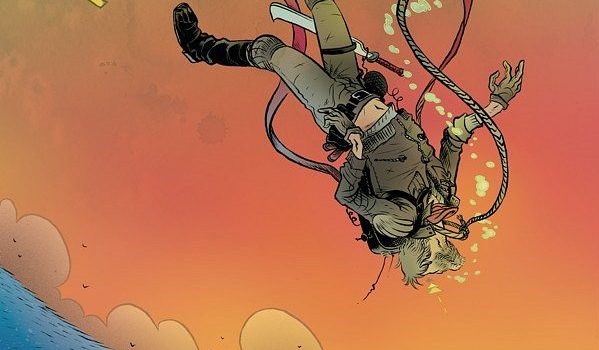 Published on December 20th, 2016 | by Dana Folkard
ETHER #2 REVIEW
Summary: Charming and beautifully illustrated.
Solving crimes and mysteries for the inhabitants of the magical realm known as the Ether is becoming a regular gig for scientist, Boone Dias. For someone who believes that there is a rational and scientific explanation for everything, the perplexing mystery of a murder executed using a magic bullet may seem like quite the impossible challenge for Boone. Can Boone use his scientific knowledge to help solve the murder of the Blaze and lift the veil of mystery surrounding it?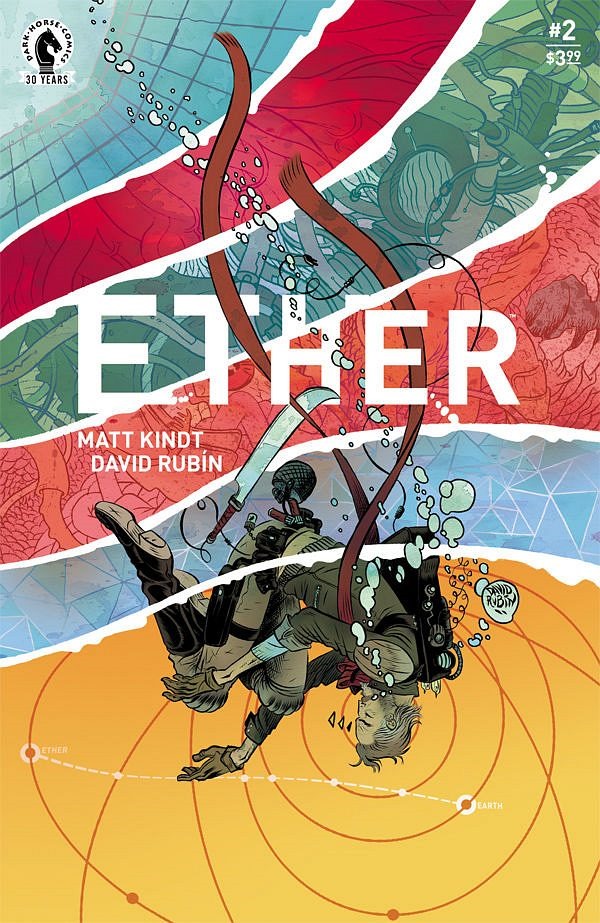 Ether #2 begins with Boone back in Venice refueling for his next trip back to the Ether, as he can only digest food in the "real world". We also see how Boone enters the portal that takes him to the Ether, a rather taxing undertaking that requires one to be fully willing to sacrifice their life and die. Ahh, the prices some are willing to pay for being a intrepid explorer, adventuring into the unknown. So after being recruited by the Mayor of Ether to solve the murder of the Blaze, Boone and Glum head out to investigate the mystery of the magic bullet. Always a rational thinker, with a scientific explanation to everything, Boone decides that research and data collection shall lead their investigation, which strangely enough takes them to Cockaigne, the land of plenty from Medieval myth. Will they find the answers they are looking for or will trouble find them first?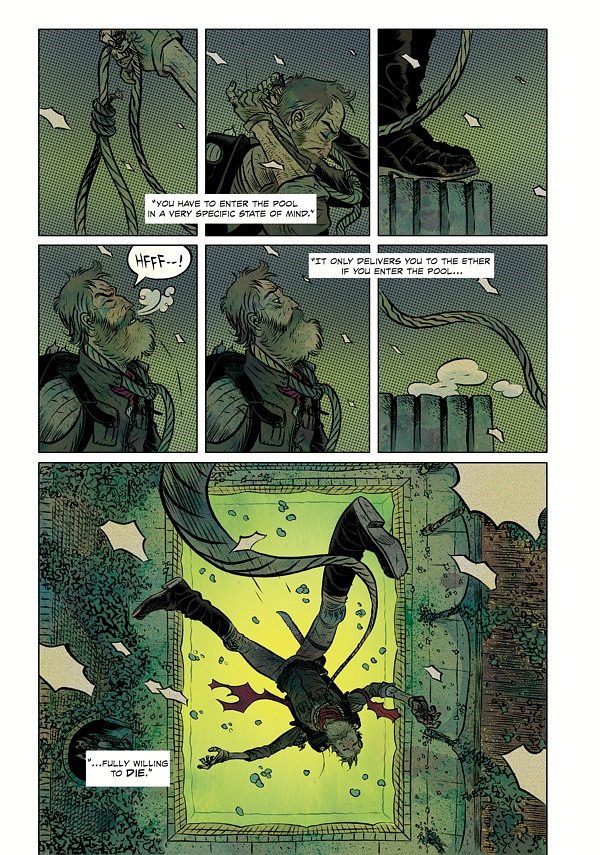 Matt Kindt has created some pretty likeable characters in this story. I'm particularly fond of Glum, the Gatekeeper of the Crossroads and now Boone's new traveling companion. He is sarcastic, witty and a wee bit sassy. Glum constantly mocks Boone, which makes for some entertaining banter between the two of them. Just like Glum I'll probably never tire of seeing Boone have his ass-kicked into Agartha every time he wishes to enter the city. Second issue in and Kindt already has me intrigued about this magic filled world. What's really interesting is that he incorporates real-world mythology and combines it with some interesting ideas and concepts. I rather like this melting pot of mythology and folktales and enjoy how Kindt has integrated these elements into the Ether. This adds more depth and diversity to this world and strengthens the overall wordbuilding. I'm curious to see what other real-world mythologies and folktales Kindt will include in future issues. I'm also intrigued by the story being revealed to us about Boone's past on the "real world" and the origin of the discovery of the portal in Venice. Just what is the portal and why is it there?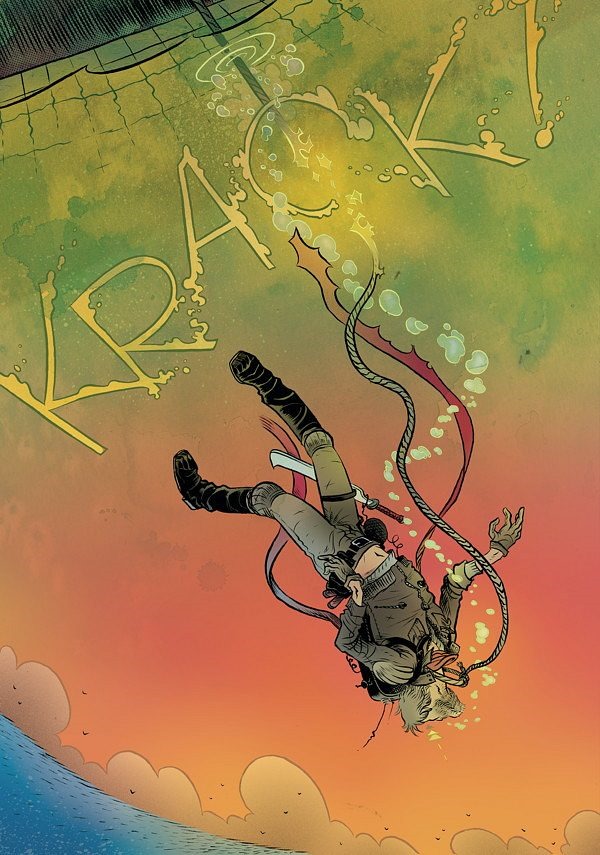 Artist, David Rubin, has created a truly surreal landscape. With so many different and varied concepts floating around here, it's great to see it all come alive on the page. It's visually eclectic and fun to look at, never taking itself too seriously. I really enjoy the whimsical nature of everything and seeing Rubin's unique take on a fantasy setting. We get to see all sorts of exotic creatures and monsters, magical technology and bizarre cities all presented to us in a fresh and fantastical way. This world is also very vibrant, with an unusual colour palette that is mostly made up of rich tones and pastels. It's quite pretty and looks very magical and almost dreamlike. I also think it's effective framing the scenes on Earth in muted and darker tones. This helps to reinforce the moody quality of those scenes and reminds us that Earth has an absence of magic.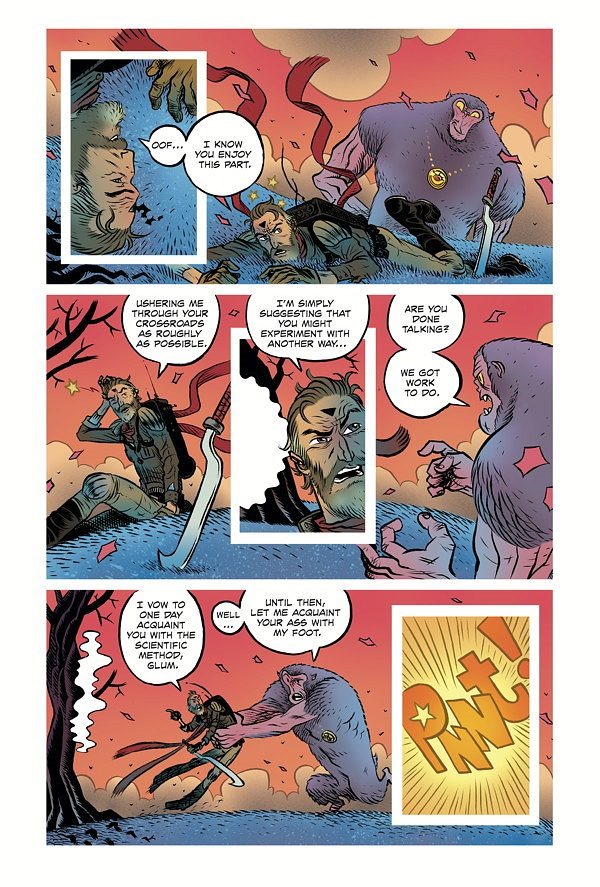 Overall, I find Ether #2 to be another enjoyable instalment to this story. Venturing out and exploring this unusual world has been both entertaining and amusing. There is something dark lurking there and I can sense the foreboding nature of it, however, that has yet to be revealed to us. So until then I look forward to reading the next issue and finding out exactly who murdered the Blaze and whether Boone make order from all of this chaos?
I'm giving this issue 4 out of 5 stars!
Comic Details
Title: Ether #2
Publisher: Dark Horse Comics
Creative Team: Matt Kindt, David Rubin
Reviewer: Dana Folkard