Films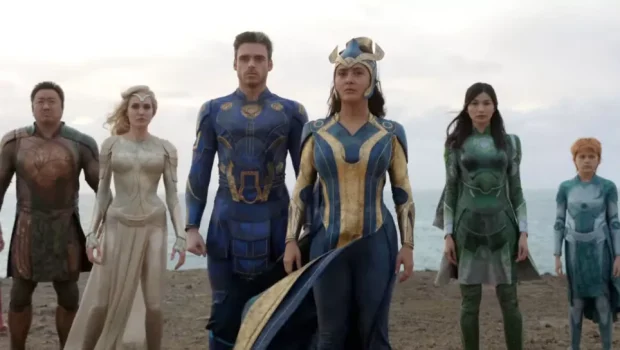 Published on November 6th, 2021 | by Harris Dang
Eternals – Film Review
Reviewed by Harris Dang on the 4th of November 2021
Disney Pictures presents a film by Chloe Zhao
Produced by Kevin Feige, Nate Moore
Starring Gemma Chan, Richard Madden, Angelina Jolie, Kumail Nanjiani, Lia McHugh, Brian Tyree Henry, Lauren Ridloff, Barry Keoghan, Ma Dong-seok, Salma Hayek, Kit Harington, Bill Skarsgård, Harish Patel
Cinematography Ben Davis
Edited by Craig Wood and Dylan Tichenor
Music by Ramin Djawadi
Running Time: 137 minutes
Rating: M
Release Date: the 4th of November 2021
Set after the events of Avengers: Endgame (2019), Eternals tells the story of a group of interstellar beings tasked with protecting the planet Earth from ruthless entities known as the Deviants. They have been doing this for seven-thousand years and have followed every order from their leaders, the Celestials.
Since the Avengers defeated Thanos and his army, a certain emergence has initiated, and the Deviants are returning to Earth. The change prompts the Eternals to saving the world again. However, their quest is not as easy as it appears. The Eternals' complicated pasts and love for humanity suggest conflicts that may tear the group apart and leave humanity's survival in doubt.
Eternals is the latest film from Chinese-American filmmaker Chloe Zhao. She is best known for her acclaimed indie films The Rider (2017) and Nomadland (2020). Her works have been praised for their understated storytelling and verisimilitude and for portraying the beauty in empathy for her characters. Zhao directing Eternals shocked fans of the MCU (Marvel Cinematic Universe) and independent films alike.
Seeing known indie filmmakers venturing into the MCU is common. The latest additions have been  Aussie filmmaker Cate Shortland (best known for films like Somersault, Lore, and Berlin Syndrome) and Asian-American filmmaker Destin Daniel Cretton (best known for films Short Term 12 and Just Mercy). However, there have been criticisms alleging the studio hires indie filmmakers and dilutes their talents for commercial gain and formula consistency.
In an interview, Argentine filmmaker Lucrecia Martel (best known for films like La Cienaga and Zama) said the studio told her to disregard directing action scenes while in contention to direct Black Widow (2021). This type of news will lead one to think hiring of indie/international directors are a way of placating to the masses through performative means. Will Eternals allay those doubts and transcend the MCU formula?
From the first frame, Zhao and company have set the framework for Eternals to drastically differ from the other MCU films. The film features opening text crawls, a self-serious tone, an expansive storyline, reliance on real locations, long-term ramifications, conflicting ideologies, diverse casting, magic hour cinematography, and even a sex scene. The difference is refreshing in the first act. The sense of grandeur and scale lends weight to the story. However, as time goes on, the weight proves too heavy for Zhao and company to handle, and the film collapses like a house of cards.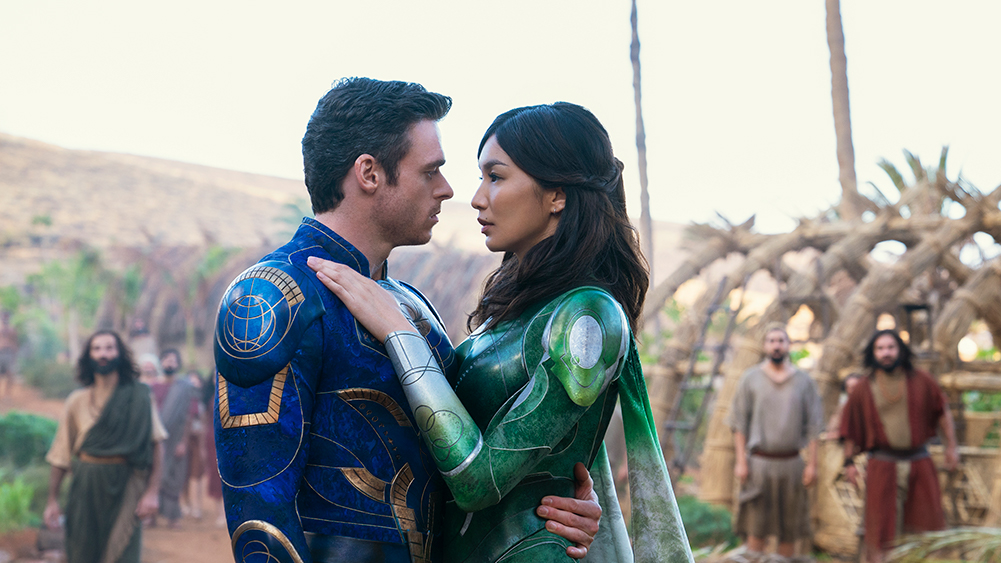 The techniques mentioned above suggest the MCU was aiming for prestige with Eternals (including using Zhao's award-winning credentials in the marketing). However, it feels performative and pandering more than anything else. The arthouse sensibilities, constant shifts in tone, and commercial framework mix as well as water and oil. It creates a distance between the audience and the film that makes it hard to emotionally grasp.
Zhao's cinematic influences as a filmmaker (as claimed in interviews) range from Terrence Malick to Alejandro Gonzalez-Inarritu and they are clear as day in the film. An action sequence where Ikaris (played by Richard Madden) fights a Deviant is reminiscent of the bear attack sequence in The Revenant (2015). However, they do not work anywhere nearly as well as they should due to the hurried pacing/editing (possibly to appeal to mainstream audiences) and inferior lighting. For example, some of the set-pieces are too dark to be visually stimulating.
The hurried editing also makes the drama surprisingly inert. The runtime of 157 minutes provides plenty of cinematic real estate in terms of establishing characterisations and the stakes in the story. The mammoth-sized dollops of exposition and non-chronological storytelling that cuts back and forth to the past and present leaves much to be desired. It homogenises the potential character worth to its bare essentials and leaves the film bloated yet undernourished.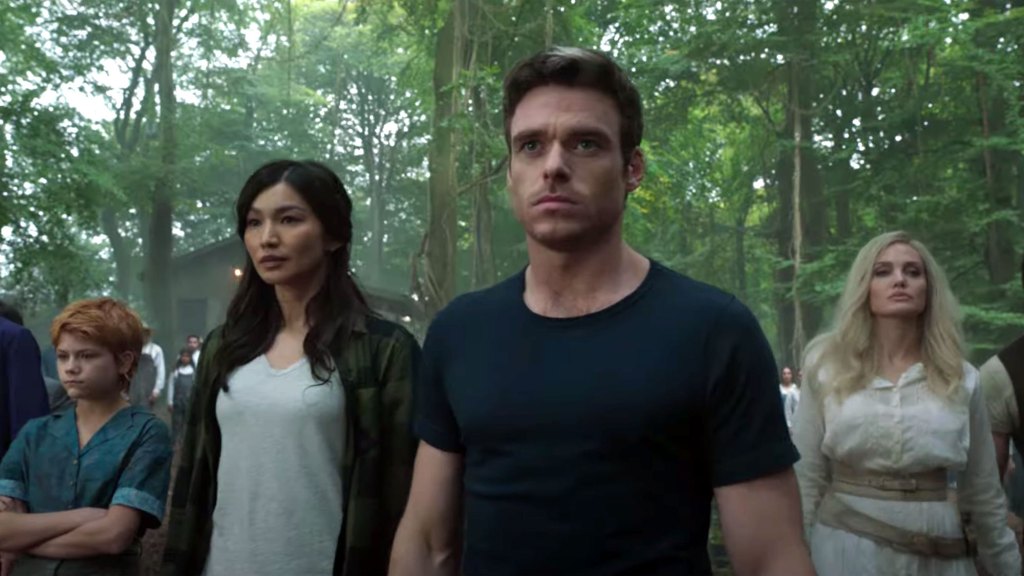 Many scenes lack enough breathing room for the audience to become intimate with the settings and characters. Consequently, they are left with character sketches rather than full-bodied people. Even when characters receive their chance to shine, the storytelling choices are distractingly bizarre, including a sequence implying one of the Eternals was inherently responsible for a real-life disaster.
Worse, the dramatic arcs of the characters are rendered anti-climactic and unsatisfying due to Zhao (or Marvel's) insistence in levity over dramatic substance. An example of such fault involves Sprite (Lia McHugh) baring her soul about why she is distraught. Yet the dramatic potential is discarded for a joke.
This is not to say Eternals is without merit. Despite the inconsistent lighting, the action scenes are better than usual due to the location work and reduced frenetic editing, which makes it more visually appealing. Zhao sticks to her guns as she portrays her characters as inherently flawed (as opposed to black-and-white ideals), leading them to make believable and surprising decisions.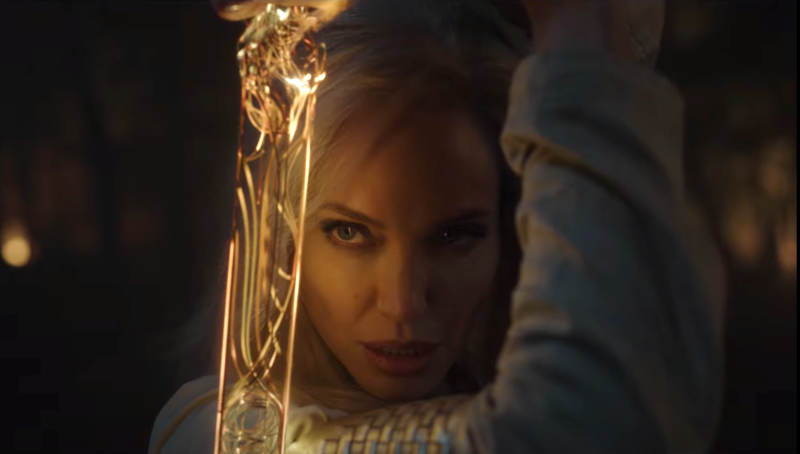 The actors make the most out of their characters and offer as much gravitas as possible. Barry Keoghan (appealingly roguish), Don Lee aka Ma Dong-seok (lending warmth and hulking presence), Lia McHugh (showing youthful exuberance and world-weary cynicism), and Angelina Jolie (bring moments of palpable rage and ferocity to both action and levity) are standouts.
Even they are left short-handed, particularly in the case of the leads. Gemma Chan and Richard Madden are remarkably talented, but together they offer no on-screen chemistry. For a romance meant to have spanned seven-thousand years, there are few sparks to be seen, which makes the climax's emotional element feel false and even laughable. Even the purported sex scene between the two feels shoved in and pulls out so swiftly. Pun intended.
Overall, Eternals is stuck between a rock and a hard place. It is too blatantly commercial to take advantage of the studio's new prestigious filmmaking talent and too outside the box to satisfy Marvel's audience. It is a heavily flawed attempt to bring the MCU to the next level.
Summary: Eternals is stuck between a rock and a hard place. It is too blatantly commercial to take advantage of the studio's new prestigious filmmaking talent and too outside the box to satisfy Marvel's audience.