Games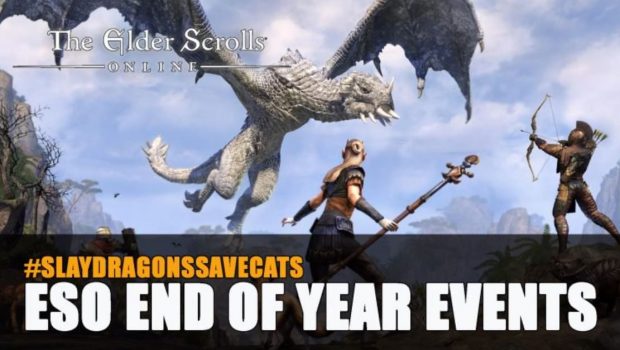 Published on October 4th, 2019 | by James Wright
ESO Charity Initiative to Save Cats and Other Pets Kicks Off with Connected In-Game Events and Quests
The Elder Scrolls Online has always been about players coming together to triumph over threats to Tamriel. Today, ZeniMax Online Studios invites fans on a quest to confront a real-life challenge: saving and improving the lives of pets across the world. In partnership with GlobalGiving, Best Friends Animal Society (North America), and FOUR PAWS (pan-European), players will work to save real life and in-game cats and more by participating in special events and other content to raise money.
In ESO's Elsweyr Chapter, released in June, the cat-like Khajiit and their homeland of Elsweyr are under siege by Dragons. Players can save Elsweyr's feline citizens by slaying Dragons, and for every five winged-beasts felled through December 9, Bethesda will donate $1 USD, up to $200,000.
Players can also donate directly to the campaign at www.elderscrollsonline.com/en-us/slaydragonssavecats.
The $200,000 donation will be split evenly between Best Friends Animal Society and FOUR PAWS. Let's join forces, take down some Dragons, and help out our furry friends together, starting today through December 9, 2019!
Dragon Rise
Over the duration of the charity initiative, players can look forward to a number of in-game activities beginning with Dragon Rise, kicking off on October 3 at 10AM ET and rolling through October 14. Dragon Rise lets players explore Northern Elsweyr's striking locales, take down merciless Dragons, and complete the Dragonhold Prologue to unlock three unique rewards for allElsweyr players. You'll find those rewards as well as a progress tracker here. And to top it all off, all Dragons killed during Dragon Rise count toward the #SlayDragonsSaveCats charity initiative!
Dragonhold Prologue Quest
Speaking of prologue quests, players can hop in and play an introduction to the final installment of the "Season of the Dragon," Dragonhold, starting on October 8 and free for all players. Sai Sahan, the last of the Dragonguard, needs your help. The player is tasked with scouring Dragonguard sanctuaries, looking for anything that may help in the last push against the dragon menace.
More In-Game Events! (With more details here)
Witches Festival – October 24 through November 4

The grim spectacle of the Witches Festival once again returns to Tamriel. Take part in the ghastly celebration to enjoy bonus XP gains and earn terrifying rewards.

Undaunted Celebration – November 14 through November 18

Take on random dungeons via the Dungeon Finder to earn Mysterious Reward Boxes that contain in-game rewards including Motif Chapters, weapon styles, and more.

Dawn of the Dragonguard – November 26 through December 9

Hunt down Elsweyr's most dangerous monsters with your fellow players and you'll earn new in-game loot. And remember, for every five Dragons slain during the time period, we'll donate $1 to the #SlayDragonsSaveCats campaign.

New Life Festival – December 19 through January 2

Celebrate the end of another amazing year in Tamriel with the New Life Festival. The merry event returns with a host of fun quests and festive holiday rewards for all, including XP-boosting collectables, unique furnishings, and more.
Best Friends Animal Society
Best Friends Animal Society is a leading national animal welfare organization dedicated to ending the killing of dogs and cats in America's shelters. Approximately 2,220 dogs and cats are killed daily in America's shelters, just because they don't have safe places to call home. Determined to bring our country to no-kill by 2025, Best Friends and its nationwide network of members and partners are working to Save Them All.
FOUR PAWS
FOUR PAWS is the global animal welfare organisation for animals under human influence, which reveals suffering, rescues animals in need and protects them. Our vision is a world in which humans treat animals with respect, empathy and understanding. Visit four-paws.org for more information on their work and how you can help.