VR Gaming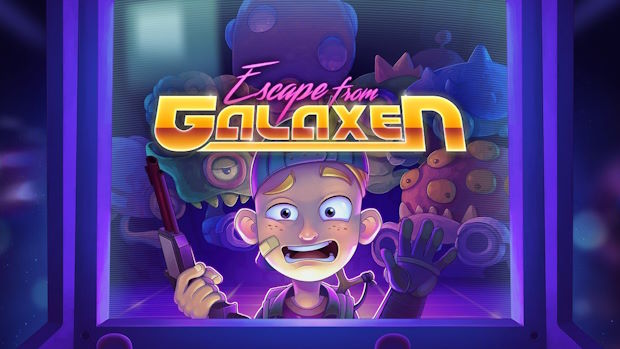 Published on November 3rd, 2023 | by Chris O'Connor
Escape From Galaxen Meta Quest 2 Review (Via App Lab)
Summary: Retro fun taking you through the fourth wall.
VR has had a number of games that play with the idea of games coming to life and merging in someway or other with the gamer's world… the most obvious example that comes to mind is Pixel Ripped. Escape from Galaxen is very much in that style and that's a very good thing.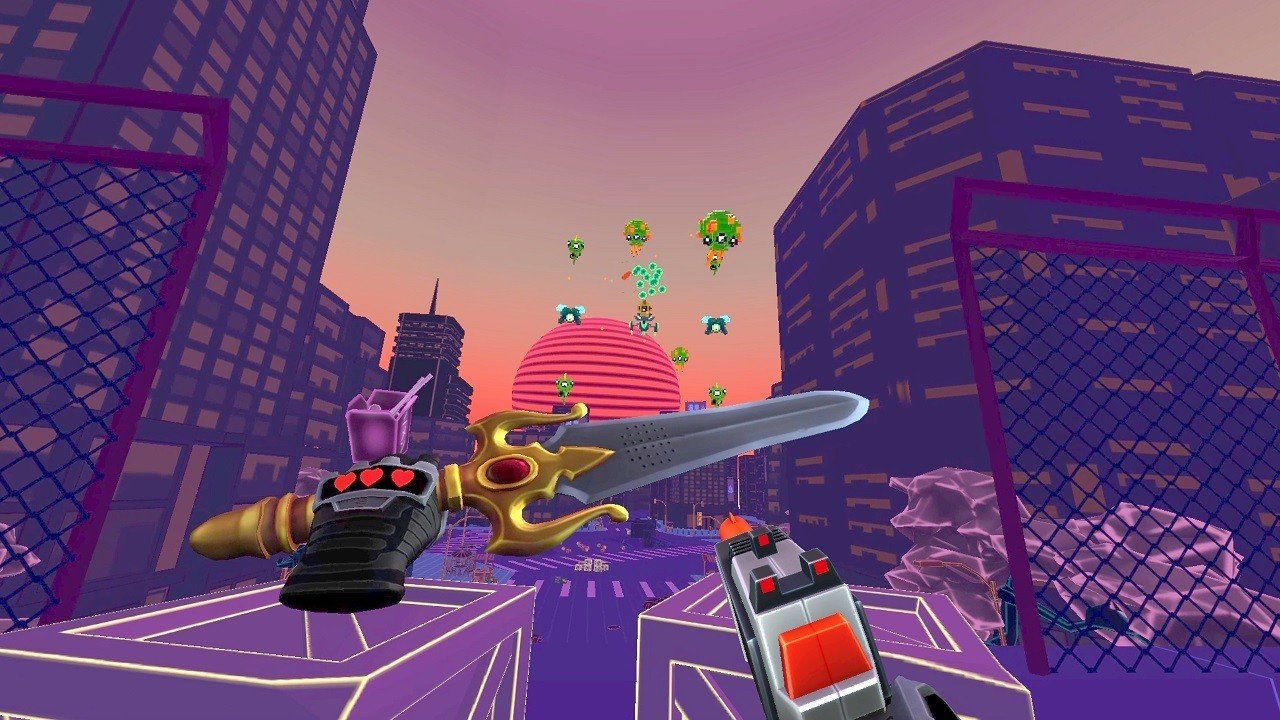 You find yourself standing in front of the Galaxen arcade machine… a coin in your hand just waiting to be put in the slot. As you insert the coin… you are taken into the arcade machine and the world of Galaxen… your only way out is to defeat the levels.
The game is divided into three worlds/levels, which have to be unlocked sequentially. Each world has a few stages to get through before a final boss fight. The visuals are bright neon… apparently to really sell that 80's feel (I don't remember the world being so neon when I was growing up… but maybe I was too busy playing the games to notice my surrounds). I actually quite like the visuals… they are simple enough to not be too distracting… but detailed enough to be interesting. The different levels also have a sufficient style of their own to make them feel nice and fresh.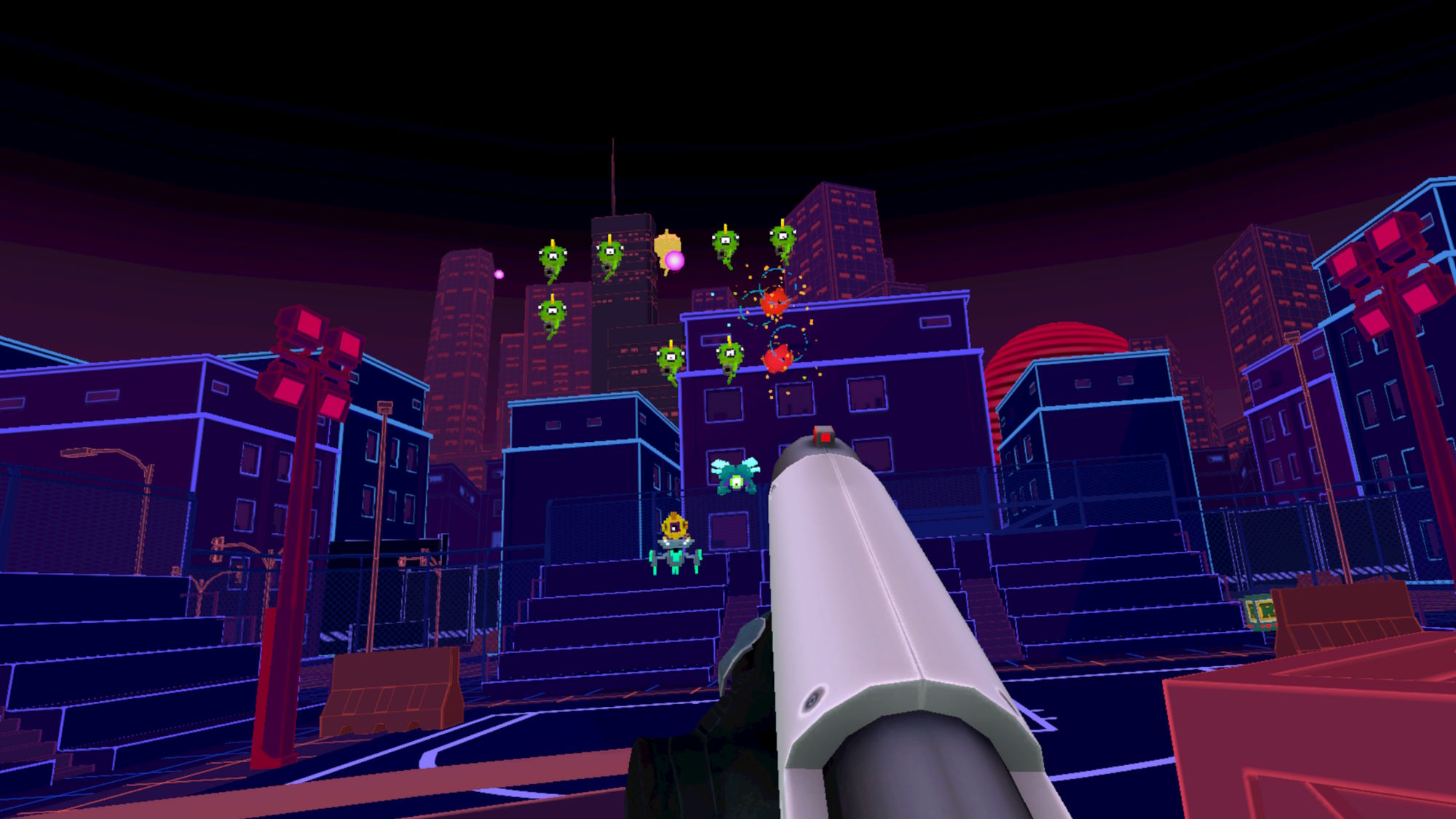 The actual gameplay feels like space invaders (or perhaps galaga) but viewed from the perspective of the fighter on the ground… waves of enemies will come at you and you need to shoot them before they can hit you. But you aren't limited to just one attack. By default you have a gun in one hand (clearly inspired by the Nintendo light gun) and the other hand holds a sword. Throughout the levels you have an opportunity to shoot a little vehicle that provides bonuses, including different weapons such as a shotgun style gun and a rapid fire machine gun. The sword is primarily used for defensive deflection of enemy attacks and is quite fun to use in this fashion. I actually found myself preferring the gun and sword combination as it gave me a better feeling of protection, but obviously different people have different styles and the method of picking up those new weapons is fittingly very reminiscent of old school games where you'd have to shoot a passing vehicle for a powerup.
Your hands themselves are depicted by gloves (inspired by the Powerglove for NES perhaps) that contain information about your health and your lives (depicted as a coin of course).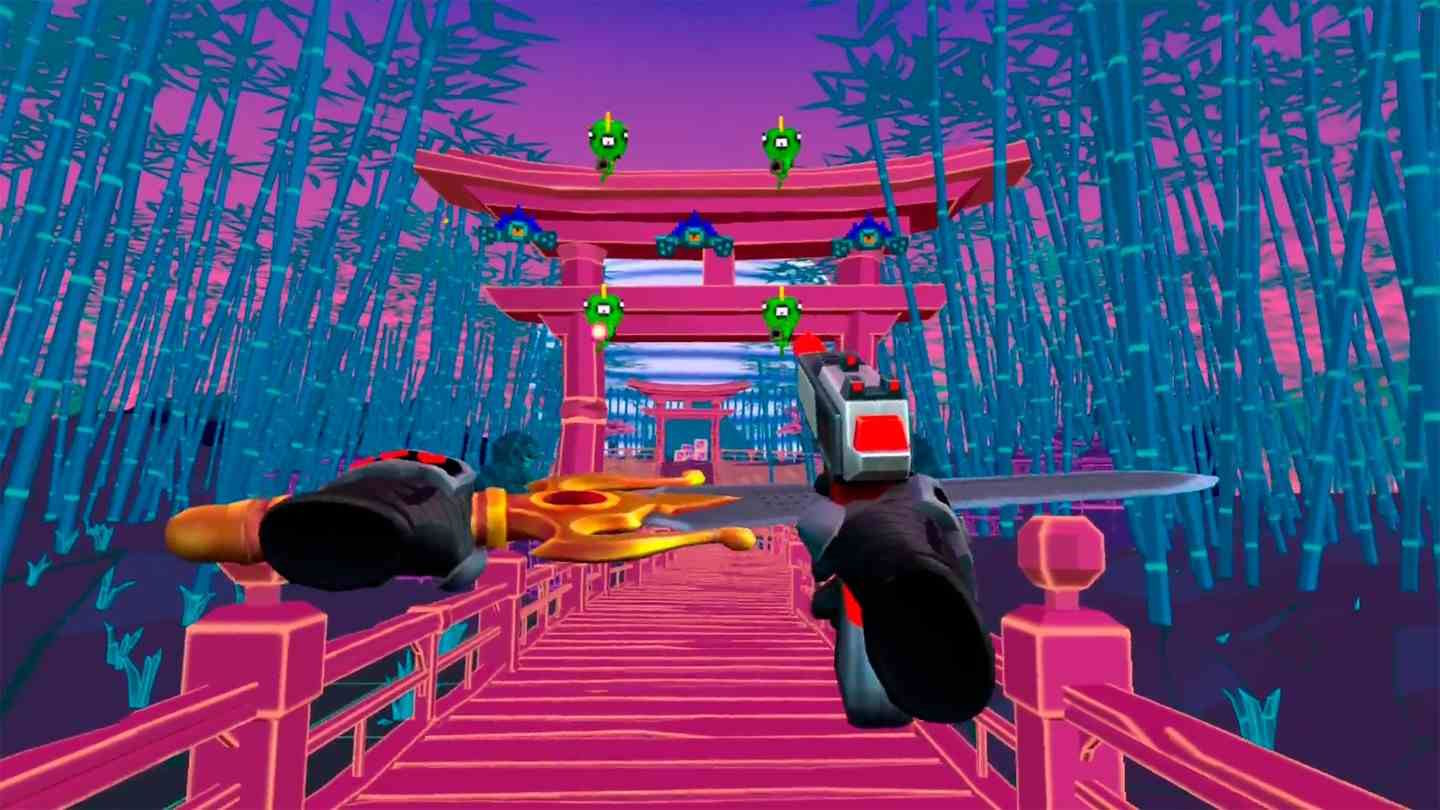 Levels, as would be expected, get progressively harder with more and more enemies filling the screen at any one time until you make your way to the boss. The boss similarly starts easy enough but progressively throws more at you and when you can grab that victory just as it seems like you are about to meet your doom… that's when you get the biggest sense of satisfactory achievement.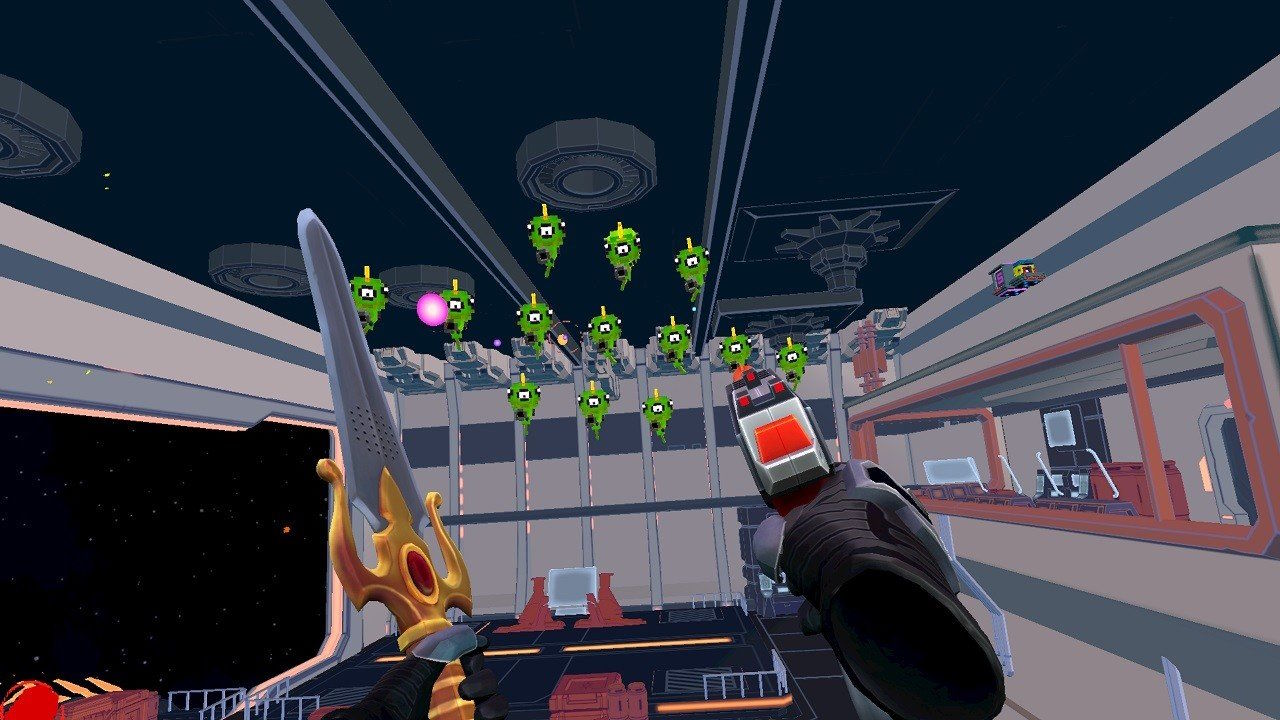 It's not an overly long game… but it's also quite cheap and a decent bit of fun to just jump in to and play so I think it's about the right cost to fun ratio.
Grab a copy if you like first person shooters and a retro aesthetic.