Hardware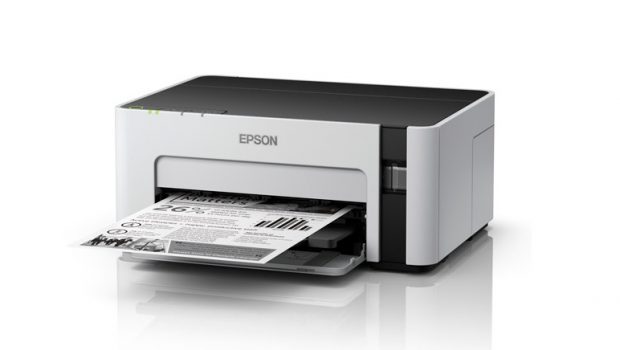 Published on November 20th, 2019 | by Adrian Gunning
Epson Wins Ten 2019 Good Design Awards
Epson has won a 2019 Good Design Award for a total of ten products, including five printers, four projectors, and one watch. Good Design Awards are presented annually for designs that benefit and enrich people's lives and society.
One of the winning products is the recently-launched EF-100W (white) and EF-100B (black) projector. This small laser home projector can be easily positioned in any room in your home. An all-in-one package with built-in speakers and streaming terminal, this product makes it easy to create a dramatic video experience. The round shape, with a leather-like texture and metal rings, will fit naturally within the interior design of your home.
The judges commented that, "The projector makes streaming a compelling visual experience, providing an all-in-one package that allows users to experience this increasingly popular form of communication more freely in many different locales. The designers reportedly focused their energies on making a projector to which users can easily relate.
The projector's external design harmonises with the user's environment and includes elements that encourage active portability. We were very impressed with the features that help ensure the best experiences from the product, such as guidance about how to get more out of the product, a quick manual, opening guide, and an intuitive remote control."
Another winning product was the SureColor F560. A world-first, this compact 24-inch dye-sublimation printer ships as a package complete with ink, media, and software. Designed for small business and fine art applications it combines compact size with high format flexibility, and a low cost of ownership.
The SureColor SC-F560 joins Epson's extensive and successful F series range. Designed to replace screen printing, these simple, efficient, and easy to use machines work in conjunction with a heat press to enable production of a wide range of durable items from metal signage and photo prints to soft signage, custom cabinetry, clothing, décor, and merchandise.
The SC-F560 is aimed at promotion and fine art applications. Designed for low volume and ad-hoc work, it features flexible media handling and a tank ink system and produces images that are bright and colourful, in super-high 2400×1200 dpi max resolution. It uses extremely cost-effective ink and will ship as a complete package for quality production with minimum fuss.
All of the EcoTank mono models that won include the following key features:
Integrated high capacity ink tank system
2 years of ink so you can print up to 5,000 pages in black and white included
Extremely low cost per page of less than a half a cent per page
Low-cost replacement ink bottle from $24.99
Easily refillable ink tank
Fast first page out time of only 6 seconds
Fast print speeds of 20 ISO ppm
Auto 2-sided printing
250 sheet paper tray
Compact size
Easy wireless printing from iPad®, iPhone®, Android™ tablets and smartphones® including Wi-Fi Direct®
The ET-M3170 multi-function and ET-M3180 multi-function models take things up a notch and offer auto 2-sided print, copy, scan and fax functions, Wi-Fi Direct®, Ethernet and Fax (ET-M3170) and Wi-Fi Direct® , Ethernet, Fax and PCL (ET-M3180). Both the ET-M3170 and ET-M3180 have a 35 sheet automatic document feeder included.
Epson designs recognised with 2019 Good Design Awards, and products using the award-winning designs include:
EcoTank Mono printers: ET-M1170, ET-M1180, ET-M2170, ET-M3170 and ET-M3180
Large-format printer: SC-T5460M
Large-format printer: SC-F560
Large-format printer: SC-P7560 and SC-P9560
Projector: EF-100W, EF-100B, EF-100WATV and EF-100BATV
Projector: EH-LS500W and EH-LS500B
Projector: EB-L1070U and EB-L1075U
Good Design Award
The Good Design Award was established in 1957 as the Good Design Selection System (or G Mark System). Today, it is a leading design evaluation and commendation system and has become world renowned, attracting a large number of entries from companies and groups around the world. Awards are presented annually as a way to promote quality of life and the use of design in solving social issues. The symbol of the award, the G Mark, is widely recognised as a symbol of excellence in design.