Hardware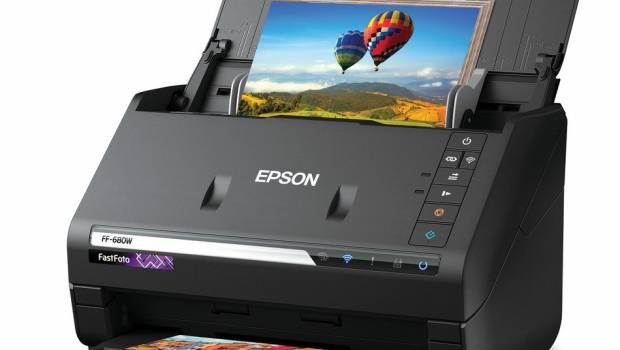 Published on November 12th, 2020 | by Adrian Gunning
Epson to launch new free FastFoto App taking the world's fastest WiFi photo scanner to a new level
Epson Australia will soon launch its new app for the wildly popular and award-winning FastFoto FF-680W WiFi photo scanner. Developed by Epson it will be available for download for free and will add significant capabilities and functionality to the FastFoto with a host of new features that lets users create, edit and share their memories.
Once installed on a tablet or smartphone, users will not only be able to scan photos directly but also edit, share and even create stories with them. As part of creating a story, the app includes a feature enabling multiple scanned photos to be 'joined', giving the user the ability to add a voice commentary for each photo. This means users will be able to chronologically join a series of images while at the same time overlaying commentary to create an entire story.
You can also add background music from either the supplied styles or from your own library to add that special and individual touch whilst text can be easily added to photos. This new app also allows easy uploading of photos and stories to social media.
Epson Australia's GM marketing Bruce Bealby said, "The new FastFoto app will take what you can do with FastFoto to a whole new level. You will be able to seamlessly integrate with mobile devices to not only save and share photos, but create stories and share them too. Once you use the app there really will be no turning back, it's that good."
Availability
The new FastFoto app – suitable for new and existing users of the FastFoto FF-680W – is coming soon and once here you will be able to download and use it for free.
More on the FastFoto FF-680W photo scanner
The Wi-Fi1 enabled FastFoto FF-680W High-Speed Photo and Document Scanning System is the world's fastest personal photo scanner2, scanning thousands of photos – as fast as one photo per second at 300 dpi3 at up to 36 photos per batch.
The FF-680W scanner offers worry-free scanning for a variety of media types and sizes, including postcards, panoramic photos up to 36 inches and instant photos as well as convenient photo restoration, editing and smart file organisation tools.
Families can scan, restore and organise collections of photos for quick and easy sharing, archiving and enlargements with the new FF-680W scanner and with the Easy Auto-Upload feature in PC mode, the FastFoto scanner software makes it simple to share images to cloud services such as Dropbox® and Google Drive™4.
Featuring Epson ScanSmart software, the FastFoto FF-680W scanner is also a powerful document scanner. Using the intuitive software users can easily scan, organise, email and store important contracts, receipts, documents and files. In addition, you can easily edit documents and save time with automatic file naming and use powerful productivity tools such as the built-in Nuance® OmniPage Optical Character Recognition (OCR) which enables users to create searchable PDFs, plus editable Word and Excel® files.
FastFoto FF-680W Scanner Features:
World's Fastest Personal Photo Scanner2 — scan thousands of photos as fast as 1 photo per second at 300 dpi3
Preserve Your Priceless Photos — SafeTouch Technology for worry-free scanning up to 8.5″ wide, plus postcards, instant photos and panoramas
Second-Generation Epson FastFoto Software — scan, restore, organise, and share precious memories; offers intelligent file organisation tools
Flexible Scanning — offers modes for easy sharing (300 dpi), archiving (600 dpi TIFF) and enlarging (1200 dpi5); handles multiple sizes in one batch
Powerful Document Scanning — includes Epson ScanSmart Software with OCR; scan receipts, tax records, wills, and more, up to 45 ppm/90 ipm6
Easy to Connect — includes both USB and wireless connectivity for flexible placement
Perfect Picture Imaging System — bring new life to old photos with auto enhancement, colour restoration, red-eye reduction, de-skew, crop, and rotate
Easy Auto-Upload and Backup — instantly share your memories as you scan via Dropbox and Google Drive4
Single-Step Technology — capture both the image and any handwritten notes on the back in a single scan
Pricing and Availability
The Epson FastFoto FF-680W scanner (RRP $799) is available now at www.epson.com.au and at all good Epson retailers and resellers. It comes with Epson's top-of-the-line service and support, including a one-year limited warranty.