Hardware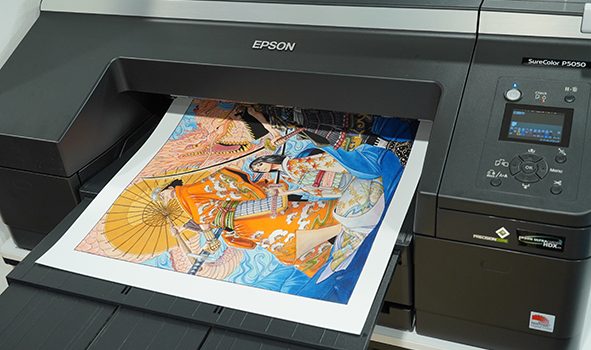 Published on August 31st, 2021 | by Adrian Gunning
Epson Selected as a Technology and Production Partner for Shueisha Manga-Art Heritage
Epson has been selected as a technology and production partner for Shueisha Manga-Art Heritage, Shueisha Inc.'s manga art sales business. Epson will cooperate in the business and conduct joint research and development with Shueisha, focusing mainly on the Shueisha's Real Colour Collection series that is output using inkjet printers.
Shueisha Manga-Art Heritage is a newly commercialised manga art sales service that Shueisha created to deliver manga content to fans and art collectors around the world. Earlier this year, the works of Eiichiro Oda (One Piece), Riyoko Ikeda (The Rose of Versailles) and Shinichi Sakamoto (Innocent and Innocent Rouge) went on sale with prints delivered to destinations worldwide in Asia, North America, Oceania and Europe.
Epson supports the Shueisha Lab by serving in an advisory capacity in the building of a colour management environment. Epson also converts the digital data into master data for the printer that is to be used. A large-format inkjet printer with Epson's water-based pigments is used to obtain output with smooth gradations and a wide colour gamut. Photostable, museum-quality prints are made on A1 or A2 size sheets of Velvet Fine Art Paper or other fine quality paper made of 100% cotton, for a high-quality feel, exceptional reproduction of detail and long-term preservation and storage.Epson's printing technology will be used to create new value in the form of art from some of Japan's best manga content.
Shueisha Manga-Art Heritage Director Tadashi Okamoto commented, "We are very pleased and reassured that Epson has agreed to participate in Shueisha Manga-Art Heritage, Shueisha's first large-scale cross-border e-commerce project. The prints are on museum quality paper and are of unprecedented size and have a level of detail that was not previously possible. I am looking forward to seeing many other works reborn as manga art in the future."
Moving forward, Epson will continue to leverage its inkjet printing technology to provide a variety of printing solutions.
For more information regarding Shueisha Manga-Art Heritage go to: https://mangaart.jp