Hardware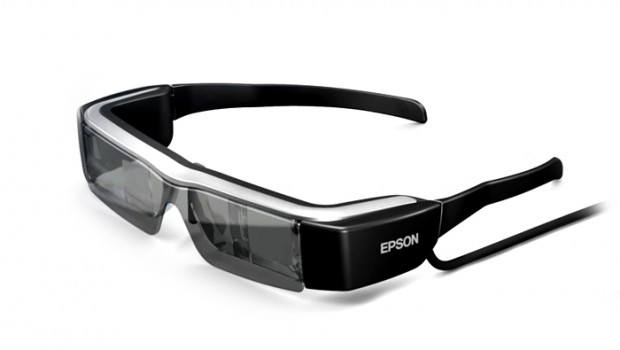 Published on August 11th, 2017 | by admin
Epson Moverio BT-300 Review (Smart Glasses)
Work. Play. Visualize. Experience MOVERIO today.
Smart Glasses are not new, however Epson have been involved in this technology for a very long time as they continue building on their expertise. Their latest incarnation of smart glasses are the Moverio BT-300 which are not only the world's lightest smart glasses but they offer some amazing Augmented Reality (AR) capabilities for a wide variety of areas from consumers, business, research and beyond.
This may include watching the latest blockbuster movie on the Moverio BT-300, controlling a drone, supporting university students in a class room or even wearing them in a museum to create an interactive layer to an exhibition. Although 2016 was the year of Virtual Reality that saw numerous headsets released, this technology has a key flaw in terms of limited portability. To be accepted by the masses, consumers want the ability of just putting the headsets on their head without the complicated connections to their computers or gaming consoles.
Sure the technology between smart glasses and virtual reality headsets is different, smart glasses offer portability and the ability to be in two places at once, the real-world and the virtual world thanks to AR. More importantly, the Moverio BT-300 have a battery life of up to 6 hours which really adds to the portability of this product.
The Moverio BT-400 are powered by an Intel Atom 5 1.44GHz Quad Core Processor which runs Android 5.1 as the operating system. So already, it has the power to run a wide range of applications and offers both Wi-Fi and Bluetooth connections to increase its connectivity.
It has a high quality Si-OLED display which boasts some exceptional clarity and ironically swapping between the 'screen' on the smart glasses and the real-world is a very flawless process. Add in an in-built motion tracker for hands free plus four different sensors that include GPS, magnetic, accelerometer and gyro and the Moverio BT-300 and this product is already futureproofing itself.
The interface of the Moverio was easy to use and the tech demos really brought an interesting element at successfully merging the real world with that of AR which makes these smart glasses a great experience. We just need more developers to come on board but all in all, a fun device that is just the tip of the iceberg of what the future of this technology may hold!
KEY FEATURES & BENEFITS
Lightest smart glasses on the market (i)– 20% lighter than the Epson Moverio BT-200
Si-OLED display – for more natural colour and brighter images
Powerful CPU – Intel® Atom™ 5, 1.44GHz Quad Core
Operating System* – Android 5.1
HD Binocular, wearable display (720P – 1280×720) – view content, front and center, on a "floating" 80-inch perceived screen (ii)
Fully transparent display – seamlessly blend digital content into the world around you
Enjoy a wide range of content – improved interactive track pad and smart navigation menus put Android™-based games, apps and content at your fingertips
Wi-Fi and Bluetooth connectivity (iii) – allows you to browse the web, play games, stream content, check email or research new restaurants from virtually anywhere life takes you
5MP HD Camera and motion tracker built in – ideal for hands-free applications
Sensors – GPS / magnetic / accelerometer / gyro
Removable memory – built-in card slot supports up to 32GB microSDHC card
Easily download – take content, games and apps with you by transferring them to a microSDHC card or built-in 16GB of user storage
Immersive 3D – significantly increased power to process 3D content
Portable – rechargeable battery offers up to six hours of battery life (iv)
All-in-One solution – includes everything you need to enjoy the Moverio BT-300 at home, at work or on the road: head set, controller, earphones with microphone, AC adapter and protective carrying case
i As of December 2016.
ii Perceived screen is equivalent to viewing an 80-inch image from 16.4 feet or 5 meters away.
iii Supports IEEE 802.11a/b/g/n/ac; level of performance subject to the range of the router being used.
iv Battery life may vary considerably depending on applications used, device settings (for example, Wi-Fi on or off, brightness setting), and temperature.
* This is not a Google certified product and does not support Google Play services including the Google Play Store