Hardware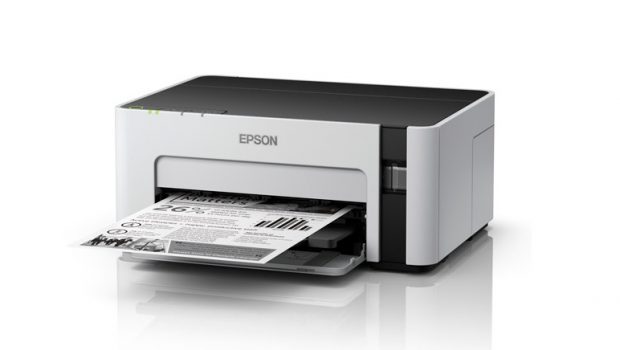 Published on October 31st, 2018 | by Andrew Bistak
Epson ET-M1120 Mono EcoTank Review
Summary: The Epson ET-M1120 Mono EcoTank comes with a wealth of features and is one of the cheapest to run printers around!
The Epson ET-M1120 Mono EcoTank is the new innovative printer from Epson which dramatically reduces print costs courtesy of the absence of an ink cartridge. That's right, there's no need to purchase overpriced or small ink cartridges again and at its core, the Epson ET-M1120 Mono EcoTank is a single-function printer with an integrated ink tank system which means you only have to purchase low cost ink bottles (from $24.99AUD) and just pour the ink into the machine itself. Furthermore, the consumables for this printer have been designed to be spill free and you cannot overfill the Epson ET-M1120 Mono EcoTank either.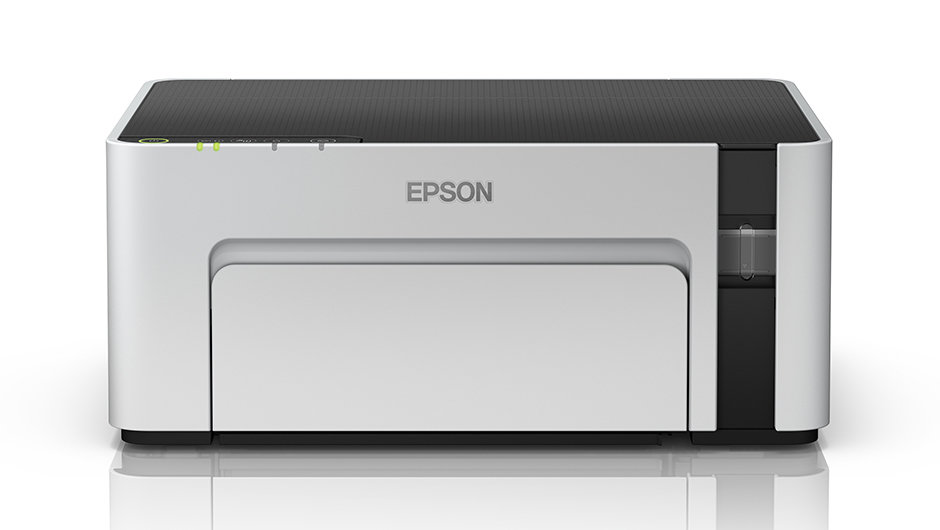 Given this knowledge, the EcoTank ET-M1120 with integrated ink tank system is ideal for busy homes or small offices looking to cut their printing costs or those who print a considerably amount of text. So if you haven't picked up yet, the Epson EcoTank ET-M1120 is a monochrome printer which means no colour.
If you purchase this printer which retails for $349AUD, Epson ensure that the ink bottle that is included will give you around 5000 pages and for most users, will last at least 2-years. Adding to the design are its wireless capabilities so you can print to the printer from a multitude of wireless devices such as notebooks, tablets or smartphones… including in other countries as this printer gets its own e-mail address!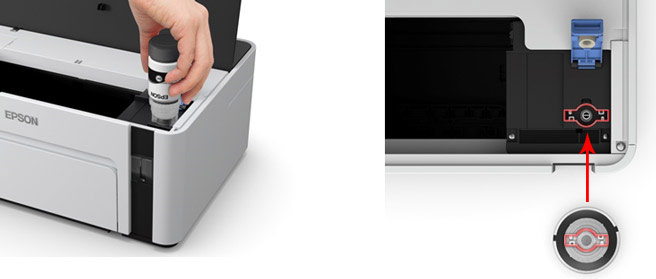 Although this printer is not colour and as mentioned, the Epson ET-M1120 Mono EcoTank is ideal for people printing high volume of text and when you add the element of colour to your home printing, it's considerably cheaper to visit your local Harvey Norman or K-Mart, particularly when they have a photo print sale.
Given the leaps and bounds that Epson have made with their printer technology the on-demand inkjet has been exclusively created to conserve ink but produce excellent quality and when added to the integrated tank system, it becomes a very cost efficient product that is quite fast with up to 15 pages per minute. In terms of printing quality, it's on par with laser printers with text extremely clear courtesy of its 1440 x 720 resolution and the ink doesn't smudge thanks to the pigment ink.
Contents and unboxing
Well packed from Epson, the ET-M1120 comes with everything the home user needs (USB cable separate but installation is wireless) and the contents of the box include;
ET-M1120 EcoTank Printer
T532 Black Ink Bottle
Power cord
Instruction manual &
CD Installation disc (a digital download is also available) the only thing missing is a USB cable.
The EcoTank M1120 is quite a well-designed and compact printer from Epson that measures at 375mm (W) x 267mm (D) x 161mm (H) with a weight of just 3.5kg. The paper tray is at the front, including access to the ink well to see how much is left in the printer. The top left-hand side of the printer has the buttons to control the device and a lid which is where you pour the ink into the EcoTank M1120 and lastly the power connector is located at the back.
Setting up the printer is a very easy process and once powered, we opened the lid in order to pour the included ink into the EcoTank M11120. All we needed to do was remove the lid and then put the non-spill bottle into the top of the ink well and then let nature do its magic courtesy of Isaac Newton and his apple. Oh… don't expect any spills because Epson have cleverly incorporated spill-proof technology. The next step we performed was to install the drivers and software onto our test machine and overall, the whole process took around 10 or so minutes.
Software Installation Images
If you want to print remotely, you do need to install additional software which is through the web and also registering the printer with Epson.
Smart devices will need to have the appropriate app on your phone and on an Android device, it's called the Epson Print Enabler which is another easy process. After a few clicks and an installation, we could wireless print to the ET-M1120 through our Android smart devices.
EcoTank ET-M1120 Specifications
Product Name/Code: EcoTank ET-M1120/C11CG96509
Printing Method: On-demand Inkjet (piezoelectric)
Nozzle Configuration: 180 x 2 nozzles Black
Minimum Ink Droplet Volume: 3 Picolitres
Resolution: 1440 x 720
Print Speed: Black Text (Memo) A4: 15.0 ISO ppm
Paper Sizes:A4, Letter, Legal, A6, A5, B5, B6, 8.5×13″, Executive, Half Letter and No10/DL/C6 Envelopes
Paper Holding Capacity: 150 sheets, A4 Plain paper (64-90g/m2)
PC Operating System: Windows XP SP3 or later (32-bit), Windows XP Professional x64 Edition SP2 or later /Vista/7/8/8.1/10
Mac Operating System: OS X 10.6.8, 10.7.x, 10.8.x, 10.9.x, 10.10.x, 10.11.x, 10.12.x, 10.13.x
Rate Voltage: AC 100 ~ 240V
Rated Frequency: 50 ~ 60Hz
Noise Level: 6.6B / 53db
Connectivity: High Speed USB
IEEE: 802.11b/g/n Wi-Fi
Networking: Wi-Fi Direct®
Mobile Device Print: Email Print, Remote Print Driver, Epson iPrint, Google Cloud Print
Warranty: 12 months return to base (Registration adds an additional 12 months)
Product Dimensions: 375mm (W) x 267mm (D) x 161mm (H)
Weight: 3.5kg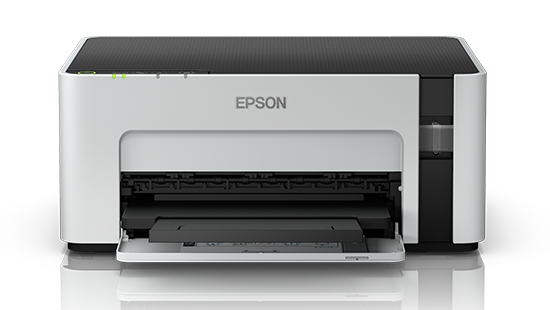 Final Thoughts?
The Epson ET-M1120 Mono EcoTank is indeed a smart printer that boasts an easy installation process, high quality printing, relatively fast at 15-pages per minute, wireless printing and more importantly, it's very 'very' cost-efficient which makes this one of the cheapest printers on planet Earth!
Recommended!
For more information, please visit – https://www.epson.com.au/products/ecotank/ET-M1120.asp?groupid=164