Hardware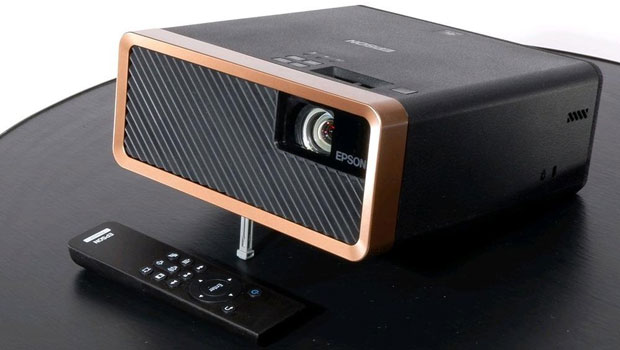 Published on August 19th, 2019 | by Andrew Bistak
Epson EF-100 Projector Review (EF-100B / EF-100W)
Summary: Epson EF-100 Projector (EF-100B / EF-100W) offers true portability and more importantly, quality images, easy setup and even streaming device connection.
Epson have succeeded in delivering a high quality portable laser projector to the masses and whether you're a business or need it for home, the EF-100 (EF-100W/EF-100B) is that product. With a weight of just 2.7kg and a small physical footprint for a projector of just 210 x 227 x 88mm, the Epson EF-100 Projector boasts a 2,000lm in colour brightness with a dynamic contrast of 2,500,000:1 that in laymen terms means you can view this projector in a variety of different environments, not just a darkened room like most projectors and this aspect works very well. The projection size goes up to an impressive 150 inches and with its unique design, this means you can project easily onto the wall or even the ceiling for that true cinematic experience.

The Epson EF-100 Projector also comes in two colours that include black (EF-100B) and white (EF-100W) and its overall design looks more like a high-end smart product with its faux leather finish and rounded corners. Adding to the aesthetics is the finishing that include silver accents on the white model or copper on the back unit which we reviewed. Needless to say, it's quite an attractive piece of tech that would not look out of place in any home or office. Another highlight is that it is quiet thanks to the low decibel level of the fan which is just 26db.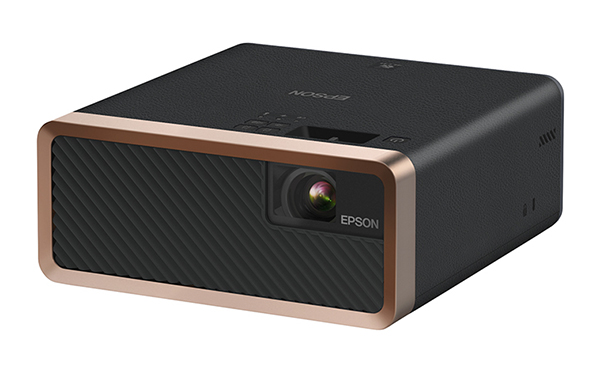 In terms of audio, the projector has a built-in 5W speaker which is good and it produces clear sound, however if you want that movie experience, you do need to connect it to a more powerful audio device, however as its Bluetooth compatible (there's also an audio port), this really does allow you to "cut the cords". In terms of connectivity on the Epson EF-100 Projector and besides the standard HDMI 2.0 port, it also allows you to connect other streaming devices such as Google Chromecast or Amazon Fire Stick which really increases the scope of where your content comes from. To use this streaming function, you simply connect the streaming device to the back of the projector and presto you're ready to go.
As to video quality… wow, the Epson EF-100 Projector is not only super sharp, however the colours are very vibrant and really pop, even displaying on our wall and ceiling. While the resolution is 1080p, the WXGA format of 1280 x 800 is nothing to scoff at it and still produces exceptional clear images. We watched Amazon's The Boys and the latest Marvel superhero film, Avengers End Game that both look superb with deep blacks. Navigating our Lenovo Yoga 2-in-1 for work, surfing the net and watching Youtube was equally as good, as was displaying photos. Then you have gaming and we tested both our Xbox One X and PlayStation 4 which made games feel big and more importantly, the graphics still looked great, even though it wasn't 4K.
Unboxing Photos
Setting up the device is very easy and Epson have made this process as simplistic as possible, including a tutorial (or welcome guide) that nicely sums up the features of this projector and how to connect various devices to it. To connect a cable to the device, you just remove the panel at the back (see screen below) which gives you access to HDMI, USB Type-A and a mini-USB. The larger USB connector can even be used to be power streaming devices and there's enough room to hide the Amazon Fire Ztick in this compartment. According to Epson all the Amazon Fire Sticks and the Roku streaming sticks easily fit inside this compartment but as the Chromecasts are considerably larger, so you won't be able to close the case.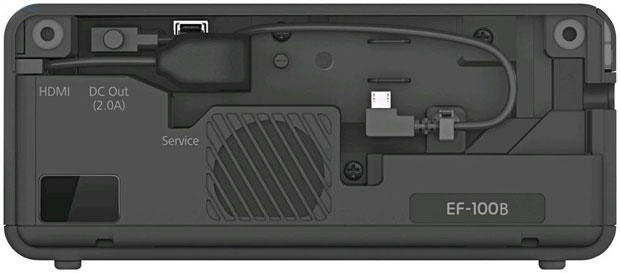 Furthermore, the full size remote gives you access to navigating the menu system of the projector, including pausing, playing and skipping tracks or videos plus powering the unit on/off. There's also presets as well such as dynamic, bright cinema, natural and cinema to find that perfect video setting. Audio has complementing options such standard, vocal, music and movie which are used to give you the best possible sound experience on this projector. There are other projector options such as cooling speed, light output, aspect ratio and illumination to name a few which once again allows you to tailor the device to your needs. As mentioned, there are a variety of ways to position this product (desktop, TV cabinet, table mounted) with Epson boasting that the laser light will last for up to 10-years. Add in a 60 months warranty (or 12,000 hours) and the Epson EF-100 Projector is a great investment.
Final Thoughts?
If you're looking for a portable and family friendly projector, the EF-100 (EF-100B or EF-100W) from Epson ticks all the right boxes, including easy set-up, excellent versatility and ability to stream. While it doesn't innate streaming or even 1080p, the Epson EF-100 Projector is still an impressive piece of tech when it comes to its features and video quality.
The EF-100W/B is available now from www.epson.com.au/projectors and from all Epson retailers and resellers for an RRP of AU$1,699.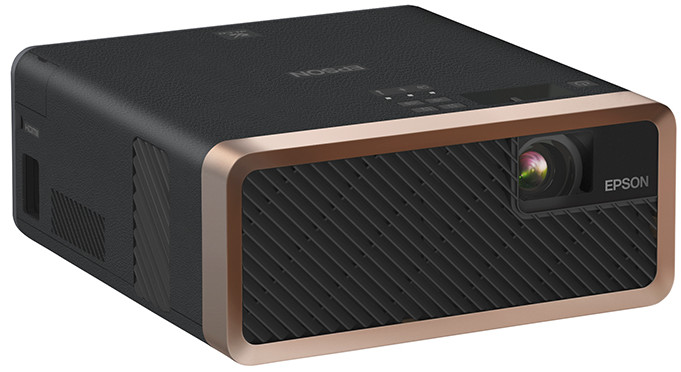 Key features
Stylish finishes (EF-100W white and silver/EF-100B black and copper)
Compact (WxDxH/mm:210x227x88)
Lightweight (2.7kg)
Long-lasting and high-quality (laser light source)
Vibrant and realistic images even in daylight (3LCD technology, 2,000lm, 2,500,000:1 dynamic contrast, WXGA resolution)
Big display size (up to 150 inches)
Project on almost any surface and in any direction (laser light source, vents and power inlet on the side)
Stress-free set up (welcome guide, automatic keystone correction V +/- 45°, easy to use remote)
Simple to stream content (1x HDMI 2.0,1x USB for power supply)
Easy sound options (built-in 5W speaker, Bluetooth audio connectivity, headphone jack)
Low fan noise (26db / 29db)