Hardware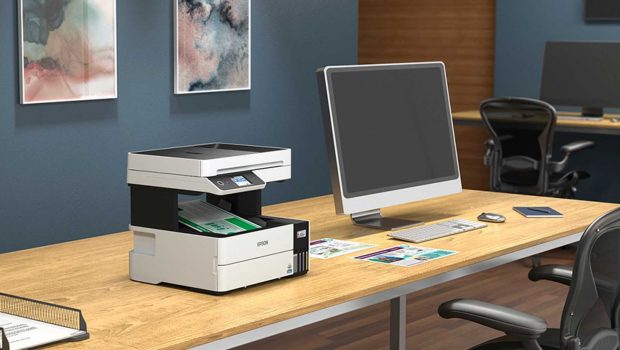 Published on June 25th, 2021 | by James Wright
Epson EcoTank ET-5170 Review
Summary: The Epson EcoTank ET-5170 is a brilliant multi-function printer that is not only high quality but very affordable to run
The ET-5170 Multi-Function Printer with integrated ink tank system is ideal for busy homes looking to cut their printing costs. Thanks to the integrated high-capacity ink tank, ink is supplied continuously to the printer, so there are no cartridges to replace; you simply top up the tank with the Epson ink bottle and keep on printing.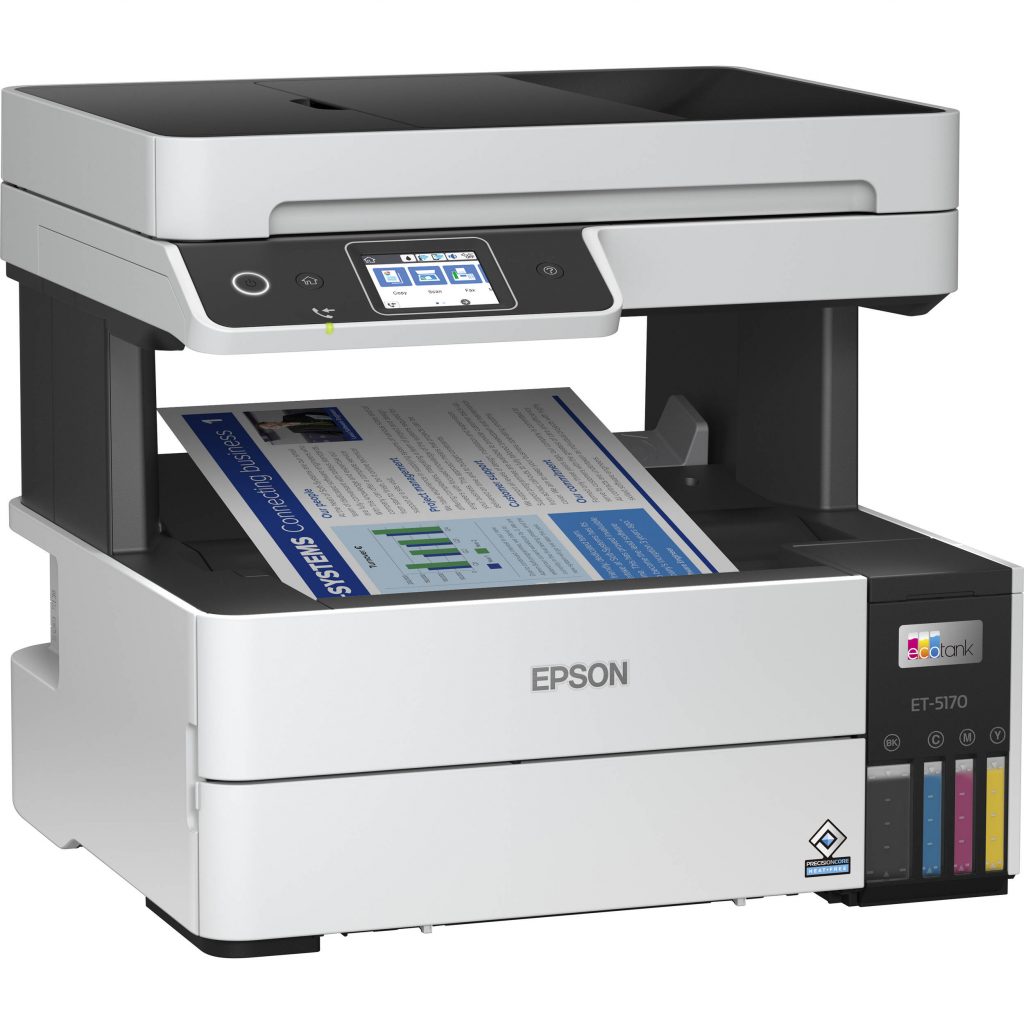 The Review
Home printers and multi-function devices have a long way in the last 10-years, particularly when it comes to print and scan quality, including the cost of replacement consumables and this where the Epson EcoTank ET-5170 comes into play where is outperforms its competitors.
This "smart" multi-function does everything which includes colour printing, scanning, copying and "old school" faxing. Apart from Ethernet connectivity for networks, the Epson ET-5170 Multi-Function Printer supports Wi-Fi Direct that allows you to print wirelessly from other computers or smart devices. Given that, nothing is more satisfying then printing a photo directly from your smartphone to the printer.
As mentioned, the ET-5170 supports cartridge free printing thanks to Epson's PrecisionCore Heat-Free Technology that unlike the ink injection process that requires heat, it uses pressure that is applied to the Piezo element which moves backward and forwards firing ink directly from the print head. As a result, this technology is faster, requires less power, reduces waste and there are fewer mechanical parts required to print that in turn reduces downtime.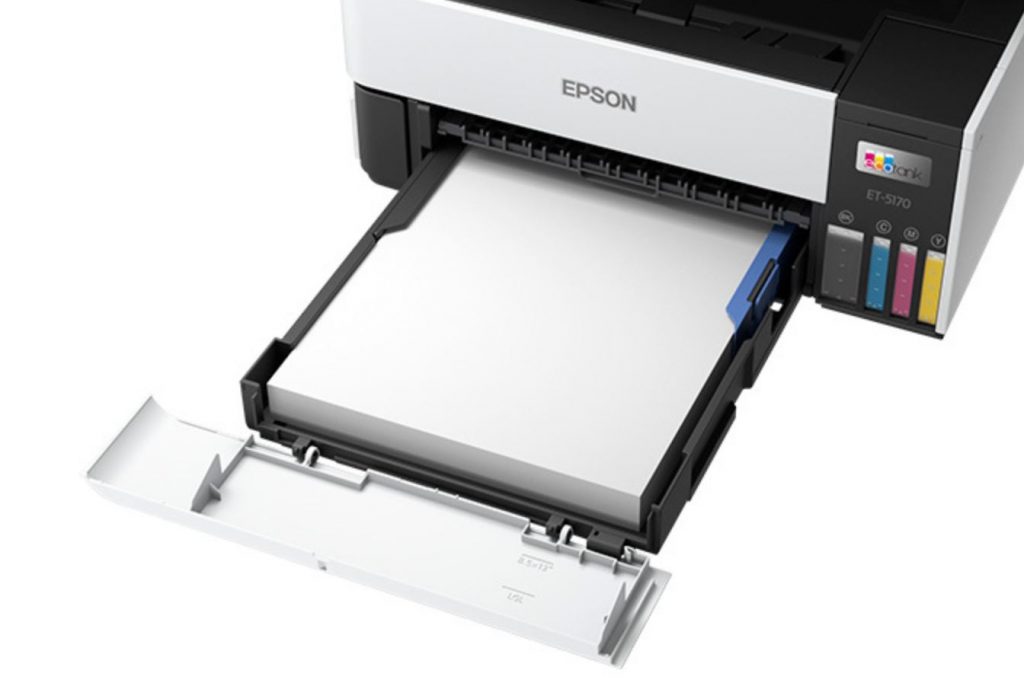 In terms of design, the ET-5170 looks like a multi-function printer and just like HP or Brother, each of these companies, including Epson have their own unique look. Nonetheless, there are some clever design features with this multi-function printer that includes a very clear and accessible 2.4" colour touch screen on the top of the machine and near the bottom, it displays the actual ink levels so you can never be caught without ink.
While the box that comes with the Epson EcoTank ET-5170 is quite large due to Styrofoam padding for shipping protection, I thought this multi-function would be larger, however it measures at just 375mm (W) x 347mm (D) x 346mm (H) with a weight of 7.3kg which makes this multi-function quite compact.
Box Contents
Epson EcoTank ET-5170 Pro Printer
Power Cable
Installation CD (#: Software also available from Epson online
Instruction Manual and Warranty Card
Ink Bottles (Black, Cyan, Magenta & Yellow)
Once unpacked (and it is WELL-PACKED), setting up the ET-5170 was a streamlined process and Epson walk you through this process from connecting it to your PC, network and smart devices.
Setting it up via the touchscreen runs through an easy to follow setup wizard that includes accessing your Wi-Fi and fine tuning it to your needs such as the Quick Fax Set-up Wizard if you have a landline… what's a landline I hear you ask? :) Further to this, the Epson iPrint app is a great feature as it allows you to print photos, print documents, print from cloud, scan, capture documents, copy and even tweak images thanks to its creative print function. So as you can see a fully functional app from Epson.
To fill the ink tanks, you simply put the included coloured bottle into the filling port and let gravity do its trick. Best of all, there is no spillage, you cannot overfill the tank and once all three tanks are filled, you are almost ready to print. The next step is to let the printer "charge the ink", then print its obligatory alignment, quality tests and now you're ready to print!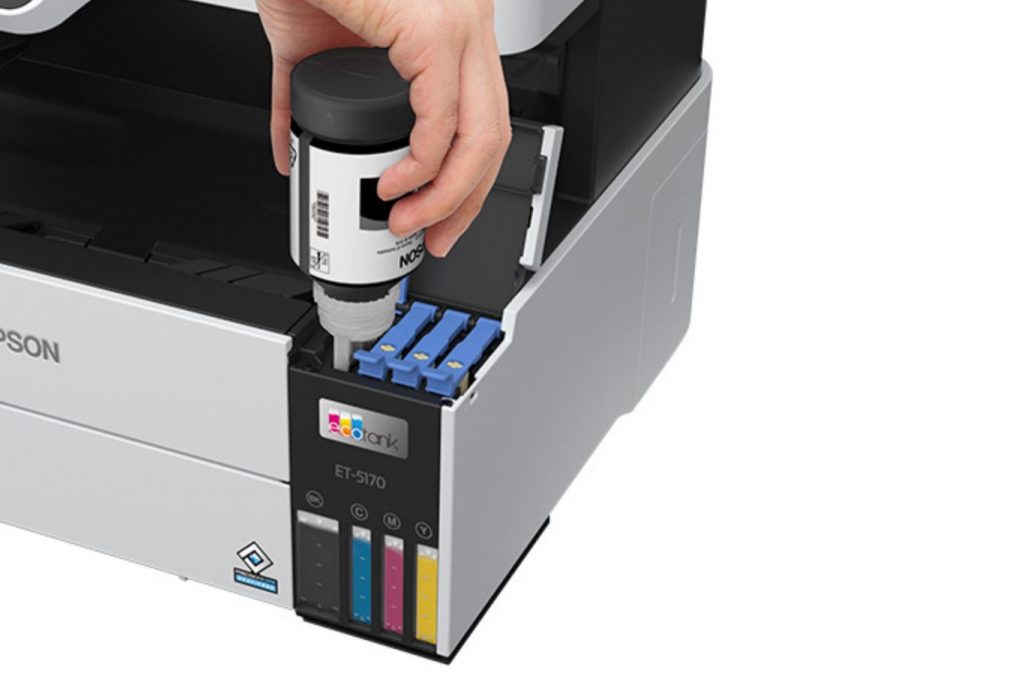 In reference to print quality, I could not fault the documents and photos that the ET-5170 produced. Colours were vibrant and photos looked impressive on both plain and photo paper. As the printer uses DURABrite ET inks which are pigment based, they also more durable which adds water resistance and smudge proof technology.
For documents, text was sharp and I love how this device offers double sided printing that saves you money and helps the environment as well. Supporting this quality of both text and print images is the resolution 4800 x 1200.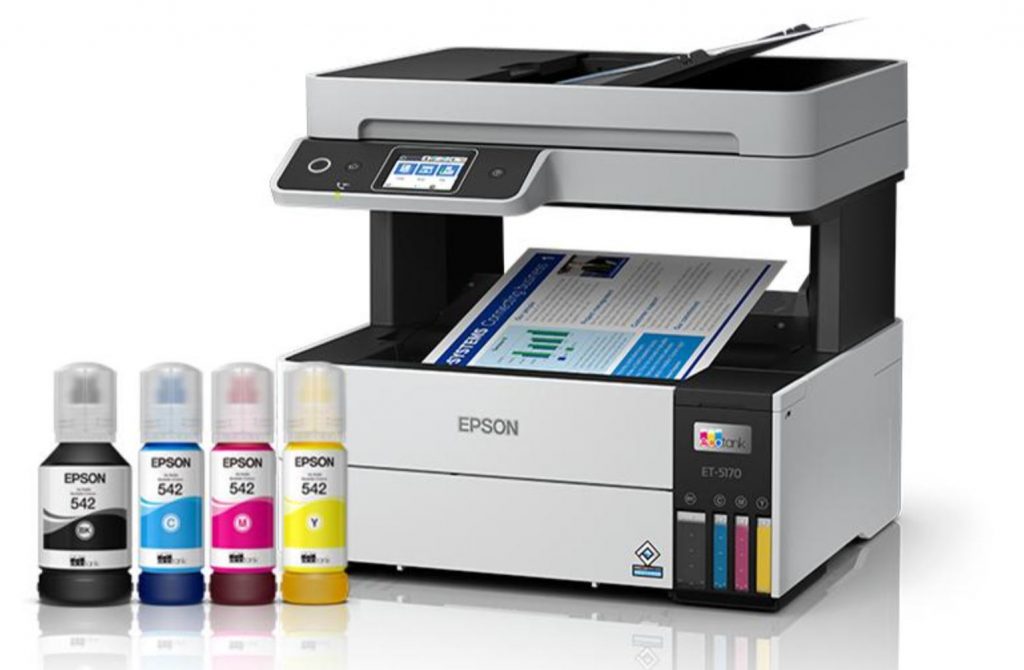 When it finally does come time to top up the ink levels within the EcoTank ET-5170, Epson have made this process quite affordable. All three colour ink bottles cost $24.99AUD each, whereas the black ink bottle is slightly more expensive (and larger) at just $29.99AUD (June 2021). According to ISO/IEC24711 and the 24712 test suite, the supersized ink tanks can print 13,000 pages in black and 5,200 pages in colour. For paper storage, this printer holds a whopping 250 sheets of paper which is half a ream.
As mentioned, the EcoTank ET-5170 allows you to scan via the automatic document feeder for multiple pages or via the flatbed scanner with a resolution of 1200 x 2400 DPI (dots per inch). Scanning both photos and documents were handled well by the ET-5170, especially multiple documents via the top loader of up to 35-sheets which definitely makes your life easier.
Final Thoughts?
The Epson EcoTank ET-5170 is an all-round exceptional multi-function device that offers quality printing, scanning and true wireless connectivity. Additionally it's a well-designed and built printer from Epson that boasts an accessible and easy to use touch screen, ability to quickly load paper and the option to scan multiple pages thanks to the top loader. Lastly, the ability to print directly from smart devices is made easy through the app and to reiterate again, when it comes to ink, this is one of the most affordable devices on the planet that not only saves you money but also saves the environment.
Recommended!
Highlights
Cartridge Free Printing – Freedom to print up to 13,300 pages in black and 5,200 pages in colour (1)
Extremely Low Cost Per Page – Less than a half a cent per page with replacement bottle (2)
Pigment Inks – DURABrite ET inks are pigment based offering sharp text and graphics. They are also durable, water resistant and smudge proof
Low-cost replacement ink bottle from $24.99 – and easily refillable ink tank with replacement ink bottle
Fast First Page out Time – in only 7 seconds
Easy Wireless – easily print from iPad®, iPhone®, Android™ tablets and smartphones® (3) includes Wi-Fi Direct® (4)
Do More – 35-Sheet Auto Document Feeder; auto two-sided print
Easy Touch-and-Swipe Setup and Navigation – large 2.4″ colour touchscreen
Bonus 1 year warranty – upon registration within 12 months (5)
The Fine Print
1 Yields based on the ISO/IEC 24712 (colour) and ISO/IEC 19752 (black) patterns with Epson's methodology. Actual ink yields will vary considerably for reasons including images printed, print settings, temperature and humidity. Yields may be lower when printing infrequently or predominantly with one ink colour. All ink colours are used for printing and printer maintenance, and all colours must be available for printing. Paper not included.
2 Based on replacement ink bottle at $24.99 for 6,000 pages.3 Most features require an Internet connection to the printer, as well as an Internet and/or email-enabled device. See www.epson.com.au/connect. for a list of Epson Connect enabled printers and compatible devices and Apps.4 Wi-Fi CERTIFIED™, level of performance subject to the range of the router being used.
5 12 months of standard Return to Base warranty. For an additional 12 months (making a total of 24 months), you must register on www.epson.com.au/registrations within 12 months of purchase (excluding Factory Seconds, or Refurbished EcoTank models).
Printer
PRINTER TYPE
EcoTank Pro ET-5170
C11CJ88501
PRINTING METHOD
On-demand Inkjet (piezoelectric)
NOZZLE CONFIGURATION
400 x 1 nozzle Black, 128 x 1 each colour (Cyan, Magenta, Yellow)
MINIMUM INK DROPLET VOLUME
3.3 Picolitres
WHAT'S IN THE BOX
– ET-5170 EcoTank Pro Printer
– Instruction manual
– CD-ROM for product setup
– Power cord
– USB cable not included (Optional extra)
– Initial ink bottle: Black, Cyan, Yellow, Magenta (T542)
RESOLUTION
4800 x 1200
PRINT SPEED
BLACK TEXT A4
17.5 ISO ppm1
COLOUR TEXT A4
9.5 ISO ppm1
PAPER HANDLING
PAPER SIZES
A4, Letter, Legal, A6, A5, B5, B6, 8.5×13″. Envelopes: No10, DL, C6
PAPER HOLD CAPACITY
Input capacity: 250 sheets, A4 Plain paper (64-90g/m2)
REAR SLOT
1 Sheet
DOUBLE-SIDED PRINTING
Yes
Scanner
SCANNING
SCANNER TYPE
A4 Flatbed colour image scanner
DOCUMENT SIZE
Up to A4
SCANNING RESOLUTION
1200 x 2400 dpi
Copy Function
COPY SPEED
BLACK TEXT A4
12.0 ISO ipm1
COLOUR TEXT A4
6.0 ISO ipm1
TRANSMISSION & RECEPTION
TYPE
Walk-up black-and-white and colour fax capability
TRANSMISSION SPEED
Up to 33.6kbs (approx. 3 secs per page)
SPEED DIAL
Up to 100 Names & Numbers
MEMORY
Up to 180 pages (ITU-T No.1 chart)
FAX RESOLUTION
Black & White Standard: 8pels/mm x 3.85lines/mm Fine: 8pels/mm x 7.7lines/mm Photo: 8pels/mm x 7.7lines/mm
Colour Fine: 200x200dpi Photo: 200x200dpi
ERROR CORRECTION MODE
ITU Group3 fax with Error Correction Mode
PC FAX
Yes
GROUP DIAL
Yes – Up to 99 groups
BROADCAST FAX
Yes (mono only)
AUTOMATIC DOCUMENT FEEDER FUNCTION
MAXIMUM DOCUMENT SIZE
A4
PAPER TYPES SUPPORTED
Plain paper 64~95g/m2
PAPER CAPACITY
35 pages (A4) / 10 sheets (Legal)
DUPLEX SUPPORT
Duplex scan not supported, but the printer will auto 2-side copy once the user flips the scan page manually
General
OPERATING SYSTEMS
PRINTER DRIVERS
Windows XP SP3 or later (32-bit), Windows XP Professional x64 Edition SP2 or later /Vista/7/8/8.1/10

MAC OS X 10.6.8, 10.7.x, 10.8.x, 10.9.x, 10.10.x, 10.11.x, 10.12.x, 10.13.x, 10.14x, 10.15x

ELECTRICAL SPECIFICATIONS
RATED VOLTAGE
AC 100 ~ 240V
RATED FREQUENCY
50 ~ 60Hz
** PC Printing / Plain Paper default. Default mode is in accordance with ISO7779
INTERFACES
CONNECTIVITY
High Speed USB — Compatible with the USB Specification.
IEEE 802.11b/g/n Wi-Fi, Ethernet
NETWORKING
Wi-Fi Direct®
MOBILE DEVICE PRINTING
Yes (Email Print, Remote Print Driver, Epson iPrint, Apple AirPrint)
LCD SCREEN
2.4″ LCD
WARRANTY
12 months return to base
Standard
24 months return to base warranty. For an additional 12 months (total of 24 months), register online at www.epson.com.au/registrations within 12 months of purchase.
Epson Warranty
PRODUCT DIMENSIONS
375mm (W) x 347mm (D) x 346mm (H)
WEIGHT
7.3kg
INK BOTTLES
INK BOTTLES
T542 (Black, Cyan, Magenta, Yellow)
INK BOTTLES BUNDLED WITH PRINTER YIELDS2
13,300 Pages Blk / 5,200 Pages Clr
REPLACEMENT INK BOTTLES YIELDS2
7,500 Pages Blk / 6,000 Pages Clr
1 Black and colour print/copy speeds are measured in accordance with ISO/IEC 24734 and ISO 29183. Actual print times will vary based on system configuration, software, and page complexity. Click here for details on ISO testing.2 According to ISO/IEC24711 and 24712 test suite.