Hardware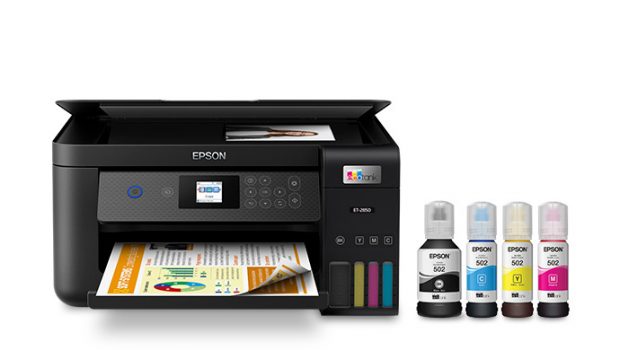 Published on December 11th, 2021 | by Andrew Bistak
Epson EcoTank ET-2850 Review
Summary: The Epson EcoTank ET-2850 provides excellent value for money and high quality printing that runs at a fraction of the cost compared to its competitors!
The perfect family printer.
Your home needs a printer that's fast, affordable, easy to use, and has great features. That's why we developed the EcoTank ET-2850 — an innovative cartridge-free solution that uses high-capacity, easily refillable ink tanks. So you'll worry less about running out of ink, and save a lot on replacement ink1. The ET-2850 features outstanding print quality, auto-duplex printing, a high-resolution flatbed scanner, and convenient color display — making it the perfect family printer.
The Epson EcoTank ET-2850 is exceptional value for money and is a true multifunction printer in every sense of the word which offers printing, coping, scanning plus flawless Wi-Fi connectivity for a myriad of wireless devices, including a very useful smart app. Cost-wise, this colour multifunction printer retails for $499AUD (Dec 2021) and features Epson's intuitive cartridge-free printing technology that is not eco-friendly but also friendly on your wallet courtesy of ink bottles which makes consumables quite affordably priced. As Epson is an eco-friendly company, their EcoTank ET-2850 is ENERGY STAR qualified, RoHS complaint and a recyclable product.
.
Furthermore, it's fantastic that Epson offer full-size ink bottles for the consumer and as a guide, the black ink bottle (T502) has a capacity of 6,500 pages, whereas each coloured ink bottle (T502 – yellow, cyan and magenta) translates to 5,200 pages each. Additionally it comes with a 2-year return to base warranty once you have registered the EcoTank ET-2850 with Epson or 12-months with no registration. So before we jump into our review, let's check out the highlights of this multifunction printer below;
Key Features and Benefits
Cartridge-Free Printing – integrated high capacity ink tank system
Includes Enough Ink to Print up to 6,500 pages black / 5,200 colour1 – equivalent to about 163 individual cartridges
Easy Wireless – easily print from iPad®, iPhone®, Android™ tablets and smartphones® 4 includes Wi-Fi Direct®
Auto 2-Sided Printing – save up to 50% of your paper supply
1.44″ Colour Display – easy setup and navigation
Borderless Photo Printing – easily print and share 4″ x 6″ photos
Exclusive Auto-Stop Ink Bottles – uniquely keyed for easy filling of each colour
100-Sheet Paper Capacity – print stacks of pages without interruption
Bonus Warranty – 2-year Return to Base Warranty with registration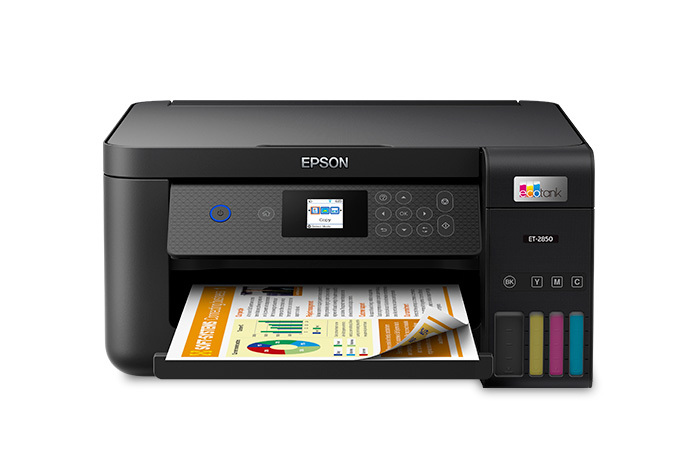 Distancing itself well from the competition, the EcoTank ET-2850 is powered by Epson's Piezo with Heat-Free Technology that uses piezo crystals that pulsate with electrical signals that form tiny droplets (as small as 3 picoliters) which make text and images super sharp. If you want to learn more about Epson's Piezo with Heat-Free Technology, visit https://www.epson.com.au/heat-free-technology/.
Another highlight of the multifunction printer is the size with the EcoTank ET-2850 measuring at 275 x 567 x 259mm with a weight of only 5.4kg. Given its clever features and the use of ink bottles, the ET-2850 is quite a compact multifunction that makes it ideal for users with limited space in their home or office. All in all, it's a well-designed and compact product from Epson that is solely focused on the consumer. The only slight drawback is the screen which is tiny, however for most, printing will be done through a PC or via the smart app itself.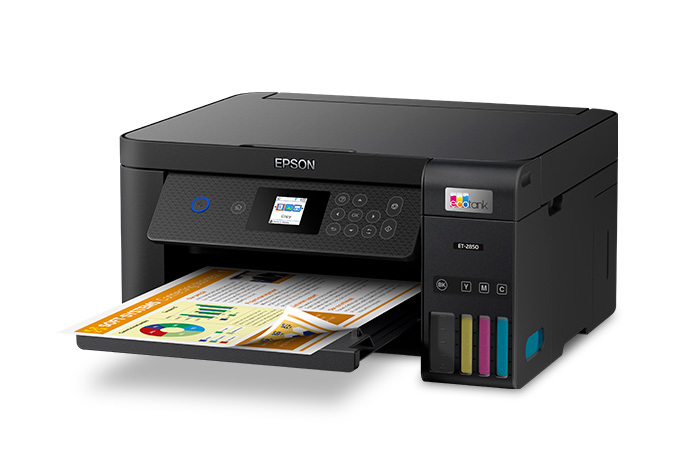 Unboxing
Well-packed from Epson, the ET-2850 has carefully thought-out controls with a 1.44″ (3.66cm) Colour with a keypad to navigate functionality directly from the device.  Setting up the printer is through the Epson Smart Panel app which links the device to your network (supports 802.11 b/g/n7) that makes it accessible by other devices such as computers and tablets. If you don't have a router, don't fret as the multifunction supports Wi-Fi Direct which removes the need for a router. The setup process takes around 15 minutes which includes 10-minutes of setting up the printer heads.
Box Contents
EcoTank ET-2850
Manual
Power Cord
1 x 502 Black (127mL)
1 x 502 Cyan (70mL)
1 x 502 Magenta (70mL)
1 x 502 Yellow (70mL)
Another impressive great aspect about the Epson app is that it gives the entire family easy access to the ET-2850 and due to the affordably priced ink bottles, printing doesn't need to be monitored like expensive cartridges. Apple users will be pleased to know that the ET-2850 supports Airprint that allows direct access to the multifunction from their iPad or iPhone without additional apps.
However the first step is to remove the protective packaging and tape (there's a bit), followed by installing the ink which is done by putting each of the four bottles into the multifunction one at a time and letting gravity do its trick as the ink fills up the tanks. The entire process is quite fast (around 75 seconds per bottle) and I love how there is a glass window on the ET-2850 showing you how much ink is inside the tanks and best of all, there is no spillage from the installation.
The Epson Smart Panel app also works like a treat and Epson should be commend on their easy to follow wizard that had us up and running in no time! It's quite clever how the wizard is almost like a "chat", however with the setup-wizard opposed to a support person but the whole experience is very social media-like.
Once the Epson ET-2850 was up and running, we tested it on an Android smartphone, Apple iPad, Lenovo Yoga notebook and a desktop PC with no issues whatsoever on any device. While you can plug the device directly into a USB, wireless is the easiest option. However for smart devices, there might be some lag with large photos but apart from that, it's a very fast experience and it's great that it supports Air Print which is even easier. On both our notebook and desktop machine, we simply searched for the printer and it automatically installed the driver, however you can use the traditional setup to install the Epson suite of the software as well.
As you can see from the Epson Smart Panel app screenshots below, it is easy to navigate and again makes wireless printing a breeze.
When it comes to output, the print quality was exceptional with text being super sharp and very clear. Alternatively, images were vibrant, sharp and printing directly from the smartphone makes the entire process a breeze. The piezo technology is definitely noticeable in terms of the quality and far superior than most inkjet systems which does put this device on par with colour laser printers with the maximum print resolution 4800 x 1200.
For paper, it takes a wide assortment of different sizes, however for A4 paper, it holds 100 pages and has an output paper capacity of 30 sheets. Other aspects such as copying and scanning again produced clear results courtesy of the scanning specifications which are;
Scanner Type: Color flatbed (CIS photo sensor)
Maximum Hardware Resolution 2400 dpi
Hardware Resolution 1200 x 2400 dpi
Maximum Resolution 9600 dpi interpolated
Scanner Bit Depth Input: 48-bit/Out: 24-bit color
While you can scan directly to your computer, you can even scan to emails that is a very useful feature. It should also be noted that the printer is quite fast for both single-sided and double-sided text documents. Photos are obviously slower due to image quality, size and whether you are using wireless but nonetheless, the ET-2850 is quick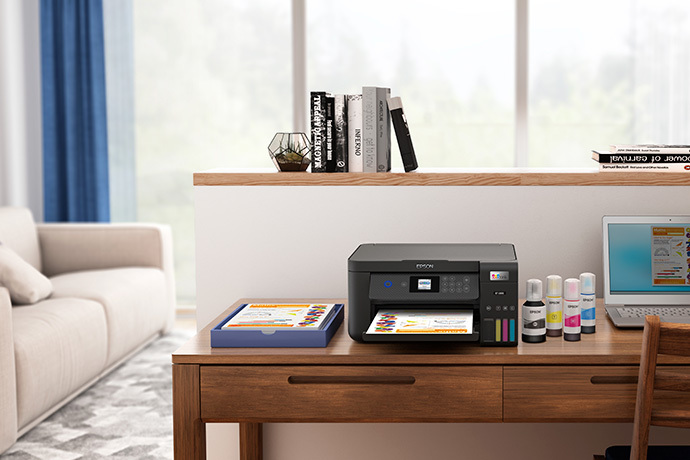 Final Thoughts?
If you're looking for a quality multifunction printer without the high cost of consumables, the Epson EcoTank ET-2850 provides excellent value for money, especially with its features and high quality prints and scanning. The ability to print wireless is another bonus and whether that's from a computer or smart device, Epson really make the process a very simply process.
Highly Recommended!