Hardware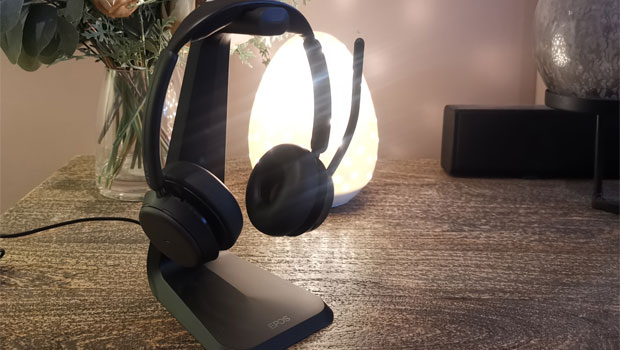 Published on September 3rd, 2023 | by James Wright
EPOS IMPACT 1000 Headset Review
Summary: The EPOS IMPACT 1000 Headset provides audio bliss in the office or home office
If you work in a busy office environment or want to switch off from the distractions when you're working from home, EPOS have a new headset to help you get focused on the tasks at hand. Welcome to the new EPOS IMPACT 1000 Bluetooth Headset that includes a wealth of user-focused features to greatly reduce those distractions and ambient noises courtesy of the technology used to design this product that is built on decades of leading psychoacoustic research. Additionally the headset is certified for Microsoft Teams and meets the Open Office requirements.
IMPACT 1000 is designed for the New Open Office environment. Built on EPOS BrainAdapt™ technology to reduce brain fatigue with adaptive ANC and industry-leading voice pickup powered by EPOS AI™, making sure you're getting your message through – EPOS
There are also three different versions of this headset available that start from $485 for the EPOS Impact 1000 (1030T), $505 for the EPOS Impact 1000 (1060T) and $735 for EPOS Impact 1000 (1060T ANC) with includes a charging stand (reviewed). So a headset for your office budget.
EPOS IMPACT 1000 Features
Powered by EPOS' BrainAdapt technology
BrainAdapt is a group of pioneering technologies that work together to improve cognitive performance. IMPACT 1000 features EPOS BrainAdapt technology to reduce brain fatigue with hybrid adaptive Active Noise Cancellation (ANC) and industry-leading voice pickup powered by EPOS AI.
Uses EPOS AI to adapt to environments
Machine learning technology scans user environments 32,000 times per second to suppress disruptive sounds and enhances desirable audio to ensure only the relevant sounds are filtered through to the person the user is talking to.
Active Noise Cancellation (ANC)
Featuring hybrid adaptive ANC, the IMPACT 1000 ensures unwanted background sounds are blocked out to enable undisturbed conversation and reduced brain fatigue.
As you can see from the above features, EPOS have invested both research and new technologies to deliver a flawless audio experience, particularly when it comes to reducing unwanted sounds in our work environment, whether in the home or the office.
Further supporting the wearing of this headset is the audio quality with the IMPACT 1000 producing crystal clear sound. The last part of the audio equation is the comfort levels and like previous EPOS headsets, the IMPACT 1000 has been designed for all-day comfort that is made possible with the soft ear cushions and super wide and a adjustable padded headband.
According to the research from EPOS, this headset potentially increases user efficiency by up to 40% as it helps keep you focused on the task at hand. This done by their BrainAdapt Technology and other audio features such as Active Noise Cancellation (ANC) that allows you to be solely focused on your call, apart from sharing your listening with other sounds in your environment, it complements your brain's natural way of processing sound in order to enhances the cognitive performance.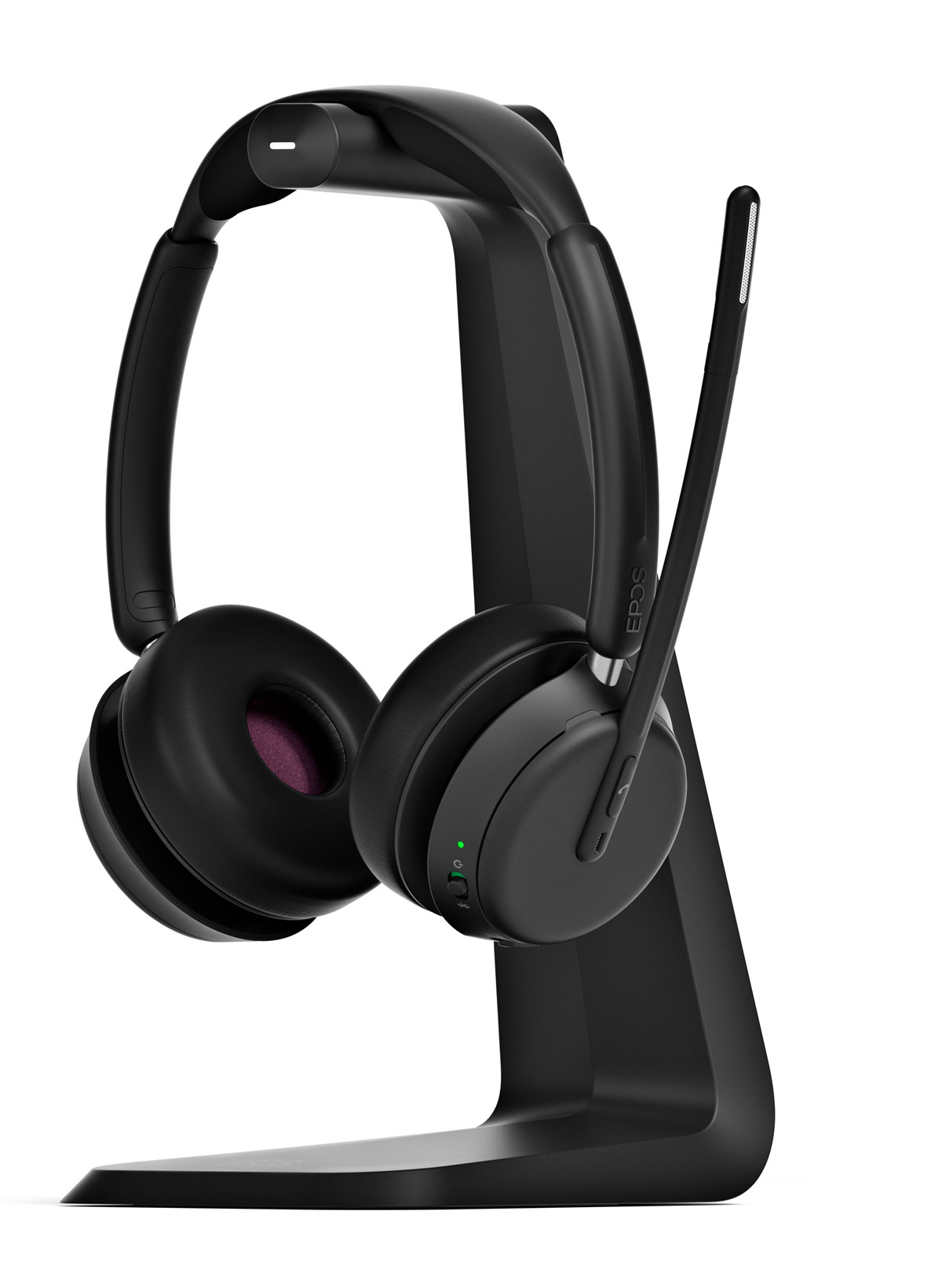 Setting up the device is just like any Bluetooth that requires you to pair the IMPACT 1000 with your device and if you don't have native Bluetooth, you can use the included dongle that connects to a spare USB on your computer. The headset also offers triple connectivity that means you can connect the IMPACT 1000 to three different Bluetooth devices such as your PC, work phone and personal phone.
Box Contents
Headset
Soft carrying pouch
Bluetooth USB dongle (BTD 800a)
USB-C cable (1.2m)
Safety & compliance sheet
Wireless charging stand (included in variants: 1061, 1061T, 1061T ANC)
Gallery
Controls on the headset are quite intuitive and are well placed that makes navigation a breeze. This includes enabling ANC, accepting calls, Bluetooth/power and volume controls. Further helping with productivity is a light on the headset that is enabled whenever you are on a call that in essence will help stop interruptions, provided you let your colleagues or family know. If you remove the headset, it also pauses any multimedia that you are listening to and when you place it back on your head, it automatically resumes. Perfect for online training.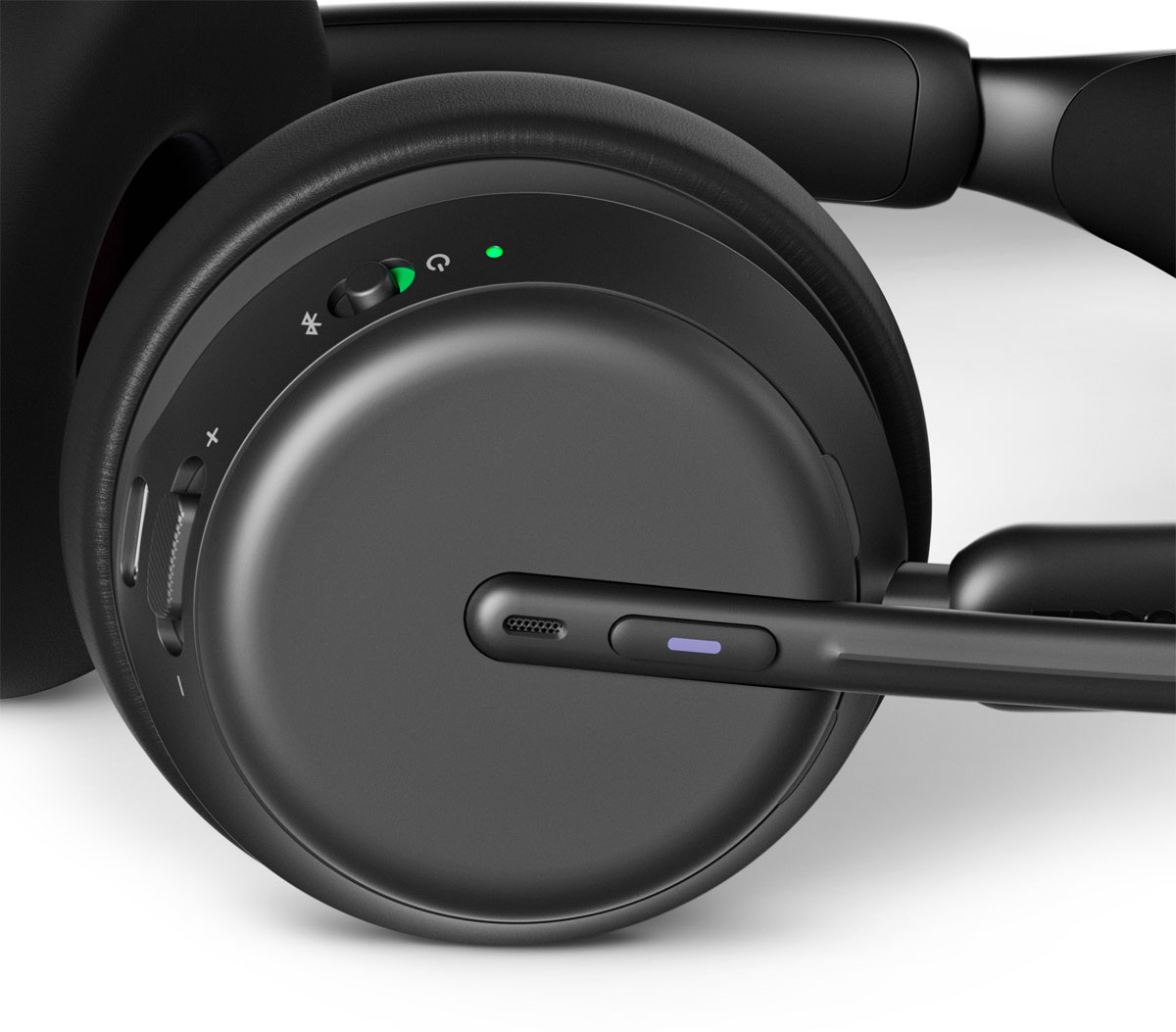 Charging the headset is super simple as EPOS have included a contactless charging stand to place the IMPACT 1000 on to power-up plus once charged ,the headset boasts up to 30 hours of wireless connectivity. The dock then connects to your PC or charger via USB-C and the dock has some added weight which means you cannot accidentally knock it over on your desk. With the other models, you just use the USB-C cable for charging.
In terms of design, the IMPACT 1000 is very comfortable and the cushioning / memory foam really adds longevity to this headset, particularly from an all-day element. Its minimalistic design doesn't make it feel too bulky and weight is evenly distributed. However the best part of this headset is that is totally wireless that means you can walk around the office (up to 15 metres) which gives you true freedom. Another highlight of the design is that the headset can be worm in either directions that allows the microphone to be either on the left or right.
The ANC does an excellent job at reducing and at times eliminating background noise and best of all, the microphone hones in on your voice so that the person or people on the other end can hear you very clearly. This is achieved by its use of beamforming technology that scans the environment at 32,000 per second to negate background noise. Both these features are excellent for open office designs or working from home, particularly from barking dogs, cars or children that have that special ability to detect when you are on a conference call.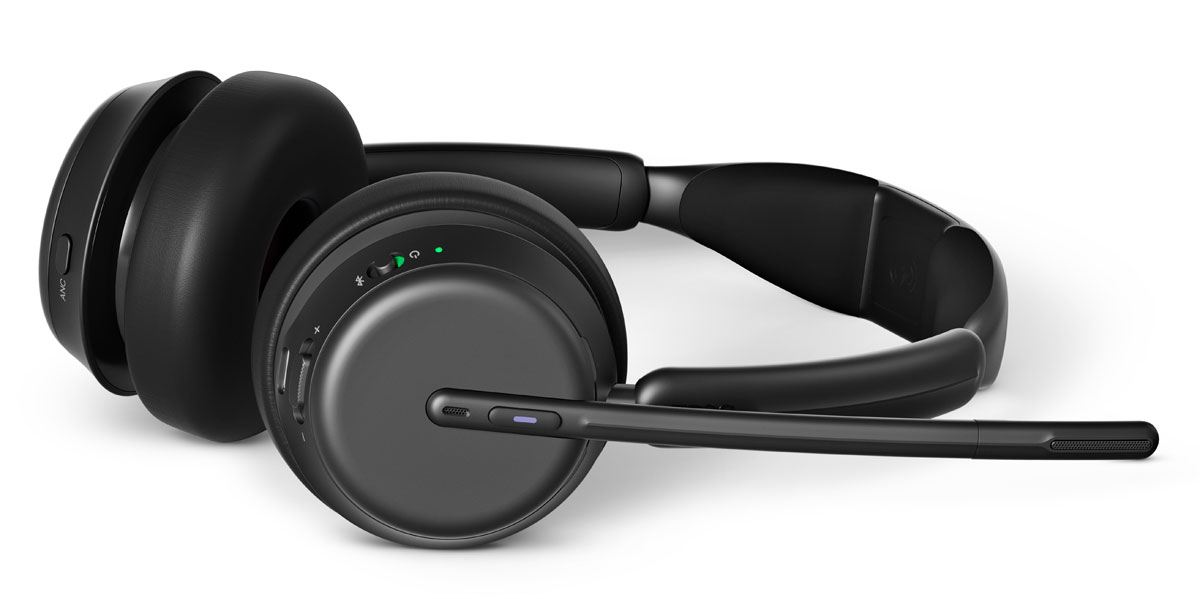 Final Thoughts?
The EPOS IMPACT 1000 series are premium headsets and if you're looking for one of the best office headsets around, it's very hard to find a better competitor. All in all, an excellent product that excels with its ANC technology to really immerse you into video conferencing or online training. Additionally, it boasts an excellent overall design that is not only comfortable but has well placed controls and an excellent wireless charging dock.
Specifications
Connectivity: Bluetooth
Wearing Styles Available: Monaural & binaural
Microphone: 4 digital MEMS
Bandwidth in call mode: Super Wideband
Multipoint Connectivity: Triple Connectivity
Active Noise Cancellation: Yes (Hybrid & adaptive)
Wireless Range: Up to 30 m/100 ft
Microsoft Teams Certified: Yes
Warranty: 2 years
Additional add-ons: Charging stand
Price: $485AUD (Sep 2023)